EPT London Day 2 Skrill Last Longer Competition Update

Level 9 : 400-800, 100 ante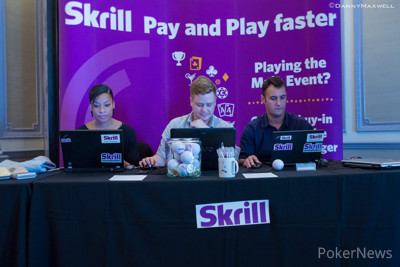 One name that keeps popping up here at the EPT London is Skrill – which isn't a player, but rather an online payment solutions company that aims to evolve "the way people pay and get paid globally." Skrill is branded on each of the tables, and they also have a booth where players can sign up for their popular "Last Longer Competition."
The Skrill Last Longer competition will be held at each stop on this season's EPT, of which they're an official sponsor. The promotion is simple – players sign up for the promotion either online (preregistration is available) or at the Skrill booth (which will be present at each stop); don a Skrill patch; and then aim to be the last man or woman standing. The last player remaining will then receive the £5,250 buy-in back in their Skrill account.
While Skrill is upping the ante for Season 10 with a bigger branding initiative, this isn't their first appearance on the EPT; as a matter of fact, they were a sponsor of Season 8 and have held previous "Last Longer" promotions (the most successful being in EPT Copenhagen when one of their players took second).
The company's website provides a bit more information on Skrill, which rebranded from Moneybookers back in 2010:
"Skrill has been moving money digitally since 2001. We offer online payment solutions for businesses and consumers, allowing them to pay and get paid globally. Over 36 million account holders already trust Skrill. Our customers can send and receive money worldwide in 200 countries and 40 currencies, securely and at low cost, without revealing their personal financial details. Your business will benefit from our worldwide payment network with over 100 payment options. Whether through a simple one-step integration or a fully-tailored payment solution. Whoever you are, however you like to pay or get paid, trust Skrill to make your online payments simpler, faster and safer."
Headquartered in London, Skrill is looking to make their presence known in the poker world with a commitment to customer satisfaction through innovation and service. Not only that, they're looking to be more than just a company by becoming a trusted and respected member of the poker community.
The 45 players took part in the EPT London Skrill Last Longer, but just 24 remain here at the start of Day 2. Here's a look at those players:
George Manolache, [Removed:203], Mateusz Zbikowski, Sven Reichardt, Fergal Nealon, Leo McClean, Jesper Hoog, Karl Andre Oddsen, Carlos Chadha, Dimitrios Farmakoulis, Christoph Weckmann, Mustapha Kanit, Rumit Somaiya, Carl Carlsson, Jan Bendik, Maximilian Senft, James Parker, Joni Jouhkimainen, Kenny Hallaert, Daniel Reijmer, Thomas Middleton, Chris Brammer, Craig McCorkell and Ryan Yu.
The PokerNews Live Reporting Team will be keeping an eye on the latest incarnation of the Skrill Last Longer throughout the duration of the EPT London Main Event.