£5,250 Main Event
Day 5 Completed

Level 27 : 25,000/50,000, 5,000 ante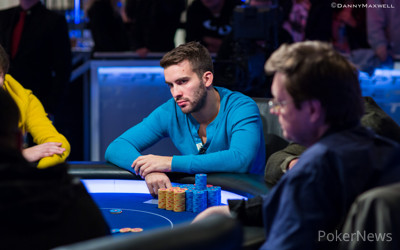 The penultimate day of the PokerStars.com EPT London Main Event was dominated by Jeff Rossiter who starts the final table with 5,205,000 chips. The fifth day of play started with just 16 players and it was still anyone's game. [Removed:17] started as the chip leader, but it soon became clear that it was no guarantee for a spot at the final table.
With 16 remaining players, UK's Neophytos Neophytou as the short stack and he was also the first to go. Javier Etayo had a much better start as he woke up with pocket aces and took a huge pot down with them. The Spaniard bumped his stack up to 2.2 million and grabbed the secondary table chip lead.
The unluckiest player of the day was without question Norwegian Kent Roed. Roed looked down at pocket aces with a raise, a three-bet, and a four-bet in front of him. He proceeded to move all in, the first two raisers quickly folded and Kully Sindhu made the call for his tournament life with two kings. Roed flopped a set and seemed to be on his way to the top of the counts, but running spades ruined his day. Roed was left behind with just a few chips and was knocked out on the very next hand.
At the feature table all of the action revolved around the German Scot Ludovic Geilich, who was involved in almost every hand. While Geilich picked apart his opponents in smaller pots, it was Georgios Karakousis who limited himself to playing big pot. Karakousis knocked out Day 3 chip leader Tudor Purice in 14th place when his set held up against Purice's flush draw.
Where Geilich was in control at the feature table, it was Rossiter who had a firm grip on the secondary table. Raises, three-bets, over-bets, it all worked for Rossiter who steadily increased his stack.
Nicolau Villa-Lobos kept himself alive by moving all in every once in a while, but eventually he was on the losing end of an all-in showdown. The Brazilian ran with pocket tens into kings and was knocked out by Senh Ung in 13th place. With 12 players left Geilich held the chip lead followed by Karakousis. Rossiter, Robin Ylitalo and Etayo all had around the same stack at that point, that would soon change but not before the start of the day chip leader was knocked out.
[Removed:17] had a very unfortunate day and nothing seemed to work for the former Supernova Elite. On Yan's last hand he ran ace-deuce into Karakousis' queens and left the tournament in 12th place. Karakousis remained active and took over the chip lead from Geilich not too long after that.
Etayo's downfall started at this point as he first doubled up Jan Sjavik followed by Stefan Vagner. A few hands later it was Etayo who ended up all in for his tournament life and the deck was once again not kind for Spanish player. Rossiter held ace-queen and flopped an ace to beat Etayo's pocket jacks. Etayo exited in 11th place and walked away with £39,255.
The last player that was knocked out before the field was combined to one table was Ung. Ung moved all in from the hijack and Rossiter called with ace-jack. Ung's ace-five did not improve and he was sent home in 10th place.
Nine-handed play started with Karakousis as the chip leader and he managed to expand his stack even more after a enormous clash with Geilich. The chip leader found aces, Geilich found queens and a pot worth millions was created. When it was all said and done Karakousis was up to 5.3 million and Geilich had just 1.4 million left. There were plenty of short stacks all throughout the final table bubble but it took a few hours before we knew who would be the ninth place finisher.
Martin Kozlov eventually finished in ninth place when he ran pocket queens into Stefan Vagner's aces and with that the final table line up was determined. Just eight players remain and they are all guaranteed to win at least £60,640. With Rossiter having a commanding chip lead it will be a tough challenge to keep him from winning the £560,980 first-place prize.
Play resumes tomorrow at 1:00 p.m local time but because the live stream will be broadcast with hole cards there is a one-hour delay. So make sure you tune back into PokerNews.com at 2:00 PM local London time for all the final table updates provided to you with hole cards. For now we wish you a good night and we hope to see you all again at the final table.

Level 27 : 25,000/50,000, 5,000 ante
Player
Chips
Progress

Jeff Rossiter

5,205,000

-340,000

Georgios Karakousis

4,390,000

305,000

Robin Ylitalo

2,795,000

-15,000

Stefan Vagner

2,525,000

Leo McClean

980,000

-15,000

Jan Olav Sjavik

870,000

130,000

Ludovic Geilich

805,000

-65,000

Kully Sidhu

560,000

-90,000

Level 27 : 25,000/50,000, 5,000 ante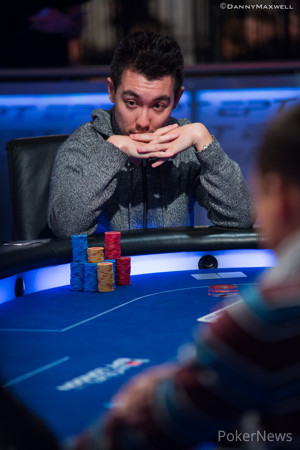 On the final hand of the fifth day of play Stefan Vagner raised to 150,000 under the gun. Martin Kozlov was next to act and he three-bet to 515,000 with just a little bit left behind and all the other players folded quickly.
Vagner called.
The flop brought
and Vagner put Kozlov all in for the little chips he had left, and the Aussie made the call.
Vagner:

Kozlov:
The board ran out
,
and Kozlov was knocked out in ninth place. Just eight players remain and they will return tomorrow for the final table of this event!

Level 27 : 25,000/50,000, 5,000 ante
Player
Chips
Progress

Jeff Rossiter

5,545,000

-110,000

Georgios Karakousis

4,085,000

395,000

Robin Ylitalo

2,810,000

-405,000

Stefan Vagner

1,720,000

210,000

Leo McClean

995,000

65,000

Ludovic Geilich

870,000

-230,000

Jan Olav Sjavik

740,000

-10,000

Martin Kozlov

715,000

-10,000

Kully Sidhu

650,000

-130,000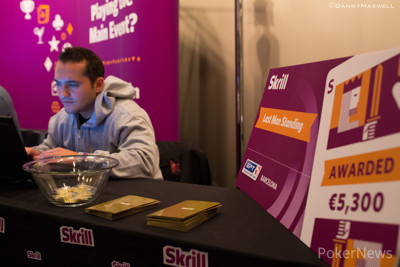 Everyone loves receiving something for free, especially when that something is cold, hard cash. Thanks to the special relationship that PokerNews and Skrill share, PokerNews customers can enjoy a free $20 when they use their Skrill account for the first time to fund an online poker site.
Skrill, formerly known as Moneybookers, is the premier online payment solution for millions of customers worldwide. Once you upload funds to your Skrill account, you can distribute them to anyone with a valid email address. In addition, Skrill is accepted as payment across most major online poker sites, meaning you can quickly and easily deposit and withdraw your funds without having to have gambling transactions littering your bank statements! What's more, Skrill offers its customers a Prepaid MasterCard that can be used in 100,000's of locations around the globe.
In July 2013, Skrill became the Official Payment Processor for the European Poker Tour, adding yet more credibility to this fantastic product. Now, Skrill is a strategic partner of PokerNews and our first choice when it comes to moving money instantly, safely and conveniently around poker sites.
To celebrate this special relationship, Skrill and PokerNews have teamed up to bring PokerNews customers a free $20 offer. Getting your hands on this free money is easy, claim yours by following these simple steps.
Upload funds to your new Skrill account or directly go to a poker room and choose Skrill to make your deposit.
Make a deposit of at least $20 onto an online poker room.
Skrill will add $20 to your Skrill account within one business day, which you can use to redeposit to a room right away.
As mentioned, scores of online poker rooms such as Full Tilt Poker, PKR, Titan Poker, bet365 and Betfair accept Skrill, so you can make your first deposit onto a major player in the online poker room.

Level 27 : 25,000/50,000, 5,000 ante
Jeff Rossiter raised to 100,000 from the cutoff and Georgios Karakousis called from the button. The flop brought
and Rossiter checked to Karakousis who quickly bet 125,000.
Rossiter made the call and the turn brought the
. The Aussie chip leader checked again and Karakousis bet 325,000. Rossiter called again after which the river, the
, was checked by both players.
Rossiter showed
and that was enough to take down the pot.

Level 27 : 25,000/50,000, 5,000 ante
Robin Ylitalo raised to 100,000 from the cutoff and Leo McClean three-bet all in for 895,000 from the button. All other players folded and Ylitalo also gave up his hand.
There are still nine players left and as the final table bubble keeps going!
Level: 27
Blinds: 25,000/50,000
Ante: 5,000

Level 26 : 20,000/40,000, 5,000 ante
Play will resume in 30 minutes and these are the current chip counts of the final nine players.
Player
Chips
Progress

Jeff Rossiter

4,785,000

-185,000

Georgios Karakousis

4,335,000

-90,000

Robin Ylitalo

3,215,000

-15,000

Stefan Vagner

1,510,000

135,000

Ludovic Geilich

1,100,000

-100,000

Leo McClean

930,000

25,000

Kully Sidhu

780,000

-15,000

Jan Olav Sjavik

750,000

-45,000

Martin Kozlov

725,000

-115,000