Jeff Rossiter Leads The Final 8 in London

Level 27 : 25,000/50,000, 5,000 ante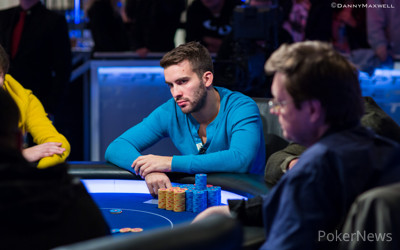 The penultimate day of the PokerStars.com EPT London Main Event was dominated by Jeff Rossiter who starts the final table with 5,205,000 chips. The fifth day of play started with just 16 players and it was still anyone's game. [Removed:17] started as the chip leader, but it soon became clear that it was no guarantee for a spot at the final table.
With 16 remaining players, UK's Neophytos Neophytou as the short stack and he was also the first to go. Javier Etayo had a much better start as he woke up with pocket aces and took a huge pot down with them. The Spaniard bumped his stack up to 2.2 million and grabbed the secondary table chip lead.
The unluckiest player of the day was without question Norwegian Kent Roed. Roed looked down at pocket aces with a raise, a three-bet, and a four-bet in front of him. He proceeded to move all in, the first two raisers quickly folded and Kully Sindhu made the call for his tournament life with two kings. Roed flopped a set and seemed to be on his way to the top of the counts, but running spades ruined his day. Roed was left behind with just a few chips and was knocked out on the very next hand.
At the feature table all of the action revolved around the German Scot Ludovic Geilich, who was involved in almost every hand. While Geilich picked apart his opponents in smaller pots, it was Georgios Karakousis who limited himself to playing big pot. Karakousis knocked out Day 3 chip leader Tudor Purice in 14th place when his set held up against Purice's flush draw.
Where Geilich was in control at the feature table, it was Rossiter who had a firm grip on the secondary table. Raises, three-bets, over-bets, it all worked for Rossiter who steadily increased his stack.
Nicolau Villa-Lobos kept himself alive by moving all in every once in a while, but eventually he was on the losing end of an all-in showdown. The Brazilian ran with pocket tens into kings and was knocked out by Senh Ung in 13th place. With 12 players left Geilich held the chip lead followed by Karakousis. Rossiter, Robin Ylitalo and Etayo all had around the same stack at that point, that would soon change but not before the start of the day chip leader was knocked out.
[Removed:17] had a very unfortunate day and nothing seemed to work for the former Supernova Elite. On Yan's last hand he ran ace-deuce into Karakousis' queens and left the tournament in 12th place. Karakousis remained active and took over the chip lead from Geilich not too long after that.
Etayo's downfall started at this point as he first doubled up Jan Sjavik followed by Stefan Vagner. A few hands later it was Etayo who ended up all in for his tournament life and the deck was once again not kind for Spanish player. Rossiter held ace-queen and flopped an ace to beat Etayo's pocket jacks. Etayo exited in 11th place and walked away with £39,255.
The last player that was knocked out before the field was combined to one table was Ung. Ung moved all in from the hijack and Rossiter called with ace-jack. Ung's ace-five did not improve and he was sent home in 10th place.
Nine-handed play started with Karakousis as the chip leader and he managed to expand his stack even more after a enormous clash with Geilich. The chip leader found aces, Geilich found queens and a pot worth millions was created. When it was all said and done Karakousis was up to 5.3 million and Geilich had just 1.4 million left. There were plenty of short stacks all throughout the final table bubble but it took a few hours before we knew who would be the ninth place finisher.
Martin Kozlov eventually finished in ninth place when he ran pocket queens into Stefan Vagner's aces and with that the final table line up was determined. Just eight players remain and they are all guaranteed to win at least £60,640. With Rossiter having a commanding chip lead it will be a tough challenge to keep him from winning the £560,980 first-place prize.
Play resumes tomorrow at 1:00 p.m local time but because the live stream will be broadcast with hole cards there is a one-hour delay. So make sure you tune back into PokerNews.com at 2:00 PM local London time for all the final table updates provided to you with hole cards. For now we wish you a good night and we hope to see you all again at the final table.