Selbst's Wine

Level 7 : 250-500, 50 ante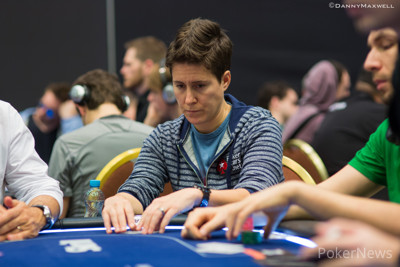 PokerStars Team Pro Vanessa Selbst had just led out from under-the-gun plus one into two opponents for 1,500 on a board of
and got two folds. She stacked her chips, and with perfect timing two glasses of red wine appeared. One for her and one for the player sitting to her right, Walid Bou Habib. They clinked glasses took a sip and got back to business.
Veteran German player Manfred Sierke opened for 1,500 and faced a raise from Habib to 3,000. Action folded back to Sierke, he folded, and an exuberant Habib declared, "This was the one." Selbst playfully told him to show his cards but he refused. It all got a bit more serious for Selbst a few minutes later though when she was the one tangling with Sierke.
Selbst had defended an open from Sierke and now faced a bet of 800 from the German player on a flop of
. She called and then led out on the
turn for 1,500 only to have Sierke raise it to 4,200. A puzzled look crossed Selbst's face, but she made the call and checked the river
. Selbst checked and Sierke took his time counting out another 4,200. Selbst really took her time now, puzzling it out. A couple of minutes ticked by and she flicked the required chips out in front of her to call. Sierke turned over his
for flopped trips and Selbst mucked.