Scott Seiver Wins the 2013 PokerStars Caribbean Adventure $100,000 Super High Roller ($2,003,480)
Level 24 : 100,000-200,000, 30,000 ante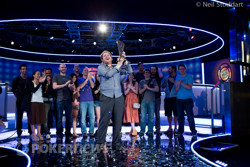 After over 200 hands at the official final table, Scott Seiver is the winner of the 2013 PokerStars Caribbean Adventure, defeating David "Doc" Sands heads up to earn $2,003,480. In a post-win interview with Joe Stapleton, Seiver credited his comeback to a little bit of run good.
"It's easy when you get dealt aces and other players go all in," Seiver said,
The final table began with Sands as the overwhelming chip leader, and in the first seven hands, three players were eliminated. The first player to bow out was Dan Shak, who finished runner-up in this event last year. With the blinds at 20,000/40,000/5,000, Shak opened to 100,000 in early position with
. Greg Jensen called on his left, and Seiver three-bet to 275,000 with
. Both Shak and Jensen called.
The flop came
, Shak insantly moved all in for 500,000, and Jensen tanked for a bit before re-shoving. Seiver instantly called off his last 565,000, and the hand was over when the
turned, giving him a full house. The
completed the board, and suddenly Seiver had over 2.5 million chips.
Vladimir Troyanovsky was the next to exit when he open-shoved his last 485,000 with
. Nick Schulman woke up with
in the big blind, and held as the board ran out
. Troyanovsky earned $257,580 for his efforts, while Schulman's stack shot up to 2.8 million chips.
A few hands later, Jensen three-bet jammed his last 710,000 with
over an 80,000-chip open from Schulman. The action folded back to Schulman, who called with
, and again held as the flop, turn, and river produced
.
At the beginning of Level 19, Philipp Gruissem hit the rail. Seiver jammed out of the small blind for effectively 1,085,000, calling it a "freeroll" for the German. Gruissem sweated his first card, said it was enough, and called. Gruissem's
was ahead of Seiver's
, but Seiver took the lead when the dealer fanned
. Seiver held as the turn and river came
,
, and Gruissem was out in fifth place ($400,700).
For the better part of the next four hours, and for a total of 96 hands, no one was eliminated. There were a few big hands however, including a three-outer by Schulman. Schulman found himself all in and at risk on a flop of
holding
, and he was crushed by Seiver's
. The
on the turn was a big red brick, but the
spiked on the river, giving Schulman a winning two pair.
No one doubled more than Cary Katz during four-handed play however – the businessmen somehow won four all ins when he was at risk. In his second double-up hand, Katz shoved for 710,000 with
, and the blinds at 40,000/80,000/10,000. Schulman called with
in the big blind, and paired his ace when the flop fell
. The
on the turn was a brick, but the
on the river gave Katz a miraculous straight.
Katz actually started to chip up, and was second in chips at one point during four-handed play, but was unfortunate in an all-in hand against the eventual champ. Seiver open-jammed his last 1.505 million on the button with
, and the blinds at 50,000/100,000/10,000, and Katz re-shoved from the small blind with
. The
flop was dry, but the
on the turn gave Seiver a leading pair of aces. The
on the river changed nothing, and Seiver doubled to over 3.1 million chips. Katz was left with eight big blinds.
When Level 22 (60,000/120,000/20,000) began, Seiver took the chip lead from Sands, but Sands was hot on his heels, especially after eliminating Katz. In Katz's final hand, he shoved for 1.35 million with
, and Sands called in the big blind with
. The fives held as the board came
, and play was finally three-handed.
The remaining three players went on a dinner break, and upon returning, Schulman exited in third place. Level 23 (80,000/160,000/20,000) had just begun when Schulman open-shoved on the button for 2.435 million with
. Sands snap-called with
in the big blind, and flopped a set when the dealer fanned
. Schulman could still win with a straight or chop with running clubs, and the turn was the
, keeping both draws alive. The river was a brick (
) however, and Schulman was out in third place.
Heads-up play began with Sands commanding 60 percent of the chips in play, and Seiver was willing to make a chip chop deal if Sands was willing to forfeit five percent of equity. He was not.
"I'm gonna f***in play 'em," Sands told his friend Tom Marchese.
The match was back-and-forth until Level 24 (100,000/200,000/30,000) started. Seiver opened to 400,000 on the button with two red nines, David Sands three-bet to 900,000 with
, and Seiver immediately went all in for 6.22 million. Sands snapped it off.
"As JC [Alvarado] says nines make the most sets," Seiver announced.
There was a nine in the window of the
flop, giving Seiver a set.
"I still feel like I'm going to win," Sands said.
He was wrong, the turn and river came
,
respectively, and Seiver shipped a massive double.
A few hands later, Sands moved all in with
, and Seiver called with
. The board ran out
, and Seiver was your champion.
2013 PokerStars Caribbean Adventure $100,000 Super High Roller Final Table Results
| Place | Player | Prize |
| --- | --- | --- |
| 1st | Scott Seiver | $2,003,480 |
| 2nd | David Sands | $1,259,320 |
| 3rd | Nick Schulman | $744,140 |
| 4th | Cary Katz | $543,800 |
| 5th | Philipp Gruissem | $400,700 |
| 6th | Greg Jensen | $286,200 |
| 7th | Vladimir Troyanovsky | $257,580 |
| 8th | Dan Shak | $228,960 |
Congratulations to Seiver on claiming his largest prize to date and crossing the five million-dollar career threshold all in one fell swoop. For continuous coverage of the 2013 PCA, be sure to stay tuned to PokerNews.com.