€5,300 Main Event
Days: 6
€5,300 Main Event
Day 6 Completed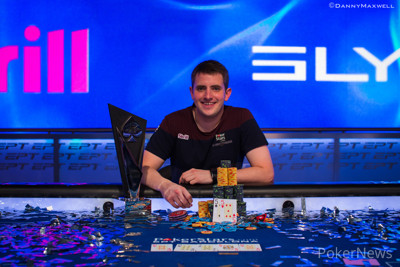 After an intense week of action in Spain, a winner finally emerged in the Season 10 European Poker Tour Barcelona Main Event, which originally began with 1,234 players. On Saturday, the final eight returned to battle down to a champion, and after nearly five 90-minute levels of play the last man standing was Tom "hitthehole" Middleton, who took home €942,000, the trophy and a SLYDE watch for the victory. Amazingly, Middleton was the start-of-the-day chip leader everyday since Day 3!
The first elimination of the day occurred on Hand #17 of the final table (Level 32: 80,000/160,000/20,000) when Kresten Nielsen opened for 335,000 from the hijack with the
and Cyprus' Andreas Christoforou moved all in for 1.65 million on the button holding the
. Kimmo Kurko then looked down at the
in the small blind and moved all in over the top for 2.985 million. Christoforou immediately got up out of his seat while Nielsen considered the action. He seemed a bit tortured as he sat in the tank, and eventually he released his pocket pair.
"Don't say what you folded," Christoforou requested when the cards were tabled. According to the PokerNews Odds Calculator, Kurko was a 64.66% favorite while Christoforou would survive 33.68% of the time. The
flop extended Kurko to a 71.52% favorite while dropping Christoforou's chances to 25.86%. The
turn knocked it down even further to 15.91%, which meant he needed either an ace or king on the river to stay alive. Unfortunately for him, it wasn't in the cards as the
peeled off. Christoforou became the day's first elimination and took home €102,430 for his eighth-place finish.
After the Netherlands' Eduard Bhaggoe lost a race to fall in seventh place and France's Benoit Gury followed him out the door in sixth place, the first of the two Finns at the table fell.
It happened in Level 33 (100,000/200,000/30,000) when Pasi Sormunen opened from early position with the
only to face a three-bet from Luca Fiorini, who picked up the
in the small blind. Sormunen thought long and hard before announcing that he was all in for 4.72 million and he was snap-called by Fiorini.
Sormunen knew he was in trouble even before the cards were tabled, and indeed it was a bad spot. That said, the
flop made things extremely interesting as Sormunen picked up a flush draw. The
turn was a miss, meaning he had 12 outs he could hit on the river. The dealer burned one last time and put out the
. The lady was no help to the Finn and he exited the tournament in fifth place for €253,000.
With four remaining, Fiorini was the chip leader and a deal was discussed. It seemed they were close to an agreement, but eventually negotiations fell through and play resumed. Within a half hour, Fiorini was out in fourth. He was crippled after missing a straight flush draw and finished off a short time later in Level 34 (120,000/240,000/30,000) by Middleton.
Not long after, Nielsen raised from the small blind holding the
and Kurko defended from the big with the
. The
flop was gin for Kurko as he received a straight, which was considerably bad news for Nielsen and his top pair. The man from Denmark was first to act and led out for 635,000, which prompted Kurko to raise to 1.41 million.
Nielsen immediately announced a raise to 3.325 million and then snap-called off when Kurko moved all in. Nielsen slapped down his cards and seemed surprised to see Kurko table a straight. The
turn actually kept Nielsen in the running as a five or eight on the river would give him a full house, but it was not meant to be as the
peeled off. Nielsen hit the rail in third place for €440,500.
Middleton and Kurko then struck a bit of a deal prior to heads-up play, which they'd begin fairly close in chips. The winner of the tournament was originally supposed to take home €1,067,000 and the runner up €625,000, but the two agreed that the winner would instead take home €942,000 and the runner up €750,000.
The battle last quite a while, but most of that time it was Middleton whittling away at Kurko's stack. Both played superbly, but in the end it was Middleton who vanquished his opponent.
Congratulations to Tom "hitthehole" Middleton on kicking off Season 10 of the EPT in style by becoming the first player from the UK to win an EPT since Season 8. That does it for PokerNews' coverage of the EPT Barcelona, but we'll be back for more Season 10 action next month for EPT London.

Level 36 : 200,000-400,000, 50,000 ante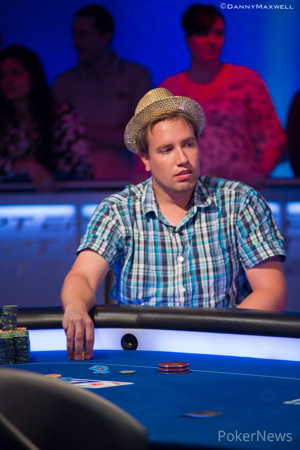 Kimmo Kurko opened on the button for 800,000 with
. Tom Middleton three-bet to 2,000,000 and Kurko sat back to have a think about the situation. Just how many more times would he be able to lay down an ace? Kurko had 11.9 million behind and it was 1.2 million to call. Kurko decided it was time to make a stand and moved all in. Middleton quickly made the call and turned over
.
The flop was
and Kurko was left drawing to three outs. The
turn and
river bricked out. The British rail went crazy and a new EPT champion was crowned.
Thomas Muhlocker of Austria topped a record-smashing field of 180 entries in the EPT10 Barcelona High Roller to win the trophy and €390,700 first prize. Muhlocker had to best a quality field and tough final table, coming back versus Daniel Negreanu heads-up to win. Negreanu meanwhile takes over the Global Poker Index Player of the Year lead with the finish, as reported on the PokerStars Blog.
Tom Middleton opened for 800,000 from the small blind with the
and Kimmo Kurko defended from the big blind with the
. The
flop saw Kurko check his top pair, Middleton bet a million and Kurko spring to life with a check-raise to 2.25 million. Middleton folded.

Level 36 : 200,000-400,000, 50,000 ante
Tom Middleton is grinding Kimmo Kurko down so far this level, the biggest blind level that an EPT has ever seen. We are playing 200,000 / 400,000 with a 40,000 ante. Middleton is slowly but relentlessly increasing his lead, mercilessly betting in position. Kurko has so far had nothing to fight back with and is looking a little tired and despondent at all the pressure, while Middleton's expression remains implacable.
Level: 36
Blinds: 200,000/400,000
Ante: 50,000
Level 35 has come to an end which means it's time for a 20-minute break.

Level 35 : 150,000-300,000, 40,000 ante
Kimmo Kurko opened for 600,000 with
and Tom Middleton called with
. The flop was a dream for Kurko,
making a well-disguised straight, and giving Middleton an up and down straight draw with ace high. The turn was the
and Middleton checked. Kurko bet 1,075,000 but unfortunately for the Finn Middleton mucked without hesitation.

Level 35 : 150,000-300,000, 40,000 ante
Kimmo Kurko has been getting slightly frustrated for the last twenty minutes, not connecting with boards and losing to river cards. He was facing yet another button raise from Tom Middleton and finally had a legitimate hand on the big blind with
. A rare three bet from Kurko made Middleton lay down his
.
The very next hand Kurko raised with
and faced a three bet himself to 1,500,000 from Middleton holding
. Kurko responded with an all-in and Middleton folded. A few pots there for Kurko may restore some confidence.