Bubble Bursts

Level 16 : 2,000-4,000, 500 ante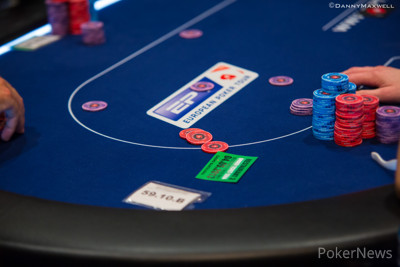 Nuno Da Camara was not at his seat and was all in on the big blind for his last 3,000. He hadn't shown up today so his starting stack of 83,500 was gradually blinded away. Playing hand for hand, if no one else at the other tables was all in and knocked out then Camara would be the bubble, and all the other players would be in the money. If another player was knocked out at another table they would chop the lowest prize money of €8,680. Everyone was crowded round the table with the empty seat when the cry went up from another table, "All in and a call." Everyone rushed over to see who was at risk.
Stefan Jedlicka, an Austrian PokerStars player, was all in for 27,000 and had been called by Christopher Andler in the big blind who could certainly afford it. When the tournament director was happy the players turned over their hands. Jedlicka had the inevitable
while Andler had made the call with
. Could he crack those aces and force Jedlicka to go home with €4,340, sharing it with Camara? The flop came
. It would take runner runner to knock Jedlicka out. The turn was
river
and Jedlicka doubled his small stack.
Nuno Da Camara was the bubble. All the players are now in the money, hand for hand is over and we return to normal play.
Player
Chips
Progress

Nuno Da Camara

Busted