Lifetime Achievement Award: Barny Boatman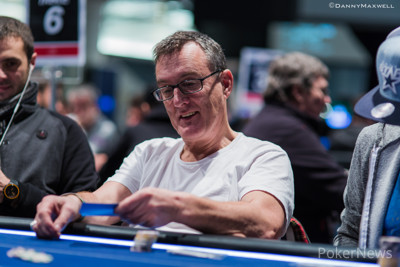 The final award of the night saw Alex Dreyfus back on stage and he said: "This award is voted for by 65 people who figured out who they wanted to give the award too. This award is for someone who is very funny and very clever. This is someone who has been on the circuit forever. He first cashed in the WSOP 13 years ago, won his first WSOP bracelet this year and is a friend of everyone. The Winner is Barny Boatman."
To loud applause Barny Boatman took to the stage looking overwhelmed. "I'm not ready to retire just yet, I guess I have been around a long time, that's why you get these things. When I first started out in poker, I spend a lot of time dealing and being stared at my dodgy looking reprobates. So no change there then. I really didn't see this coming so I don't have a speech prepared. But this means so much to me thank you very much."
Past winners: Gus Hansen (2012), Jesse May (2011), Nic Szeremeta (2010), Bruno Fitoussi (2009), Marcel Luske (2008), Thomas Kremser (2007), John Duthie (2006), Dave Colclough (2005), Dave Ulliott (2004), Lucy Rokach (2003), Liam Flood (2002), Pascal Perrault (2001)