Lo Shing Fung Leads Super High Roller Final Table

Level 15 : 12,000/24,000, 3,000 ante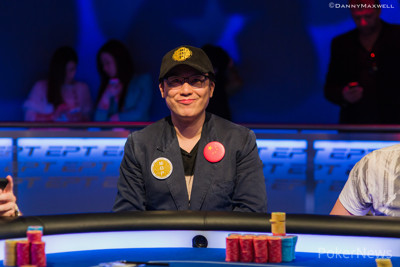 Day 1 of the 2014 PokerStars and Monte-Carlo® Casino EPT Grand Final €100,000 Super High Roller attracted 59 entries, of which 37 returned to action on Day 2. Before play started, three more entries joined the mix as Mike Watson bought back in, and David Peters and Gus Hansen entered for the first time.
The goal for Day 2 was to play down to a final table of eight. Not entirely coincidental that was also the amount of players being paid from the €6,015,240 prize pool, which was generated from the record-breaking field of 62 entries. The bubble would be a big one as the ninth-place finisher would go home empty handed, while the other eight would receive a minimum of €241,000.
Before the tournament organization would be handing out cheques worth big sums of money, lots of people had to go home disappointed. The first one to make his exit was Paul Newey. In a big three-way all-in pot, his ace-king suited couldn't improve against Ole Schemion's queens and Mike McDonald's kings. The kings held up and McDonald tripled up while Schemion won the side pot to eliminate Newey.
Around the same time, Hansen made a splash. The Full Tilt Poker Professional, who lives in Monaco, didn't play on Day 1, but took advantage of late registration and bought in for 40 big blinds on Day 2. He doubled up through Isaac Haxton early on when he flopped a straight holding queen-jack. The PokerStars' Team Online Pro couldn't get away from his aces and "The Great Dane" scored an early double. Minutes later, Hansen eliminated Tobias Reinkemeier to boost his stack up to 750,000, well over average at the time.
It wouldn't last, though, as Hansen departed a short time later. In a huge hand against Daniel Colman, who bought back in twice on Day 1 and thus wouldn't even be profitable with a min-cash, Hansen's ace-king wasn't good enough to crack Colman's top-two with ace-jack. Colman had already gotten a gift in a previous hand where he had flopped the nuts against Vladimir Troyanovskiy, who had five-bet all in on the flop drawing to runner-runner.
Meanwhile, Team PokerStars Pro Vanessa Selbst lost her last chips with sevens to Antonio Esfandiari's king-jack suited. A rivered king made for a short performance on Day 2 for her. Esfandiari wouldn't hold on to those chips, though, after losing back-to-back hands against McDonald. First, his nines didn't improve against McDonald's jacks, and the very next hand he shoved with pocket fours and was called by McDonald, who now had aces.
From there, John Juanda lost to Kurganov, Haxton to Richard Yong, and Talal Shakerchi was one of Schemion's many victims. Not that Schemion busted a lot of players per se, but he did rob a lot of players of their chips.
With Shakerchi's exit, the tournament was down to two tables of eight. One of them was Team PokerStars Pro Daniel Negreanu, who was looking for his fourth cash out of the 10 EPT super high rollers played. Interestingly, he and McDonald are the only two players to play all the EPT super high rollers. However, after finishing sixth in EPT Season 8's Monte Carlo event (€310,000), fifth in the 2012 PCA's ($250,900), and second in the 2011 PCA's ($1,000,000), there wouldn't come a fourth cash for "Kid Poker" here today.
The loosy-goosy, and very talkative, Canadian poker superstar went out in 16th. His squeeze with ace-jack suited didn't get the folds he might have been looking for. Lo Shing Fung, who had limped in on multiple occasions, did exactly that with the power house that's ace-king. Negreanu didn't improve and went out well before the money stage of the tournament was reached.
After Chun Lei Zhou's bust and Sorel Mizzi's exit, it was time for a three-way all-in pot again. This time it was Philipp Gruissem's time to go. Gruissem, who had started the day leading the pack, took fives to battle against Kurganov's ace-king and Olivier Busquet's ace-queen. After five community cards, the big pot was shipped to Busquet who had made a flush.
"Every time I was all in pre, I just won. I really ran absurd in all-in [preflop pots]," Busquet told PokerNews after he went on to make the final table. He then went on to acknowledge that his role as a commentator for super high roller events on the World Poker Tour Alpha8 gives him an advantage. "I get to see a lot of hands that they play, and it gives me a sense for their styles. I don't want to say what they're capable of because I think at this level players are mostly capable of making just good plays and big bluffs in most spots, but it does give me a sense for their ranges. What I don't really know is how they perceive me necessarily, but I feel pretty comfortable."
Listen to Busquet's full interview here:
Not long after the players returned from a 75-minute dinner break it was Phil Ivey who got crippled by Schemion. In an interesting hand, he instantly gave up after having already invested a large portion of his chips. Busquet took care of the rest not much later with kings to Ivey's ace-queen.
A cooler between Fung and Ping San Chan made for a pot worth 1.4 million. Chan's top-two was no match to Fung's set of tens, and just like that the tournament was down to 10 players. Only one more player needed to go before the unofficial final table of nine would be set. It wouldn't take long.
2014 PCA Super High Roller champion Fabian Quoss would depart in 10th, and it was Fung who was again responsible. The Chinese business tycoon was on a roll and took care of the dirty work. Fung, who was seen limping and limp-reraising quite often during the day, had just busted Chan and was still busy stacking his chips. He then got involved in a big hand with Quoss who couldn't get away from his two pair on a board with straight and flush possibilities. Quoss made the call for his entire stack with ace-eight, but that hand was drawing slim as Fung tabled king-queen of diamonds for a flush. The offsuit jack on the river meant the unofficial final table was set.
The remaining nine players merged tables and were set in under the bright lights of the TV stage. With two short stacks, McDonald and Kurganov, there would be action soon, and the €241,000 bubble would burst.
From the hijack position, it was online super star Daniel "mrgr33n13" Colman who raised it up to 50,000, just over the minimum at the 12,000/24,000/3,000 level. Two positions down on the button, McDonald, second to last in chips at the time, shoved his remaining 261,000 to the middle. After both blinds had folded, the decision was on Colman. The American player thought about it for a little bit, before calling with a not-too-happy face. As soon as Colman called, McDonald's face changed a bit, as he also wasn't too excited about this big showdown.
McDonald had 52% with his
, as Colman tabled the
. The flop changed that percentage dramatically as the
gave Colman top pair.
"OK, we need a wheel card," said McDonald with a smile.
"No, we don't," joked Colman back.
McDonald would get the
on the turn and still had some hopes for recovery. The
on the river wasn't the card he hoped for though, and the Canadian player made his exit from the stage.
With the departure of McDonald, the remaining eight players were guaranteed €241,000. Just Colman, who's in for three €100,000 bullets, isn't making any money yet. He'll need to finish at least seventh to be ahead.
| Seat | Player | Country | Chips |
| --- | --- | --- | --- |
| 1 | Dan Cates | United States | 2,341,000 |
| 2 | Richard Yong | China | 1,301,000 |
| 3 | Olivier Busquet | United States | 1,038,000 |
| 4 | Lo Shing Fung | China | 4,558,000 |
| 5 | Daniel Colman | United States | 1,398,000 |
| 6 | Igor Kurganov | Russia | 261,000 |
| 7 | Ole Schemion | Germany | 2,818,000 |
| 9 | Paul Phua | Malaysia | 1,785,000 |
The eight finalists will start at 1 p.m. local time on Saturday. The tournament coverage will be on a one-hour delay as the live stream will be cards up, and they will battle it out for the following prizes:
| Place | Prize |
| --- | --- |
| 1 | €1,804,000 |
| 2 | €1,305,000 |
| 3 | €842,300 |
| 4 | €637,600 |
| 5 | €493,340 |
| 6 | €385,000 |
| 7 | €307,000 |
| 8 | €241,000 |
PokerNews will see you back here on Saturday for the conclusion of this amazing event.