Visser Got Shown 10-8 in a Five Bet Pot

Level 7 : 250-500, 50 ante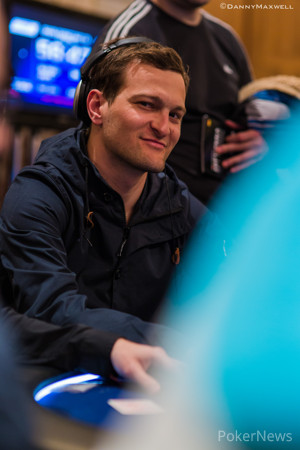 Bulgarian player Bahar Musa opened the action with a raise to 1,100 from the under the gun plus one position. Right next to him Ruben Visser made it 3,000. Polish qualifier Dzmitry Urbanovich, who won one of the small side events in Deauville this year, cold four betted to 7,200 from the cutoff.
The button and both blinds quickly folded and Musa did the same after some thinking. Visser had other plans though, the EPT champ made it 15,600. Urbanovich made the call and the two were off to the flop.
Visser grapped a blue 5,000 chip and four red 1,000 chips and slid them over the line. Urbanovich thought for a little bit and then called.
The turn was the
and Visser double checked his cards. He then tapped the table indicating he was checking. Urbanovich took 17,700 and placed it in the middle of the table. For a second it looked like Ruben Visser had some very creative plans on his mind, but in the end he folded.
Urbanovich grabbed his newly acquired chips and showed his hand:
. "Good hand" Visser said with a sincere voice. "Kings?" Urbanovich asked. "King high" Visser replied.
Visser still has around 60,000. Meanwhile Urbanovich is up to 117,000.