An Orbit w/ FTP Flipout Freeroll Winner Feliz Schulze

Level 2 : 75/150, 0 ante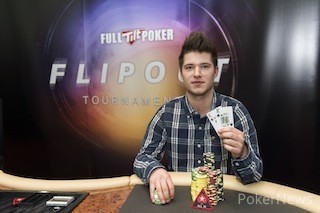 Yesterday, Full Tilt Poker held a live Flipout freeroll inside Vienna's stunning imperial Hofburg Palace. The promotion saw total entries peak at 184, though there were only 81 spots available. A dozen of those spots were reserved for the likes of Full Tilt Poker Professionals Gus Hansen and Viktor Blom; Full Tilt Poker Ambassadors Dermot Blain, Hana Soljan, Roberta Cezarescu and Andras Nemeth; Team PokerStars Pros Jan Heitmann and Marcel Luske; and Team PokerStars Online's Dale Philip, Mickey Petersen, Marc-Andre Ladouceur and Matthias Brandner.
The remaining 69 seats were determined by a random draw, and among those to win a spot were Kevin MacPhee, David Vamplew, and Steve O'Dwyer. All 81 players were competing for the first-place prize of an EPT Vienna Main Event seat worth €5,300.
According to FTP: "The first stage of the live Flipout freeroll saw players gather for an exciting sweat as three tables flipped at the same time (each player was automatically all in on the first hand) to produce three winners. This happened three times amidst much drama and fun – producing nine players in total, with a variety of online and live tickets on the line."
In the end, Felix Schulze beat Full Tilt Poker Tour Ambassador Andras Nemeth to win the seat; as such, the German is now in the Day 1b field. Here's a look at the FTP Flipout Freeroll results:
| Place | Player | Prize |
| --- | --- | --- |
| 1 | Felix Schulze | €5,300 EPT Main Event ticket |
| 2 | Andras Nemeth | €550 ticket |
| 3 | Holger Hubner | €330 ticket |
| 4 | Vlad Lache | €220 ticket |
| 5 | Richard Kapun | €220 ticket |
| 6 | Hakan Can | €120 ticket |
| 7 | Benjamin Mertens | €120 ticket |
| 8 | David Vamplew | €120 ticket |
| 9 | Thomas Putzenlechner | €120 ticket |
We recently caught up with Schulze over at Table 22, where he is sitting quietly with headphones on. Schulze had no choice but to gamble it up in the freeroll, but he appears to be taking a more cautious approach in the Main Event. That was evidenced when we spent an entire orbit watching the freeroll winner.
Hand #1 (Big Blind): Schulze began the orbit with 30,400 and ended up folding this hand after a player in early position opened for 400 and a middle-position player three-bet to 925.
Hand #2 (Small Blind): A player in middle position raised to 350, the cutoff called, and Schulze folded when it was his turn to act.
Hand #3 (Button): A middle-position player opened for 350 and Schulze folded.
Hand #4 (Cutoff): The hijack opened for 425 and Schulze folded.
Hand #5 (Hijack): Action folded to Schulze and he did the same.
Hand #6 (Middle Position): Schulze opened for 450 and received a call from the player in the small blind. Both players checked the
flop, and then did the same on the
turn. Action went check-check for a third time when the
completed the board n the river, and the small blind tabled the
. Schulze showed the inferior
and watched the pot pushed to his opponent.
Hand #7 (Early Position): The under-the-gun player folded and Schulze did the same.
Hand #8 (Under the Gun): Schulze folded.
Not much happening for Schulze, who seems content to grind the day away.