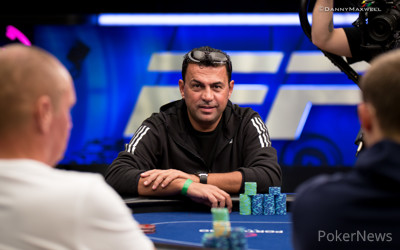 Elie Saad claims to be here as a tourist. The 41-year-old from Baadbat, Lebanon has his own trading and shipping company. Saad, who's married and has five daughters, is taking up poker as a hobby. He usually plays live tournaments in Lebanon and Cyprus, but found EPT Malta a great opportunity to visit the island and play poker.
Being here as a tourist may not have worked out for Saad but he certainly doesn't regret that he's been busy with the EPT Main Event for five full days, navigating his stack to the final day. Saad's guaranteed to pick up his biggest cash tomorrow. His previous best score was €20,625 for fourth place in the 2015 Russian Poker Tour in Famagusta.
He also won the 2011 Macau Poker Cup for a $12,354. The businessman would become the third Lebanese EPT champion, should he win tomorrow (following EPT4 London winner Joseph Mouawad and EPT6 Grand Final champ Nicolas Chouity).
Before EPT13 Malta:
EPT Main Event cashes: 0
EPT Main Event final tables: -
EPT Main Event best finish: -
EPT Main Event winnings: -
Previous results at EPT13 Malta:
€720 for 43rd place in the €330 PokerStars Cup
Saad's EPT13 Malta Main Event run:
End of Day Chips Position
Day 1 87,300 - 46 / 229
Day 2 302,000 - 10 / 90
Day 3 397,000 - 17 / 30
Day 4 1,089,000 - 5 / 14
Day 5 2,065,000 - 4 / 6