Players Agree To a Chop: Steve O'Dwyer Finishes in 2nd Place (€411,311); Sam Greenwood Wins €25,000 Single-Day High Roller II for €4384,969

Level 23 : 50,000/100,000, 100,000 ante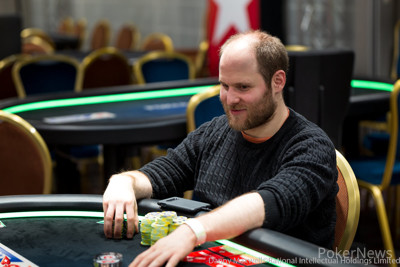 Steve O'Dwyer and Sam Greenwood have agreed to a chop based on chip equity with the prizes as follows. Steve O'Dwyer wins €411,311 and Sam Greenwood earns €384,969.
With the money settld, the two players agreed to flip for the trophy in order to determine a winner. However, there was one twist: due to O'Dwyer's chip lead, he received two hold'em hands while Greenwood received one. The dealer then ran out one board. Here was how it all went down.
The board came
.
Steve O'Dwyer Hand #1:
/

Steve O'Dwyer Hand #2:
/

Sam Greenwood Hand:
/
O'Dwyer tabled his deuce and five as the first two cards, resulting in Greenwood exclaiming how good the situation was for him before rolling over an eight of his own. O'Dwyer would need to beat that, and found an ace on his first hand to give him top pair, which would remain best after completely tablng his second hand.
It was down to one last card and Greenwood checked, stating he needed a jack or a six to stay alive after seeing an open-ended straight draw in front of him. He peeled the card slowly, announcing it was paint. Then, he said he thought it was a queen as he saw a rounded edge. He finally peeled it completely so that he could see it, announcing that it was, in fact, a jack, good to improve to the nuts and claim the title of victor to go along with it.
Stay tuned for a full recap of the tournament.