Khatskevich Doubles, Kuznetcov Toasted

Level 20 : 6,000/12,000, 12,000 ante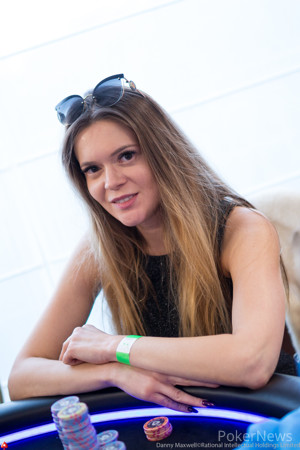 On the last hand of the previous level, Nikita Kuznetcov put his last 2,000 in from middle position and action folded around to Yiannis Liperis who was on the button and raised to 22,000. Maryna Khatskevich was in the big blind and took a few moments to think about her decision. She looked away from the table over to the tournament clock, which displayed 77 players remaining at the time, and then announced she was all in. Liperis called and immediately turned over his hand.
"Oh my God!" said Khatskevich as she tabled her hand.
"Oh my God!" replied Kuznetcov, just as emphatically after seeing what he was up against.
Nikita Kuznetcov:

Maryna Khatskevich:

Yiannis Liperis:
The flop came
to give Khatskevich a set of tens and Kuznetcov a gutshot straight draw in addition to top pair.
"Please, please, please no ace!" said Khatskevich. "If he (Kuznetcov) wins, ok, but..." Khatskevich watched the runout come
and breathed a sigh of relief as she earned the double, calming down from the excitement as the pot was sent her way. She offered an apology to Liperis, who seemed unshaken from his aces being cracked all along as he counted his new stack and prepared to get back to business.