€2,200 EPT National High Roller
Day: 2
€2,200 EPT National High Roller
Day 2 Completed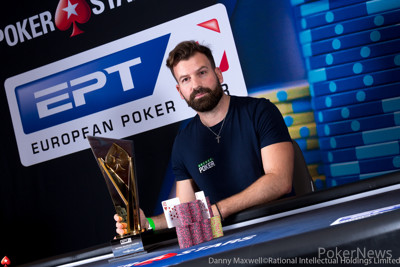 Frenchman Alexandre Reard has won his first PokerStars European Poker Tour trophy after he emerged victorious in the €2,200 EPT National High Roller played out at the beautiful Hilton Hotel in Prague. Reard ended up on top in the 980-entry tournament after beating Italian Luigi D'Alterio heads-up in only a matter of minutes for a career-best score of €342,810.
D'Alterio had to settle for €207,840 while Lior Tal took bronze for €145,830.
Reard managed to dominate the final table after he entered as the chip leader with over 20% of the chips in play. Reard took out four opponents himself at the final table and started the heads-up match with a 5-to-1 chip advantage.
This tournament win is Reard's third of the year and the $381,648 adds on to the $2,517,000 of recorded cashes he already had according to HendonMob, getting him closer to the $3,000,000 mark.
Final Table Results
| Place | Player | Country | Prize (EUR) | ~Prize (USD) |
| --- | --- | --- | --- | --- |
| 1 | Alexandre Reard | France | €342,810 | $381,648 |
| 2 | Luigi D'Alterio | Italy | €207,840 | $231,387 |
| 3 | Lior Tal | Israel | €145,830 | $162,353 |
| 4 | Josip Vidovic | Croatia | €109,510 | $121,918 |
| 5 | Jose Quintas | Portugal | €84,740 | $94,341 |
| 6 | Christoforos Chrysochoidis | Greece | €62,390 | $69,459 |
| 7 | Piotr Wiecek | Poland | €45,350 | $50,489 |
| 8 | Robbie Toan | Ireland | €32,400 | $36,072 |
Day 2 action
Day 2 saw 143 players return to action after playing nearly 17 full 40-minute levels on Day 1 to play into the money.
The fact that everybody that returned had already earned at minimum a first-level payout of €3,465 did not stop the field from reducing to half its size within the first two hours of play. Eliminations piled up early and often, with familiar faces such as Kristen Bicknell, Viktor Blom, Dietrich Fast and Michal Mrakes all making trips to the payout desk as 143 moved closer to nine.
Meanwhile, Reard found himself outlasting the likes of Sam Grafton (16th place) and Clement Richez (18th place), consistently above average in the counts as the field continued condensing.
Reard hit the three-table redraw with 24 players left second in chips, just a hair behind Christoforos Chrysochoidis in the counts. He kept climbing from there, becoming chip leader once the field reached 16. He then won a big pot against Chrysochoidis shortly before the unofficial final table, and entered the unofficial final table of nine with a stack north of 6 million, when less than 30 million total was in play.
Final table Seating
| Seat | Player | Nationality | Chips |
| --- | --- | --- | --- |
| 1 | Alexandre Reard | France | 6,150,000 |
| 2 | Christoforos Chrysochoidis | Greek | 1,480,000 |
| 3 | Luigi D'Alterio | Italy | 3,950,000 |
| 4 | Robbie Toan | Ireland | 1,625,000 |
| 5 | Lior Tal | Israel | 3,550,000 |
| 6 | Jose Quintas | Portugal | 2,400,000 |
| 7 | Josip Vidovic | Croatia | 3,565,000 |
| 8 | Piotr Wiecek | Poland | 4,800,000 |
The official final table started with Reard in the chip lead, but D'Alterio was getting closer after he eliminated Jean-René Fontaine in ninth place.
Reard immediately stepped up to the plate and he took Robbie Toan out to get to 8 million, courtesy of ace-king over king-queen. The Irishman wasn't able to catch up and Reard continued his dominating performance.
It was at that point the clock struck midnight and players were closing in on a 12-hour day at the tables. Their resolve continued, however, as it would take some time before the next player was eliminated. Finally, Piotr Wiecek who got it in with ace-queen against the ace-jack of Tal. Tal managed to hit a jack on the flop and that was all she wrote for Wiecek who took home €45,350.
Reard kept holding on to the chip lead but D'Alterio kept creeping up on him. D'Alterio and Reard had over 50% of the chips in play between them when D'Alterio eliminated Chrysochoidis.
Moments after Jose Quintas was eliminated in fifth place, Reard saw his lead shift over to eventual third-place finisher Tal.
It wasn't for too long, though, and Reard wouldn't let it go again. He eliminated Josip Vidovic and then delivered the final blow to Tal.
The heads-up lasted only a couple of minutes and Reard finished the match after more than 13 hours of play on Day 2. Reard ended things in drama-free fashion by flopping top pair and getting it in against D'Alterio's inferior second pair. D'Alterio took home €207,840 while Reard took the tournament down for a career-best score.
Make sure to keep an eye on PokerNews as we continue with live coverage from the EPT in Prague, heading on to the second flight of the $5,300 Main Event.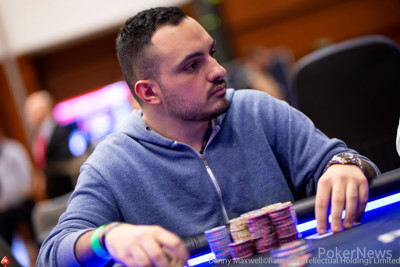 Luigi D'Alterio started the heads-up with a severe chip disadvantage against Alexandre Reard and it didn't last long. They very quickly saw a
flop where Reard checked to D'Alterio. The Italian fired a bet of 250,000 and Reard put him all in and at risk of elimination. He called for his tournament life and they opened up.
Reard showed
for top pair and he had the better hand against D'Alterio with
.
The turn was the
and the river the
and the rail, with last year's runner-up Sonny Franco on it, exploded after the last card of the tournament was dealt.
Luigi D'Alterio had to settle for €207,840 while Alexandre Reard takes home the first-place prize of €342,810.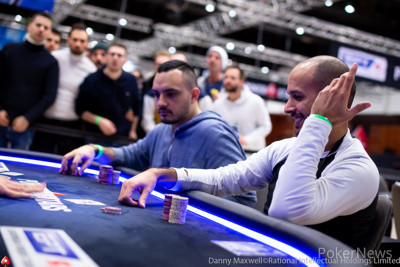 Alexandre Reard got his chips in the middle from the button and big blind Lior Tal called it off from the big blind for his last 2,775,000.
Lior Tal:

Alexandre Reard:
The board ran out
and Reard hit his ten on the turn to make a better hand than Tal. Tal got up from his seat and was sent to the cashier to collect €145,830.
Level 33 : 125,000/250,000, 250,000 ante
In a limped pot, Lior Tal check-called 300,000 from Alexandre Reard on
. Both players checked the
, bringing a
. Tal checked and Reard bet 850,000. Tal thought only briefly before calling but couldn't beat
.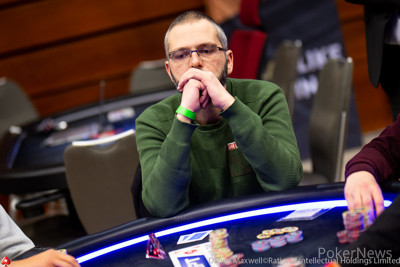 Josip Vidovic sat in the small blind when it folded to him and he pushed his last 2,975,000 to the middle with
. Alexandre Reard wanted a count from the big blind before he called it off with
.
Vidovic was in good shape against Reard but the flop brought
. The turn was the
and Reard improved even more on the
river.
Vidovic was eliminated in fourth place and he takes home €109,510. All remaining players are guaranteed €145,830.
Level: 33
Blinds: 125,000/250,000
Ante: 250,000
The players were sent on a 15-minute break and are expected to take their seats again at 1:40 am local time. They will continue with blinds at 125,000/250,000 with a 250,000 big blind ante.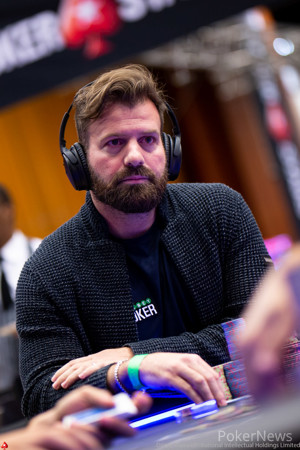 Alexandre Reard (big blind) was heads-up in a pot against Luigi D'Alterio (cutoff) with already over 1,500,000 in the middle. Reard bet 1,100,000 on the turn and he was called by D'Alterio to see the
on the river.
Reard fired a chunky 2,000,000 on the river and he was called after about a minute by D'Alterio. Reard showed
and that was enough to take down the pot.
D'Alterio is now close to the bottom of the leaderboard while Reard has over half of the chips in play.
Josip Vidovic raised to 400,000 from the cutoff and Luigi D'Alterio three-bet to over 1,000,000. A very, very quick shove followed by Vidovic and D'Alterio folded even faster.
The tables have turned and Tal is now the short stack in the tournament while Reard is the first and only with over 10 million in front of him.
Player
Chips
Progress

Alexandre Reard

10,800,000

1,000,000

Luigi D'Alterio

7,200,000

-400,000

Josip Vidovic

5,500,000

1,800,000

Lior Tal

4,400,000

-600,000