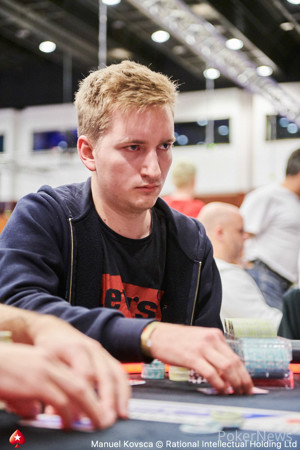 At noon local time, the final 32 players out of a field of 2,452 entries will return to their seats in the Hilton Prague for the penultimate day of the 2019 PokerStars European Poker Tour Prague €1,100 EPT National and they all have €7,390 locked up. However, the eyes are set on making it through another day to secure as big a slice as possible of the €2,353,920 prize pool, and the winner can look forward to a payday of €375,000.
Leading the field into the penultimate day is Germany's Philipp Heinke, who will return to a stack of 5,855,000, good enough for 73 big blinds at 40,000-80,000 with a big blind ante of 80,000. Second in chips is 2016 EPT Prague Main Event champion Jasper Meijer Van Putten (5,135,000) followed by Jussi Mattila (4,980,000) in third place.
Nine different nationalities are represented in the top 10 heading into Day 3 and other notables with above-average stacks include Nikita Kuznetcov (3,935,000), Gregory Armand (3,225,000), Andrei Konopelko (3,150,000), Alexandre Viard (2,900,000), 2019 EPT Open Sochi runner-up Giorgiy Skhulukhiya (2,860,000), and Jakub Oliva (2,580,000).
Also in contention are such familiar faces as Narcis Nedelcu (2,265,000), Micha Hoedemaker (1,900,000), Pierre Calamusa (1,300,000) and Grzegorz Wyraz (1,225,000), and they will all aim to reach the final table. Day 3 is scheduled to play a maximum of 10 levels of 60 minutes each or down to the final six players, whichever of the two comes first.
You can follow the action from start to finish as of noon local time right here on PokerNews to find out who will claim the trophy in the second-biggest EPT National in Prague history.
EPT National Prague Day 3 Seat Draw
| Table | Seat | Name | Country | Chip Count | Big Blinds |
| --- | --- | --- | --- | --- | --- |
| 1 | 1 | Micha Hoedemaker | Netherlands | 1,900,000 | 24 |
| 1 | 2 | Alexandre Viard | France | 2,900,000 | 36 |
| 1 | 3 | Sergei Koliakov | Russia | 820,000 | 10 |
| 1 | 4 | Luigi Lavigna | Italy | 1,110,000 | 14 |
| 1 | 5 | Narcis Nedelcu | Romania | 2,265,000 | 28 |
| 1 | 6 | Nazar Buhaiov | Ukraine | 2,625,000 | 33 |
| 1 | 7 | Gregory Telman | Israel | 3,680,000 | 46 |
| 1 | 8 | Jussi Mattila | Finland | 4,980,000 | 62 |
| | | | | | |
| 2 | 1 | Nikita Kuznetcov | Russia | 3,935,000 | 49 |
| 2 | 2 | Fidan Zahiti | Sweden | 3,815,000 | 48 |
| 2 | 3 | Patrick El Kallas | Jordan | 1,455,000 | 18 |
| 2 | 4 | Andrei Konopelko | Belarus | 3,150,000 | 39 |
| 2 | 5 | Philipp Heinke | Germany | 5,855,000 | 73 |
| 2 | 6 | Jakub Oliva | Czech Republic | 2,580,000 | 32 |
| 2 | 7 | Lyudmil Ivanov | Bulgaria | 1,803,000 | 23 |
| 2 | 8 | Yin Liu | China | 1,330,000 | 17 |
| | | | | | |
| 3 | 1 | Grzegorz Wyraz | Poland | 1,225,000 | 15 |
| 3 | 2 | Marcin Lesniewski | Poland | 1,485,000 | 19 |
| 3 | 3 | Emile Baroudi | Lebanon | 505,000 | 6 |
| 3 | 4 | Timo Laasonen | Finland | 2,870,000 | 36 |
| 3 | 5 | Gregory Armand | United States | 3,225,000 | 40 |
| 3 | 6 | David Katav | Israel | 1,010,000 | 13 |
| 3 | 7 | Rafael Alkhouri | Sweden | 1,200,000 | 15 |
| 3 | 8 | Sergey Perelygin | Russia | 1,555,000 | 19 |
| | | | | | |
| 4 | 1 | Giorgiy Skhulukhiya | Russia | 2,860,000 | 36 |
| 4 | 2 | Bartosz Stasiewicz | Poland | 2,160,000 | 27 |
| 4 | 3 | Giulio Mascolo | Italy | 865,000 | 11 |
| 4 | 4 | Vojtech Susta | Czech Republic | 1,245,000 | 16 |
| 4 | 5 | Jasper Meijer Van Putten | Netherlands | 5,135,000 | 64 |
| 4 | 6 | Semen Kravets | Russia | 1,310,000 | 16 |
| 4 | 7 | Pierre Calamusa | France | 1,300,000 | 16 |
| 4 | 8 | Michael Kramer | Netherlands | 1,225,000 | 15 |