€5,300 EPT Main Event
Day: 6
€5,300 EPT Main Event
Day 6 Completed

Level 40 : Blinds 600,000/1,200,000, 1,200,000 ante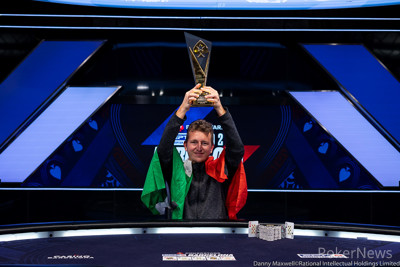 The 2022 PokerStars and Barcelona©Casino European Poker Tour came to an exhilarating conclusion as Italy's Giuliano Bendinelli completed an incredible comeback from one big blind early in the final day to defeat France's Jimmy Guerrero in heads-up play, triumphing over the record-breaking field of 2,294 in the 2022 EPT Barcelona €5,300 EPT Main Event to claim €1,491,133 and the trophy.
The biggest EPT Main Event in history saw players from 78 different countries make their way to Casino Barcelona to create a prize pool of €11,125,900.
Early in the day, with six players remaining, the 31-year-old Bendinelli lost nearly all of his stack against Guerrero and was left with just over one big blind. He was able to spin that up and continue his run in front of his energetic Italian rail, and ultimately, produced a real-life "chip and a chair" story.
Bendinelli has been playing the EPT events for more than a decade, and although he's recorded five previous EPT Main Event cashes, none were particularly deep runs. Until now, his top score was €100,000 in an EPT Monte Carlo event back in 2013, and he's now surpassed his entire collection of live tournament earnings with this single tournament.
2022 EPT Barcelona €5,300 EPT Main Event Final Table Results
| PLACE | PLAYER | COUNTRY | PRIZE |
| --- | --- | --- | --- |
| 1 | Giuliano Bendinelli | Italy | €1,491,133* |
| 2 | Jimmy Guerrero | France | €1,250,337* |
| 3 | Neville Costa | Brazil | €734,470 |
| 4 | Fabiano Kovalski | Brazil | €565,280 |
| 5 | Patrik Jaros | Czech Republic | €434,850 |
| 6 | Kayhan Mokri | Norway | €334,480 |
| 7 | Michael Pinto | Netherlands | €257,330 |
| 8 | Scott Margereson | United Kingdom | €198,000 |
*Denotes Heads-Up Deal
Winner's Reaction
"I can't believe it. It's the best day of my life. I'm speechless," Bendinelli beamed in a post-victory interview.
"I can't believe it happens today, in the most important day of my life," Bendinelli said he couldn't remember ever making a comeback from one big blind.
"I'm proud about how I played, but also I won some showdowns, of course, to be here. I need luck, like the last hand with quads against full house, so it's a mix between skill and luck. I'm grateful to be here."
Bendinelli has become the third EPT Main Event champion from Italy, as he joins 2008 EPT Prague winner Salvatore Bonavena and 2014 EPT Monte Carlo winner Antonio Buonanno. He had an energetic Italian rail cheering for him all day, which included his mother who had come out to witness her son's deep run in the premier European tournament.
"Thank you guys for all the support, I love you," Bendinelli expressed when asked what he would want to say to Italy. "I love you mom, and this victory is for my dad."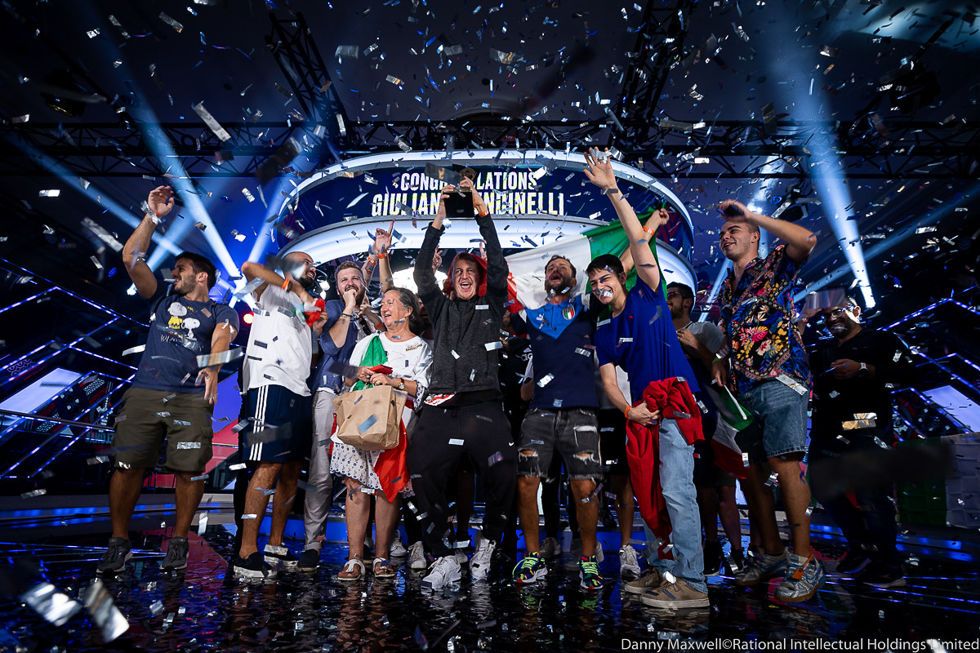 Final Day Action
The end stages of the tournament were plentiful with exciting action and personalities, but the final day began slow, as the six returning players played more than three hours before a player was all in and at risk of elimination.
Eventually, Jimmy Guerrero got his chips in and held with ace-king against Giuliano Bendinelli's ace-queen. Guerrero doubled to take the chip lead while Bendinelli was left with just over one big blind. Bendinelli's elimination appeared imminent, but he fought back and tripled up shortly after, then rivered a chop to survive, then doubled up.
Norway's Kayhan Mokri came into the day second in chips, but he couldn't find any momentum and ran his remaining nine big blinds into pocket kings. He found no help and was eliminated in sixth place.
Czech Republic's Patrik Jaros came into the day as the chipleader, but he also had a disappointing finish when he got his chips in with an inferior pocket pair and couldn't improve, sending him to the rail in fifth place.
Brazil's Fabiano Kovalski was the next casualty when he also ran into a superior pocket pair. His eights found themselves up against Bendinelli's tens, and the board ran out clean to eliminate Kovalski in fourth place, while Bendinelli moved to the top of the leaderboard.
Neville Costa was also looking to win the second EPT Main Event for Brazil since Marcelo Simoes Mesqueu won the first title for the South American country at the last EPT stop in Monte Carlo. However, it wasn't to be, as multiple deal discussions between the trio of remaining players fell through before Costa was ousted in third place after losing a race to the eventual champion.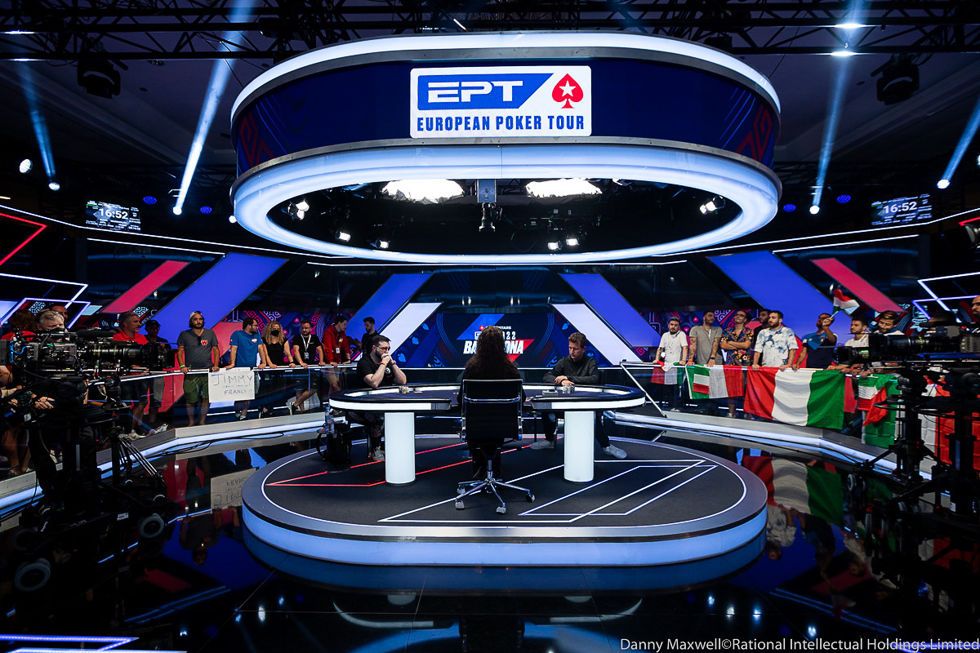 When heads-up play was reached, the two players took a short break before they returned and agreed to a deal that guaranteed €1,422,480 for Bendinelli, while Guerrero was guaranteed €1,250,337. The two then commenced heads-up play for an additional €68,653, along with the trophy and glory of the title.
Bendinelli held nearly twice the amount of chips as Guerrero at the start of heads-up play, but the duo battled for nearly three hours with both players having opportunities to win the tournament. Guerrero himself was down to only three big blinds near the end of the penultimate day, and it appeared to be a heads-up clash between players who could not lose.
It seemed only fitting for such an incredible tournament, that in the end, Bendinelli claimed the title after making quad eights on the river against Guerrero's full house. Bendinelli rejoiced with his rail as he cemented his legacy in the poker history books as the champion of the record-breaking EPT Main Event.
That wraps up the PokerNews coverage from the coast of Catalonia at Casino Barcelona. Check out the 2022 PokerStars EPT Barcelona hub for coverage of events throughout the series, and stay tuned as the European Poker Tour continues from October 18 to 28 with a stop in London.

Level 40 : Blinds 600,000/1,200,000, 1,200,000 ante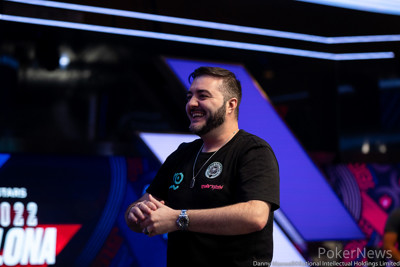 Giuliano Bendinelli raised to 3,000,000 with
and Jimmy Guerrero defended the big blind with
.
The dealer spread the
flop and Guerrero check-called for 2,500,000.
The
landed on the turn and Guerrero check-called for 5,500,000.
The
completed the board, Guerrero led for 3,800,000, Bendinelli jammed, and Guerrero called all in for his remaining 16,000,000.
Bendinelli jumped out of his seat to celebrate with his rail before rushing back and flipping over his quad eights, while Guerrero's boat was no good.
Guerrero's deep run ended with a runner-up finish for €1,250,337 following a heads-up deal, while Bendinelli wins the trophy, the title, and €1,491,133 following an incredible tournament.
Jimmy Guerrero raised to 2,700,000 from the small blind with
and Giuliano Bendinelli called with
from the big blind.
The flop was
and was checked through to the
turn. Bendinelli bet 2,000,000 and Guerrero called.
The
completed the board and Bendinelli threw in another bet of 3,500,000 to which Guerrero folded.
Level: 40
Blinds: 600,000/1,200,000
Ante: 1,200,000
The remaining two players are on a 15-minute break.

Level 39 : Blinds 500,000/1,000,000, 1,000,000 ante
Giuliano Bendinelli opened to 2,000,000, Jimmy Guerrero jammed for 17,500,000, and Bendinelli quickly called.
Jimmy Guerrero:

Giuliano Bendinelli:
The
flop kept Guerrero ahead with his pocket fives, and although the
turn brought counterfeit outs, the
river completed the board to improve Guerrero to a boat and secure his double.
Giuliano Bendinelli limped from the small blind with
and Jimmy Guerrero checked from the big blind with
.
The flop was
and Guerrero check-called a bet of 1,000,000 from Bendinelli.
The dealer burned and turned the
that was checked through the
river. Guerrero checked once more but Bendinelli fired a bet of 4,000,000. Guerrero gave it some thought, then tossed in chips signifying a call. Bendinelli took down the pot with his flush and Guerrero mucked.

Level 39 : Blinds 500,000/1,000,000, 1,000,000 ante
Giuliano Bendinelli raised to 2,200,000 with
and Jimmy Guerrero defended with
.
The flop fell
and Guerrero check-raised a bet of 3,500,000 up to 8,000,000. Bendinelli then moved all in, and Guerrero sent his cards into the muck.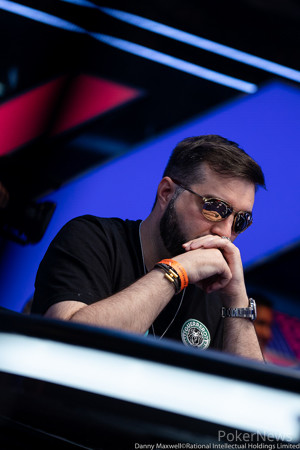 Giuliano Bendinelli limped from the small blind with
and Jimmy Guerrero checked his option with
.
The flop came
and Guerrero checked. Bendinelli bet 1,500,000 and Guerrero check-raised to 4,700,000. Bendinelli stuck around with a call.
The turn was the
and Guerrero went deep into the tank, using one of his time bank cards, then fired a bet of 6,000,000 that Bendinelli called.
The
filled up the board and Guerrero mooved all in for 13,050,000. Bendinelli thought for a long while and eventually ran out of time, with Guerrero raking in the pot.