Simon Deadman Second Best No Longer - Wins 2014 HPO Championship Main Event
Level 33 : 100,000-200,000, 30,000 ante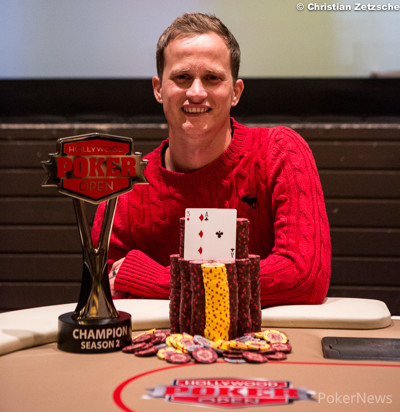 The 2014 Hollywood Poker Open attracted a record setting field of 692 entries which created an astonishing prize pool of $1,560,460. After three long days of play it would be Simon Deadman who would emerge victorious after his
would best the
of Michaeal Wang in heads up play. In addition to the $351,097 first place money, Deadman will take home the HPO Championship Trophy and the honor of being the second ever HPO Championship Event winner joining inaugural winner Ana Marquez in the record books.
Deadman had finished runner up an astonishing six times since the beginning of 2014. Impressive, but disappointing in it's own right. "It was painful not getting the trophy," a relieved Deadman said after the tournament. "I always joke around about finishing second but I wanted to win this real bad." Deadman had the support of a large rail that cheered him on to victory. "It felt great that they would drive all the way down from the Strip to watch. I really appreciated it." As for future plans, Deadman will take part in the Main Event at the World Series of Poker but for now he is going to "take a day off but knowing me I'll jump right into the mix-max tomorrow."
The final day of play started with 23 players returning and it wouldn't take long to whittle the field down to the final table. Eliminated early on were the likes of Andy Spears (21st - $10,299) who would lose with two pair against a set. Later on, Kitty Kuo would take out two in one blow to get the tournament down to the final 13.
Brian Hastings (11th - $24,031) would lose a race to Michael Wang to fall just short of the final table and Chris DeMaci (10th - $24,031) would fall to Kitty Kuo in a cooler of a hand that would leave the pro stunned. Another pro, Mike Sowers (9th - $31,209), would also be eliminated in shocking fashion when Elliott Zaydman would hit a flush on the river to crack Sowers's kings.
HPO Regional Championship Winner Bradley Yazici (7th - $46,814) would survive countless double ups but his dream of taking home the title would fall short when his jacks ran into the aces of Robbie Bakker. Bakker (6th - $55,708) would learn himself what it was like to run into aces when he took queens up against Martin Godsk's pocket rockets to be eliminated.
After Zaydman (5th - $71,781), and Godsk (4th - $98,777) were eliminated, the tournament turned into the Deadman show as he took control of the tournament with a huge double up against Kitty Kuo that would move Kuo from the chip lead to the short stack when her trip kings fell to his full house. She would go the very next hand at the hands of Deadman to finish in 3rd place for $142,158.
FINAL TABLE RESULTS
| Place | Name | Payout |
| --- | --- | --- |
| 1 | Simon Deadman | $351,097 |
| 2 | Michael Wang | $216,904 |
| 3 | Kitty Kuo | $141,158 |
| 4 | Martin Godsk | $98,777 |
| 5 | Elliott Zaydman | $71,781 |
| 6 | Robbie Bakker | $55,708 |
| 7 | Bradley Yazici | $46,814 |
| 8 | Damian Salas | $39,012 |
| 9 | Mike Sowers | $31,209 |
There were plenty of notables among the 63 that would make the money including Rens Feenstra (58th - $5,618), Michael Katz (55th - $5,618), Bruno Lopes (51st - $6,086), Greg Ostrander (50th - $6,086), Chris Hunichen (41st - $7,178), and Andrew Lichtenberger (32nd - $8,583). Just as many would come out and find themselves leaving empty handed including HPO ambassador Chris Moneymaker, Lauren Kling, Jacob Bazeley, David Tuthill, Amit Makhija, Jared Jaffee, Aaron Massey, Guillaume Darcourt, and 2013 November Niner Michiel Brummelhuis.
On behalf of PokerNews, we would like to thank everyone for following along with our coverage of the 2014 season of the Hollywood Poker Open and the crowning of the season ending champion, Simon Deadman, at the Championship Main Event today.