Balci Pays Off Eldabach in Large Pot

Level 28 : Blinds 80,000/160,000, 160,000 ante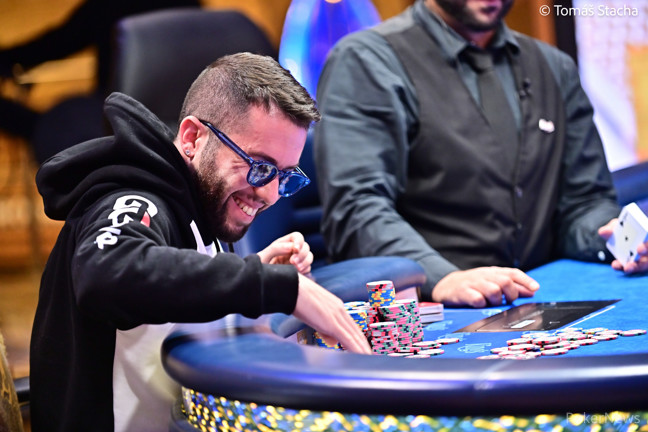 Oswin Ziegelbecker opened to 450,000 with the A♦Q♣7♠7♥ and Dorel Eldabach called with the A♣8♣6♠3♠.
Ali Balci then three-bet small to 1,000,000 with the K♠J♣10♠7♣ to force areluctant call by Ziegelbecker.
"Yessss, you like to gamble my friend..." Eldabach grinned and called.
The 6♦5♠2♣ flop was checked and Balci also checked the 4♣ turn. Eldabach bet 1,100,000 for his opponent to call.
After the J♥ river, Balci checked once more and Eldabach fired a bigger bet of 1,900,000.
Balci mulled it over for a bit and eventually paid it off to drop to a severe short stack.
Eldabach was all smilesand bumped fists with Oswin Ziegelbecker.
Player
Chips
Progress

Dorel Eldabach

17,075,000

3,970,000

Oswin Ziegelbecker

9,845,000

-290,000

Sebastian Langrock

3,040,000

-320,000

Ali Balci

1,540,000

-3,680,000