€2,350 Main Event
Day 3 Completed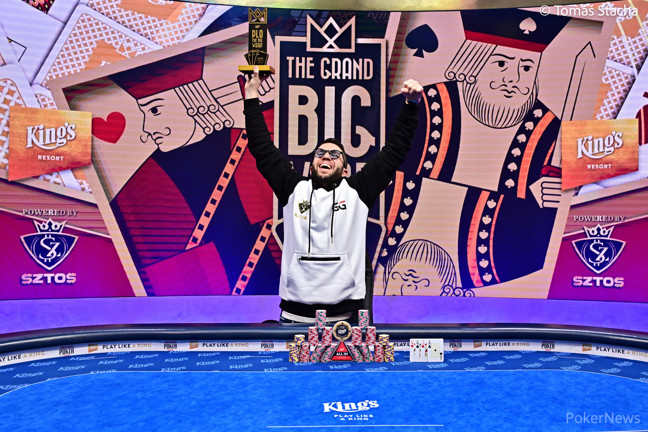 A busy festival for four card lovers has come to a conclusion at the King's Resort in Rozvadov. After several High Roller Events had already crowned a champion as part of the 2023 The Grand Big Wrap series in the previous days, all eyes were set on the conclusion of the 2023 The Big Wrap €2,350 Main Event.
Out of a field of 316 entries, only 16 hopefuls remained to battle for the biggest slice of the €660,440 prize pool. Ultimately, it was Dorel Eldabach who came out on top to earn a top prize of €132,400. He defeated Oswin Ziegelbecker in a short-lived heads-up duel with the Austrian taking home a consolation prize of €88,100.
It was no surprise that these two met in heads-up as they entered the final day first and third in chips. The always jovial Eldabach went on a wild ride with his uncanny ability to increase a stack in rapid fashion and traded hot with cold streaks with a smile on the face at all times. Meanwhile, Ziegelbecker accumulated his chips in a more conservative way.
Ultimately, Eldabach came out on top to finally secure a winner's trophy. Three years ago on GGPoker, he narrowly missed out on the victory in a $1,500 Pot Limit Omaha after losing a flip to Brad Ruben. While his live poker MTT cashes appear sparse on paper, he can usually be found at the high-stakes PLO cash game tables at King's Resort.
WSOP bracelet winner Sebastian Langrock and Tomasz Kozub also reached the final table but couldn't overcome the dominating performance of Eldabach.
2023 The Grand Big Wrap €2,350 Main Event Final Table Result
| Place | Winner | Country | Prize (in EUR) |
| --- | --- | --- | --- |
| 1 | Dorel Eldabach | Israel | €132,400 |
| 2 | Oswin Ziegelbecker | Austria | €88,100 |
| 3 | Ali Balci | Germany | €64,400 |
| 4 | Sebastian Langrock | Germany | €51,900 |
| 5 | Samuel Albeck | Germany | €40,775 |
| 6 | Joao Estanislau | Portugal | €30,843 |
| 7 | Eran Carmi | Israel | €22,653 |
| 8 | Tomasz Kozub | Poland | €16,643 |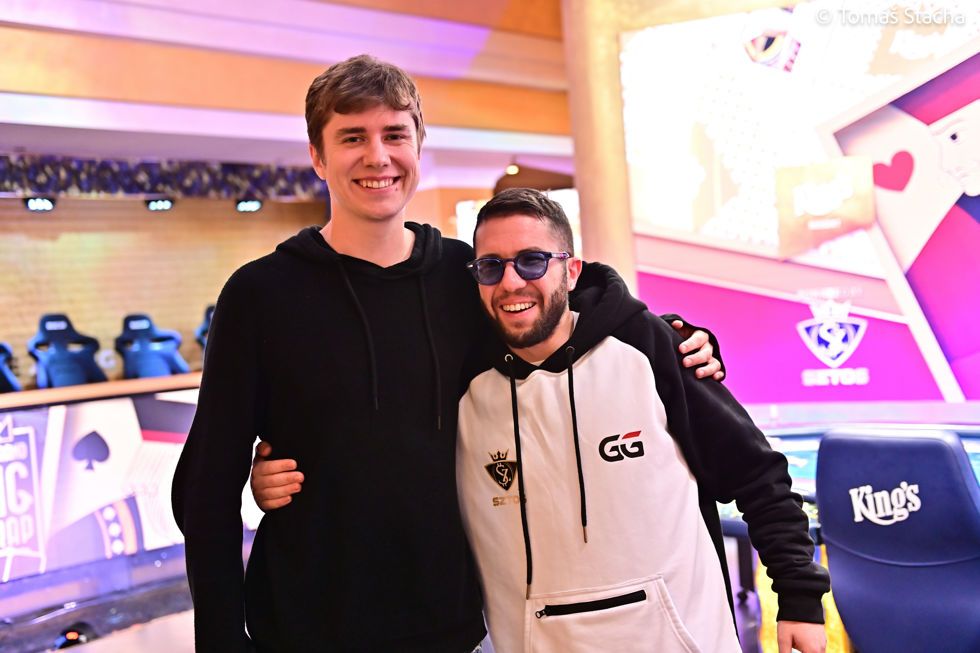 The final day had barely kicked off when the first pay jump was already secured. Tim Van Loo became the first casualty on the live stream table when he potted one-suited kings. Ali Balci flopped a straight and held to boost his stack right away. Tomasz Kozub then doubled through Seamus Cahill on the outer table, sending the Irishman to a shorter stack from which he would not recover anymore.
Cahill made two pay jumps, however, as the likes of Goran Urumovic, Jakob Madsen, Marco Di Persio and Quan Zhou ran out of chips before him. Di Persio's exit vaulted Joao Estanislau near the top of the leaderboard when both had kings and Estanislau hit a gutshot straight draw with his connected kickers.
Matthew Macioce then bubbled the unofficial final table when he got his short stack in with top pair and a gutshot. Kozub had the same top pair with a straight draw and superior ace kicker, which turned out to be the deciding factor.
Once the field combined to a single table, Adolf Buettner as the shortest stack flopped a king-high straight but Dorel Eldabach made broadway to regain the lead. However, it didn't take long for Eldabach to suffer a setback when his flopped bottom set ran into the top set of Oswin Ziegelbecker with the Austrian turning quads.
Kozub then went from one of the bigger stacks to busto and had to settle for eighth place. Ali Balci flopped a six high straight and bet all streets to get paid off by his opponent with two pair. That left Kozub very short and he was flushed away in the next hand.
Eldabach then also doubled Sebastian Langrock when his top two pair couldn't fade the combo draw of the WSOP bracelet winner. From there on, the action slowed down a lot and Ziegelbecker jumped into the top spot. The torrid run of Eldabach ended when he rivered a full house against Estanislau and then got it in with aces against the aces of fellow countryman Eran Carmi to flop the nut flush.
Estanislau didn't recover from the earlier setback and bowed out in sixth place with Ziegelbecker and Eldabach atop the leaderboard. The latter continued to gain momentum and knocked out Samuel Albeck when both got it in with top pair alongside straight and flush draws. Two blanks later, the minor kicker advantage turned out to be crucial for Eldabach.
Balci and Eldabach continued to lock horns on multiple occasions and that would backfire for the former, as he paid off Eldabach with just a rivered top pair. Balci came back with a double and instead, it was Langrock who sent his chips over to the high-stakes cash game player.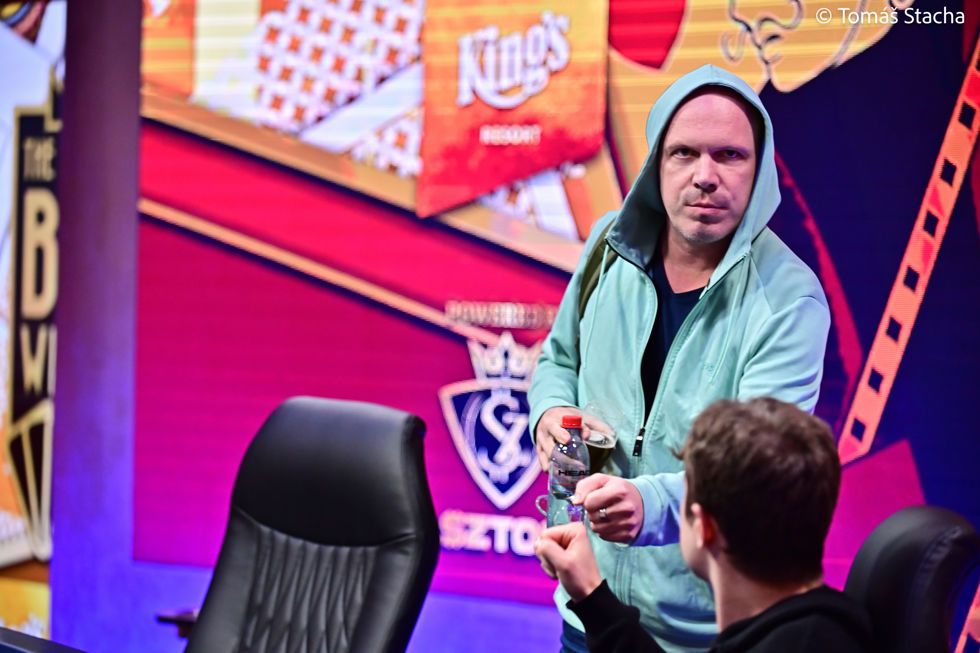 An ill-timed three-bet shove by Balci then sealed his fate when he ran into the kings of Ziegelbecker, who entered heads-up play as slight underdog versus Eldabach.
It took around 40 minutes from there on to determine a champion and the chips went in the middle on an ace-high flop. Ziegelbecker's top pair, broadway draw and nut flush draw was very much alive against the top two pair and inferior flush draw of Eldabach but the Austrian failed to improve.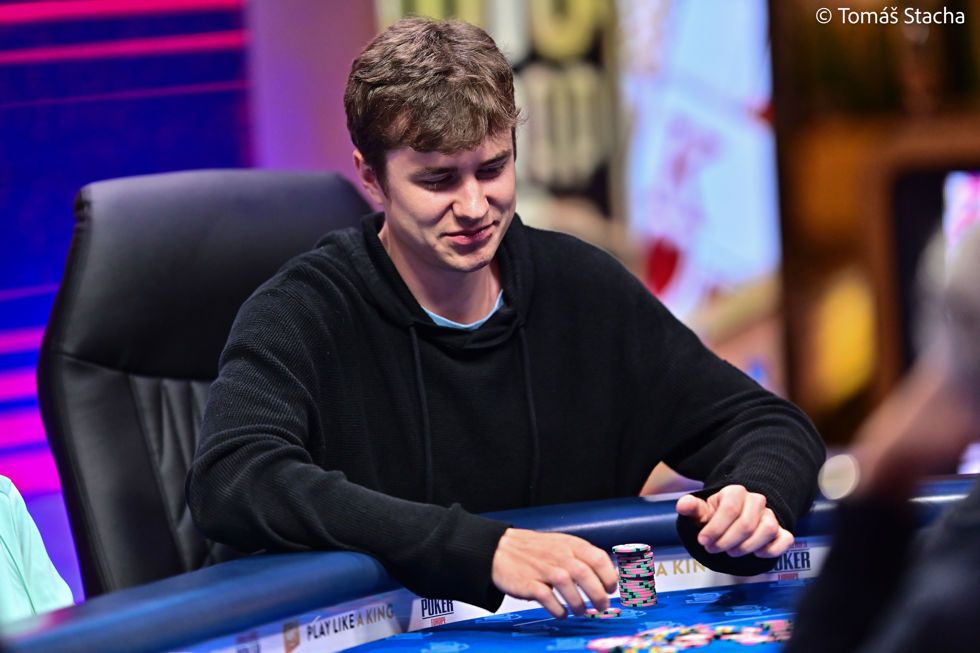 That concludes the PokerNews live reporting from King's Resort but the next major events in Europe's biggest poker arena are just around the corner with a World Series of Poker Circuit stop and the 2023 WSOP Europe.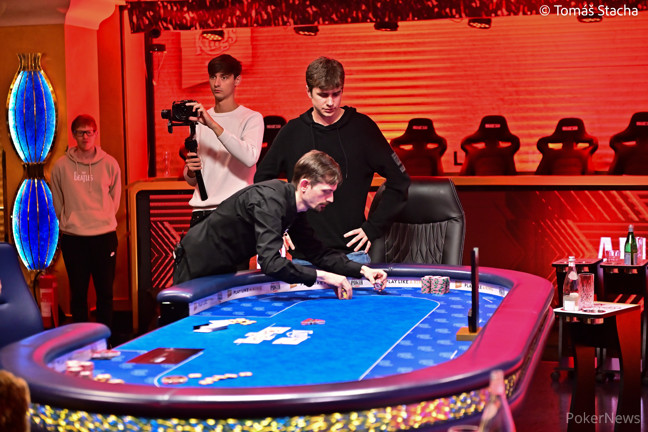 Dorel Eldabach raised to 750,000 and Oswin Ziegelbecker called in the big blind.
The flop came J♣6♥A♥ and Ziegelbecker checked over to Eldabach, who bet another 1,250,000. Ziegelbecker then raised to 3,500,000 and Eldabach moved all in. Ziegelbecker paused for a moment before calling for his last 13,000,000.
Oswin Ziegelbecker: A♠K♥7♥3♦
Dorel Eldabach: A♣Q♠Q♥J♥
Eldabach had flopped top two pair, while Ziegelbecker had top pair and the nut flush draw.
Both players stood up from their seats as the 7♠ fell on the turn to keep Eldabach in front. The river was the 6♦ and Ziegelbecker was eliminated as the runner-up, while Eldabach claimed the trophy and €132,400 top prize.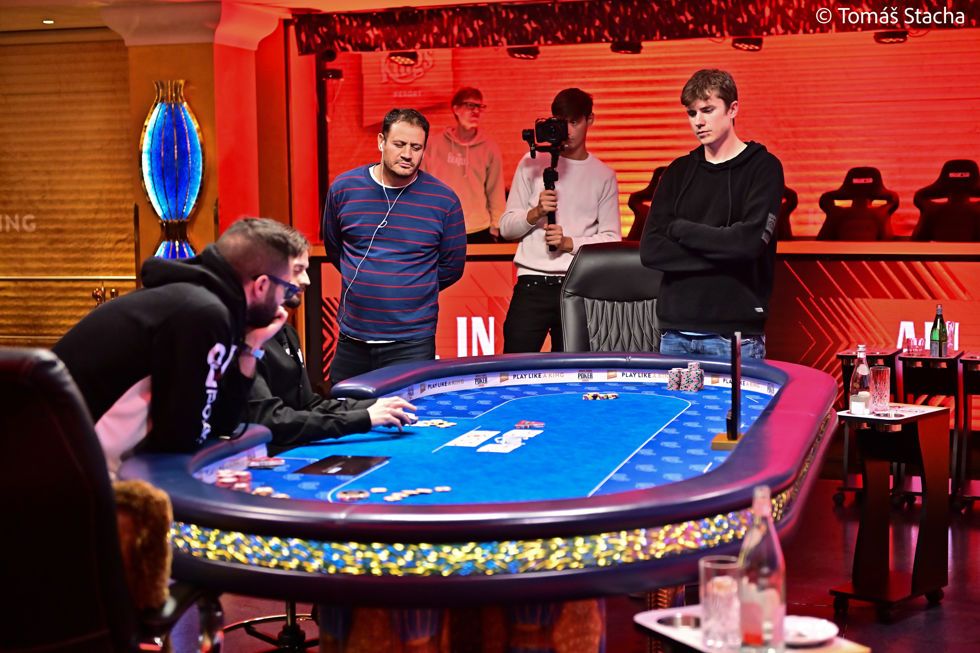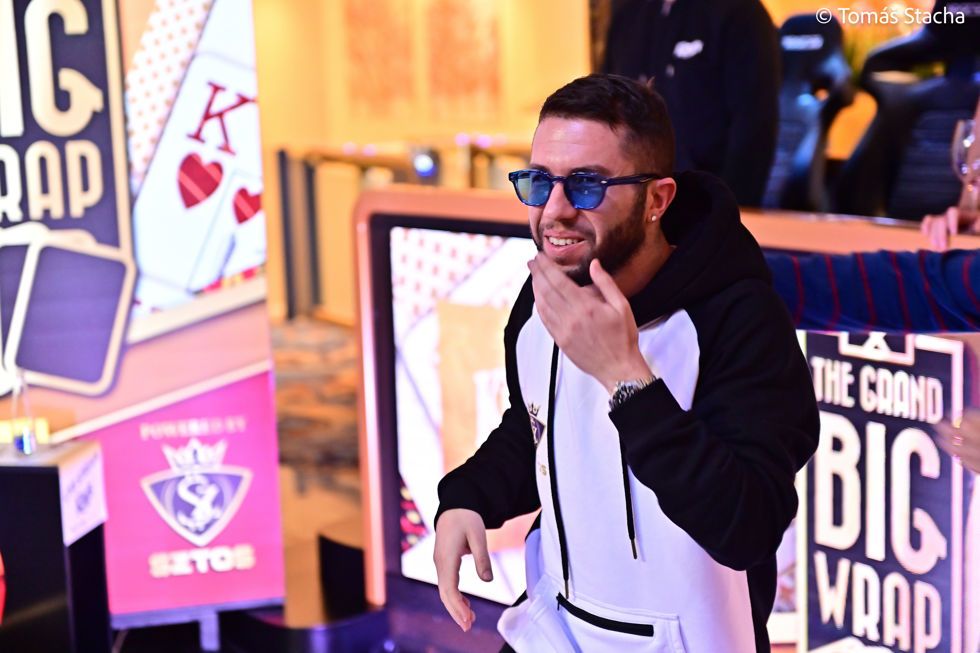 Oswin Ziegelbecker again raised his button, this time making it 750,000 holding A♥9♥7♣3♥. Dorel Eldabach defended with A♣10♦4♥3♦.
The flop came J♣2♦5♥ and Ziegelbecker continued for 750,000. Eldabach then raised to 2,500,000 with his straight draw and Ziegelbecker folded.
Eldabach took back a small chip lead with that pot.
Level: 30
Blinds: 125,000/250,000
Ante: 250,000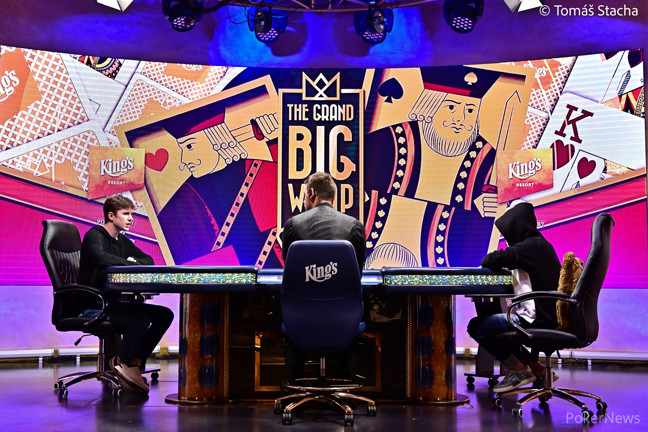 Oswin Ziegelbecker raised to 600,000 with K♥Q♣8♦7♥ and Dorel Eldabach defended K♠J♦8♥6♥.
The flop came 8♠Q♥3♠ and Ziegelbecker bet 700,000 with top two pair. Eldabach called to the 10♣ turn, where he picked up a straight draw and led out for 1,700,000.
Ziegelbecker called and the river came the 5♦. Eldabach missed his draw and fired out another 2,750,000. Ziegelbecker tanked for a minute before calling to win the pot and move into the chip lead.
Oswin Ziegelbecker raised to 600,000 with A♥8♥6♦5♦ before Dorel Eldabach three-bet to 1,800,000 holding A♣Q♦9♦8♣.
Ziegelbecker called to the 10♣2♠2♣ flop, where he folded to a bet of 750,000 from Eldabach.
A few hands later, Ziegelbecker again raised to 600,000 with [AsAcJhs6h] and Dorel Eldabach defended Q♦8♥7♦6♣.
Both players checked the 4♥5♦J♦ flop and the turn came the 3♦. Eldabach led out for 600,000 with his flush and Ziegelbecker called.
The 2♣ river was checked down and Eldabach won the pot.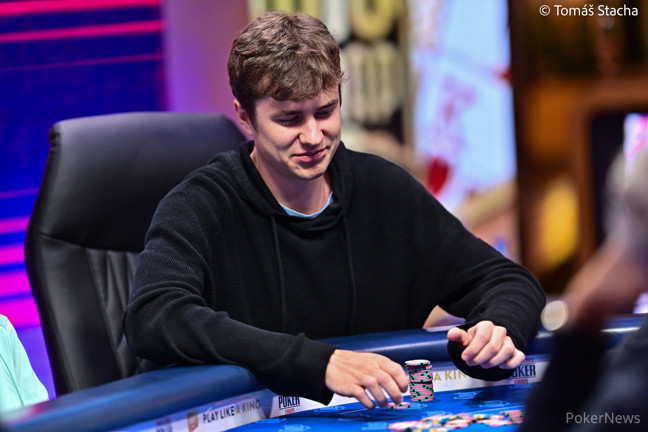 Oswin Ziegelbecker limped in with 10♣9♦5♠3♠, Dorel Eldabach raised to 600,000 with A♥A♣9♥6♠, and Ziegelbecker called.
The flop came 10♥8♠4♠ and Eldabach led out for another 600,000. Ziegelbecker called with top pair as the 6♥ fell on the turn.
Eldabach then checked and Ziegelbecker fired out 2,600,000. Eldabach called and the river was the J♣.
Eldabach checked again and Ziegelbecker this time bet 5,200,000, representing most of his remaining stack. Eldabach tanked for nearly a minute before laying down his hand.
Oswin Ziegelbecker raised to 600,000 with the J♠J♣9♣8♣ and Dorel Eldabach defendedthe J♦10♠10♣7♥.
Neither player connected with the 6♠4♠2♥ flop and checked to the 5♥ turn before checking to the 3♦ river as well. No betting action followed and Ziegelbecker won the pot with the superior pocket pair.
Eldabach then raised the pot with the J♥8♠8♥4♥ and Ziegelbecker came along with A♣10♦9♦3♠. The Q♠7♠2♠ flop was checked and the 8♣ followed on the turn. Ziegelbecker bet 500,000 with his open-ender and Eldabach called with the set.
The 8♦ river gave Eldabach quads and Ziegelbecker checked, Eldabach bet 1,600,000 and won the pot without showdown.
Oswin Ziegelbecker limped in with 10♠8♦3♥3♦ and Dorel Eldabach checked K♣5♣4♣2♦.
The flop came K♥Q♦2♠ and Ziegelbecker bet 300,000. Eldabach called, then led out for 800,000 on the 5♠ turn after making two pair. Ziegelbecker folded.
The next hand, Eldabach raised 600,000 with A♠K♠J♠6♣ and Ziegelbecker defended A♦10♥8♦5♣.
The 10♠K♥3♥ flop gave Eldabach top pair and he continued for 500,000. Ziegelbecker called with a pair of tens and both players checked the 8♥ turn.
Eldabach again made two pair on the 3♣ and took down the pot after both players checked it down.