All the way from Australia to win a Platinum Pass

Level 5 : 200/400, 400 ante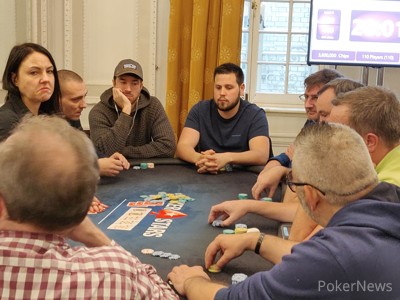 The London location for this leg of Moneymaker's Road to PSPC means that several British regulars have joined the field, but one player has come a little bit further in order to try and acquire a coveted Platinum Pass for next year's PSPC in Barcelona.
Two weeks ago, Josh Brown saw the promotion of being able to win a Platinum Pass and hopped on a plane from Australia to be here for this event.
"It was very last minute," said Brown "I had a bit of time off work. I had a big birthday a couple of weeks ago, so I decided it was a birthday present to myself.
"I know there was an Australian guy in one of the earlier ones who had travelled to play. But when I told my mates, they all said 'Wow, that's a long way to go.' I love London and thankfully my partner is very supportive of poker so she said 'Yeah, go' and here I am!"
Brown says he's been playing recreationally for the last eight years, but over the last year or so he's gotten more into it through watching EPT live streams and listening to the Poker in the Ears podcast.
Attention fellow #pokerintheears fans. I'm traveling from Oz to London for the Moneymaker PSPC tour. Got a few ques… https://t.co/yejaSPO7Ml

— Josh Brown (@j_db89)
He says that watching last year's PSPC from afar reiterated just how big the opportunity is.
"It's huge," he said. "Watching it at the beginning of the year; the whole live stream. It was really enjoyable, watching all of the EPT stuff.
"The opportunities in Australia are quite limited, with no online poker, so when this came up I thought I'd make the most of it."
Should he win the tournament and earn that coveted Platinum Pass, brown says the prospect of another long-haul flight to Barcelona next August would be "a bit of a drain" but that he'd "make it work."
"Barcelona is a great city. The weather's a little bit different to London. But the atmosphere would be great. I'm not used to poker in Europe; even in an event like this, it's bigger than what I'm used to.
"It would be quite impressive with all the big names, things like that. But putting that to one said I'm just happy to play. I love to play."
Despite being on his third bullet after busting twice yesterday, he says he's doing much better today.
"It's more about playing the game and the money and Platinum Pass will come later if I get that far. I'm just trying to enjoy it and play the game!"