2010 NAPT Mohegan Sun High Roller Bounty Shootout
Event Info
| | |
| --- | --- |
| Buy-in | $25,000 |
| Players | 35 |
Level Info
| | |
| --- | --- |
| Level | 8 |
| Blinds | 3,000 / 6,000 |
| Ante | 1,000 |
2010 NAPT Mohegan Sun High Roller Bounty Shootout
Day 2 Completed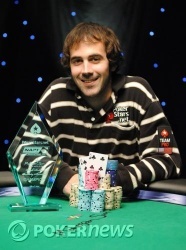 On a day when Jason Mercier was wearing the same shirt that he won his first event with, he would not lose. The final table was filled with talent and in the end, Team PokerStars Pro Jason Mercier was the last man standing.
He held the chip lead for the beginning portion of the final table after eliminating Shawn Buchanan and Matt Glantz. Mercier then surrendered the lead to Sam Stein. After Mercier took out Faraz Jaka, he and Stein battled it out in a grueling heads-up duel. It took nearly four hours and three dramatic river cards, but finally Mercier prevailed as the NAPT Mohegan Sun High Roller Bounty Shootout champion.
It was fitting that the biggest hand in the match went to Mercier when he and Stein got it all in preflop in a coinflip situation. Mercier held pocket threes to Stein's
. Mercier's online name used to be "treysfull21" and although he didn't end up with a full house, he did spike a straight on the river to retake the lead in the hand after Stein flopped a pair of jacks. That hand crippled Stein and it was all over a couple of hands later.
Here's how the final places at the final table look and all the money each player earned.
1st: Jason Mercier - $450,000 (7)
Team PokerStars USA
2nd: Sam Stein - $75,000 (3)
3rd: Faraz Jaka - $80,000 (4)
4th: Matt Glantz - $70,000 (2)
5th: Shawn Buchanan - $80,000 (4)
6th: Luis "Bachy" Vazquez - $70,000 (4)
That wraps up all of our coverage from the 2010 PokerStars.net NAPT Mohegan Sun. Be sure to check back often as we provide all the latest poker news and tournament coverage. Until next time, this is the PokerNews crew signing off!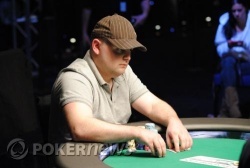 Jason Mercier moved all in on the button and Stein called all in with
. Mercier tabled
.
The flop came
and neither player improved. The
turn card left Stein six outs.
The river was the
and it was all over. Stein flipped his bounty chip over to Mercier, finishing in 2nd place for $75,000.
Sam Stein was all in for his last 13,000 on the hand following the one where he was crippled in losing the flip to Jason Mercier. Mercier made the call and held
. Stein held the
.
The board ran out
and Stein doubled back to 26,000.
Jason Mercier raised to 14,500 on the button and Sam Stein re-raised to 41,500 in the big blind. Mercier re-raised all in for 430,000. Stein thought for a few moments and made the call.
Stein:
Mercier:
When Mercier tabled his pocket threes, there was a little significance to the fact that his online name used to be "treysfull21". Would it be?
The flop came
and Stein jumped out to a huge lead. The turn brought the
and added four more outs to a straight for Mercier.
BOOOM!!!!!! The
fell on the river and Mercier did it again, making a straight to double up and take a monster chip lead. It wasn't a treys full, but it was pretty damn close.
Stein is down to 13,000 while Mercier is up to 872,000 and appears closing in on victory.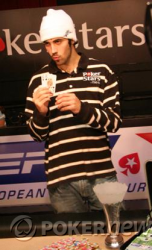 Smacking that queen on the river was quite lucky for Jason Mercier to keep himself alive in the tournament. Well, maybe it was very, very, very lucky! Either way, it could all be in the shirt. If you notice the pictures we've taken of Mercier from this final table and you remember his win back at the 2008 EPT San Remo, the shirt he's wearing looks very similar. On dinner break, we caught up with Mercier and asked him if it is the same shirt. He confirmed that it is and that he wore it because he wore it when he won back in San Remo.

So far it's proved good to Mercier as he's already locked up a good payday, a freeroll into the next NAPT High Roller Bounty Shootout and is still alive in this heads-up match. You say lucky river card, but we all know it's in the shirt!
Jason Mercier called on the button. Sam Stein popped it to 21,000 and Mercier moved all in for about 148,500. Stein insta-called and the hands were:
Stein:
Mercier:
The flop came
and Mercier was drawing thin, needing either a queen to make a straight or runner-runner to make two pair. The turn was the
Mercier was down to three outs.
Alas, the river was the
and Mercier made the ace-high straight to double up to about 300,000.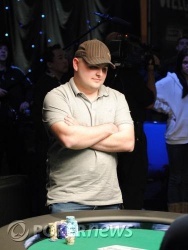 Jason Mercier raised to 15,000 on the button and Sam Stein raised to 306,000, having Mercier covered. Jason called all in and tabled
. Stein turned over
and was ahead.
The flop came
and Stein maintained the lead. The
hit the turn and gave Mercier a bunch of outs to a chop. One of them came as the
fell on the river and they chopped it up.
Level:

8
Blinds:

3,000/6,000
Ante:

1,000
Sam Stein raised to 11,000 on the button and Jason Mercier moved all in for 128,000. Stein folded after about 15 seconds and Mercier took it down.