Hands #23-26: Team Ukraine Eliminated in 6th Place

Level 3 : 300-600, 50 ante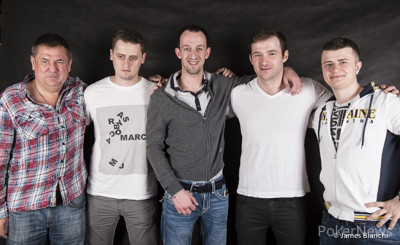 Hand 23: Dario Sammartino made it 1,500 and George Danzer in the big blind came along to see a flop:
. Danzer checked and Sammartino made a bet of 1.800. Danzer obliged and tossed in two yellow chips to call as well. With now 7,200 in the pot, the
hit the turn. Danzer checked to Team Italy and a 2,500 bet followed. Danzer needed some time, but eventually folded.
Hand 24: Action folded to George Danzer in the small blind who found
. Team Germany raised it up to 1,900. Dan Smith in the big blind made the call with
. The two got
to work with, pairing Smith and giving Danzer a gutshot. Danzer checked and Smith with his 78% hand bet 2,400. Danzer made the call.
The
hit the turn and Danzer checked once more. Smith, with still the best hand, contemplated what to do for a few seconds before betting 8,500. Danzer, who's hand now worth just 9% according to the graphics, folded.
Hand 25:
for George Danzer on the button and Team Germany opened for 1,500. Ivan Soshnikov in the big blind made the call with the
.
on the flop, hitting no one and both players checked. The
on the turn made Soshnikov check again. Danzer folded his arms, and checked behind.
on the river and Soshnikov's hand was good. He had no way of knowing that though, and check folded to Danzer's 1,400 bet.
Hand 26: Oleksandr Gnatenko opened the hijack for 1,500. Dan Smith on the button had a monster with
and three-bet to 4,500. Gnatenko with
made the call.
The flop was
and Gnatenko politely checked to Smith with his flopped set. Smith made a continuation bet of 5,800 and Gnatenko took his time to make a decision. Team Ukraine check raised to 17,000. Smith called the 11,300 extra and the two saw a turn:
.
Smith picked up a flush draw and was faced by a bet of 25,000 into the 44,200 pot. Smith looked up in the sky for help. He wasn't getting any. With just seconds left, he called.
The
on the river saved Smith! There was 99,200 in the pot and Gnatenko was first to act. Team Ukraine had just 36,350 behind and shoved all in. Smith double checked his cards and called after receiving a count.
Smith won the hand with a set of kings and Team Ukraine got knocked out!