The 2019 PokerStars LIVE Asia Red Dragon Jeju festival is off to a great start as the second tournament of the festival at the Landing Casino on the island of Jeju in South Korea exceeded the expectations. A field of 140 entries for Day 1 of the ₩5,000,000 High Roller (~$4,315) emerged, including 117 unique players and 23 re-entries. After nine levels of 40 minutes each, only 96 players bagged up for the night with a familiar name appearing near the top of the leader board.
Yiqing Huang earned the merit of Day 1 chip leader after a very late surge that boosted his stack to 194,000, and he is closely followed by Zhen Wang with 181,600. However, it is Michael Soyza that stands out as the big name with a big stack, claiming 172,700 chips to his name. Soyza had to fire a second bullet in order to finish in the top five and sent Chang He to the rail before firing three barrels against Yake Wu to become a contender for the lead in the final level.
Soyza has sweet memories from South Korea as he won the ₩10,000,000 APPT Super High Roller and finished 20th in the ₩1,800,000 Main Event during the last APPT festival on Korean soil in Incheon earlier this year. With two seven-figure scores in the Triton Poker festivals right here in Jeju and London on top of that, it was the most successful year on the poker circuit for Soyza and he may add yet another trophy to his collection in the days to come.
Other notables and big stacks that advanced to Day 2 were Jieming Xu (167,900), Ngoc Anh Cao (165,100), Joshua Zimmerman (159,000), Kazuhiko Yotsushika (125,800), Xixiang Luo (123,100), Guofeng Wang (107,100), Natalie Teh (106,200), Phachara Wongwichit (101,600), Lester Edoc (100,000), Ben Lai (98,500), and Lei Yu (97,200).
The High Roller kicked off nearly on time and three tables brought plenty of action right away. It didn't take long to attract plenty of notables of the Asian poker circuit such as reigning APPT Korea Main Event champion Sparrow Cheung, Pete Chen, Alex Lee, Chen An Lin, tas well as the WSOP bracelet winners Guoliang Wei and Calvin Lee.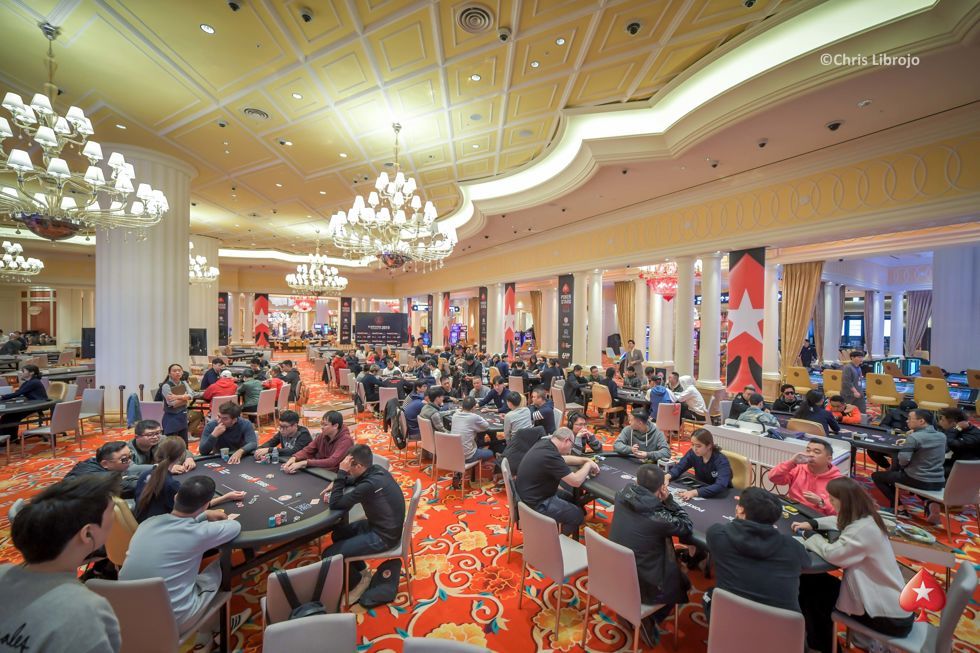 Among the rather unexpected additions to the field were UK's Paul Newey and EPT11 Barcelona champion Andre Lettau. While Newey saw his aces cracked when he had dropped below 20 big blinds in the penultimate level of the day, Lettau bagged up a profit of a mere 300 chips to end Day 1 with 50,300.
Huahuan Feng became the first player with a six-digit stack and Carson Wong was responsible for one of the first eliminations of the Day when his kings held up against Fei Xiong, who mentioned in table chat he had called with ace-queen for a pair of queens and top kicker. Several dozen hopefuls would run out of chips in the next four hours such as Ben Lai, Kazuhiko Yotsushika, Yake Wu, Yang Zhang, Jamie Lee and Sparrow Cheung.
Yotsushika's second entry for the tournament almost ended in the very last hand of the night when he got it in with an open-ended straight and king-high flush draw. Huijie Zhou made the call with a pair of tens and Yotsushika rivered a flush to score a vital late double for an above-average stack.
For the first time ever, several tournaments of the festival will be streamed live on a security delay of 30 minutes on the Red Dragon Poker website with commentary in Mandarin. including Day 2 of the ₩5,000,000 High Roller as of the first break.
All those that busted and other poker enthusiasts that wish to join the action still can do so for the first 40-minute level on Day 2, which gets underway at 1 p.m. local time. By then, the stunning poker room of the Landing Casino will also be filled further as Day 1a of the highly anticipated Red Dragon Main Event kicks off at the same time.
The PokerNews live reporting team will be providing updates of the ₩5,000,000 High Roller from start-to-finish along with an intro and recap for the Main Event.
₩5,000,000 High Roller Day 2 Seat Draw
| Table | Seat | Player | Country | Chip Count | Big Blinds |
| --- | --- | --- | --- | --- | --- |
| 1 | 2 | Carson Wong | China | 65,200 | 41 |
| 1 | 3 | Heng Wang | China | 73,200 | 46 |
| 1 | 4 | Kannapong Thanarattrakul | Thailand | 114,500 | 72 |
| 1 | 5 | Zhanwei Du | China | 40,600 | 25 |
| 1 | 6 | Chang Shi | China | 100,000 | 63 |
| 1 | 7 | Xin Jin | China | 32,800 | 21 |
| 1 | 8 | Jieming Xu | China | 167,900 | 105 |
| | | | | | |
| 2 | 1 | Jiajun Liu | China | 90,800 | 57 |
| 2 | 3 | Jun Obara | Japan | 59,600 | 37 |
| 2 | 4 | Bin Wang | China | 100,500 | 63 |
| 2 | 5 | Xianglai Li | China | 41,700 | 26 |
| 2 | 6 | Huahuan Feng | China | 64,800 | 41 |
| 2 | 7 | Bin Sun | China | 17,100 | 11 |
| 2 | 8 | Dingxiang Ong | Singapore | 73,500 | 46 |
| | | | | | |
| 3 | 1 | Na Wei | China | 35,700 | 22 |
| 3 | 2 | Yang Zhang | China | 48,200 | 30 |
| 3 | 4 | Jamie Lee | United States | 39,000 | 24 |
| 3 | 5 | Joshua Zimmerman | United States | 159,000 | 99 |
| 3 | 6 | Kairan Jin | China | 122,600 | 77 |
| 3 | 7 | Lei Yu | China | 97,200 | 61 |
| 3 | 8 | Hao Tian | China | 54,900 | 34 |
| | | | | | |
| 4 | 1 | Phachara Wongwichit | Thailand | 101,600 | 64 |
| 4 | 2 | Bawoo Yun | United States | 130,200 | 81 |
| 4 | 3 | Yan Rao | China | 10,600 | 7 |
| 4 | 5 | Kosumosu Yamanaka | Japan | 38,500 | 24 |
| 4 | 6 | Bo Jin | China | 76,700 | 48 |
| 4 | 7 | Nan Zhao | China | 28,700 | 18 |
| 4 | 8 | Nan Hong | China | 85,000 | 53 |
| | | | | | |
| 5 | 1 | Lijiang Liu | China | 34,400 | 22 |
| 5 | 2 | Zedao Ma | China | 51,300 | 32 |
| 5 | 3 | Mengdian Peng | China | 71,400 | 45 |
| 5 | 4 | Xinglong Huang | China | 28,900 | 18 |
| 5 | 6 | Calvin Lee | United States | 65,500 | 41 |
| 5 | 7 | Zhiqiang Qian | China | 67,400 | 42 |
| 5 | 8 | Cangsheng Ni | China | 42,500 | 27 |
| | | | | | |
| 6 | 1 | Huu Dung Nguyen | Vietnam | 123,500 | 77 |
| 6 | 2 | Ang Li | China | 23,400 | 15 |
| 6 | 3 | Zhiao He | China | 84,000 | 53 |
| 6 | 4 | Yake Wu | China | 24,100 | 15 |
| 6 | 5 | Yiqing Huang | China | 194,000 | 121 |
| 6 | 7 | Yao Bai | China | 139,100 | 87 |
| 6 | 8 | Thanh Binh Nguyen | Vietnam | 31,700 | 20 |
| | | | | | |
| 7 | 1 | Tung Chun Yung | China | 95,700 | 60 |
| 7 | 2 | Yuan Yilu | China | 110,100 | 69 |
| 7 | 3 | Natalie Teh | Malaysia | 106,200 | 66 |
| 7 | 4 | Derek Ip | China | 59,400 | 37 |
| 7 | 5 | Guofeng Wang | China | 107,100 | 67 |
| 7 | 6 | Ben Lai | China | 98,500 | 62 |
| 7 | 8 | Ye Yuan | China | 60,000 | 38 |
| | | | | | |
| 8 | 1 | Lester Edoc | Philippines | 100,000 | 63 |
| 8 | 2 | Pete Chen | Taiwan | 28,900 | 18 |
| 8 | 3 | Ting Yi Tsai | Taiwan | 23,100 | 14 |
| 8 | 4 | Tamon Nakamura | Japan | 23,800 | 15 |
| 8 | 5 | Chunqing Wang | China | 35,100 | 22 |
| 8 | 6 | Jiahuan He | China | 51,100 | 32 |
| 8 | 7 | Feng Chen | China | 122,600 | 77 |
| | | | | | |
| 9 | 1 | Andre Lettau | Germany | 50,300 | 31 |
| 9 | 2 | Fei Xiong | China | 27,800 | 17 |
| 9 | 3 | Sparrow Cheung | China | 42,500 | 27 |
| 9 | 4 | Dong Chen | China | 74,800 | 47 |
| 9 | 5 | Chang He | China | 87,500 | 55 |
| 9 | 6 | Liuheng Dai | China | 83,000 | 52 |
| 9 | 8 | Liang Chen | China | 60,000 | 38 |
| | | | | | |
| 10 | 1 | Kai Kang | China | 59,000 | 37 |
| 10 | 2 | Zhiyong Long | China | 81,600 | 51 |
| 10 | 3 | Hengren Tu | China | 88,200 | 55 |
| 10 | 4 | Xiaqing Ji | China | 66,100 | 41 |
| 10 | 5 | Yunsheng Sun | China | 67,600 | 42 |
| 10 | 7 | Mike Takayama | Philippines | 94,000 | 59 |
| 10 | 8 | Leshi Shao | China | 64,000 | 40 |
| | | | | | |
| 11 | 1 | Zhen Wang | China | 181,400 | 113 |
| 11 | 2 | Weiwen Zheng | China | 47,000 | 29 |
| 11 | 3 | Alex Lee | Singapore | 67,300 | 42 |
| 11 | 4 | Huidong Gu | Macau | 73,400 | 46 |
| 11 | 6 | Tao Fan | China | 77,000 | 48 |
| 11 | 7 | Xixiang Luo | China | 123,100 | 77 |
| 11 | 8 | Bing Zhou | China | 21,800 | 14 |
| | | | | | |
| 12 | 1 | Chi Chung Ho | United Kingdom | 85,100 | 53 |
| 12 | 2 | Chang Tan | China | 77,300 | 48 |
| 12 | 3 | Bo Xu | China | 27,900 | 17 |
| 12 | 5 | Jiayu Ruan | China | 81,900 | 51 |
| 12 | 6 | Duc Trung Vu | Vietnam | 18,800 | 12 |
| 12 | 7 | Guoliang Wei | China | 36,800 | 23 |
| 12 | 8 | Jin Su | China | 151,600 | 95 |
| | | | | | |
| 13 | 2 | Ngoc Tai Hoang | Vietnam | 64,900 | 41 |
| 13 | 4 | Kazuhiko Yotsushika | Japan | 125,800 | 79 |
| 13 | 5 | Michael Soyza | Malaysia | 172,700 | 108 |
| 13 | 6 | Takashi Ogura | Japan | 102,200 | 64 |
| 13 | 7 | Huijie Zhou | China | 21,300 | 13 |
| 13 | 8 | Ngoc Anh Cao | Vietnam | 165,100 | 103 |
| | | | | | |
| 14 | 1 | Zejin Shen | China | 8,200 | 5 |
| 14 | 3 | Quan Zhou | China | 35,800 | 22 |
| 14 | 4 | Xiaohang Ni | China | 68,000 | 43 |
| 14 | 5 | Victor Chong | Malaysia | 51,700 | 32 |
| 14 | 7 | Ruihong Tao | China | 51,400 | 32 |
| 14 | 8 | Yu Nozaki | Japan | 89,900 | 56 |