Karlic & Boatman Lead the Pack Heading Into Day 3 of the $1,100 Caribbean Poker Party Festival MILLIONS Open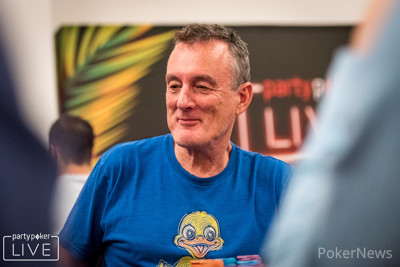 Out of the 812 total entries that took to the felt in the $1,100 MILLIONS Open at the Caribbean Poker Party Festival, 135 will return for Day 3. Leading the way is Austrian Gerard Karlic with 18,605,000, and nipping at his heels is Barny Boatman with 18,400,000. Vincent Tremblay (18,035,000), Rainer Kempe (16,365,000), and Alexander Beresnev (14,575,000) round out the top five stacks.
Alongside the chip leaders, a slew of highly accomplished players will take their seats when Day 3 kicks off on Monday at noon local time, including Julian Stuer (12,200,000), partypoker Sponsored Pro Natalia Breviglieri (9,735,000), Mike Leah (7,625,000), Stefan Schillhabel (7,600,000), partypoker Sponsored Pro Kristen Bicknell (7,075,000), and team partypoker online's Louise Butler (3,390,000).
A total of 95 places will be paid, with a mincash good for $2,000 and the eventual champion taking home $200,000. Day 3 is scheduled to play out over eight one-hour levels. There will be a 20-minute break every two levels and the field will play down to a winner Tuesday on Day 4.
The seat draw can be found below.
Keep it here for continuing coverage of the MILLIONS Open and the remainder of the Caribbean Poker Party Festival.
| Table | Seat | Player | Country | Chip Count | Big Blinds |
| --- | --- | --- | --- | --- | --- |
| 19 | 1 | Anastasija Sivaka | Latvia | 2,970,000 | 25 |
| 19 | 2 | Sergio Aido Espina | Spain | 6,875,000 | 57 |
| 19 | 3 | Barny Boatman | United Kingdom | 18,400,000 | 153 |
| 19 | 4 | Mitch Johnson | United Kingdom | 6,310,000 | 53 |
| 19 | 5 | Dmitriy Levin | Russian Federation | 3,965,000 | 33 |
| 19 | 6 | Ruben Perceval | Canada | 11,375,000 | 95 |
| 19 | 7 | Vincent Tremblay | Canada | 18,035,000 | 150 |
| 19 | 8 | Michael Fletcher | United Kingdom | 4,905,000 | 41 |
| | | | | | |
| 20 | 1 | Nicholas Nemis | Canada | 5,590,000 | 47 |
| 20 | 2 | Andrej Desset | Slovakia | 4,620,000 | 39 |
| 20 | 3 | Diego Gomez | Spain | 1,425,000 | 12 |
| 20 | 4 | Jefrey Cormier | Canada | 7,155,000 | 60 |
| 20 | 5 | Volodymyr Kernytskyi | Russian Federation | 6,125,000 | 51 |
| 20 | 6 | Kevin Hylland | Canada | 11,780,000 | 98 |
| 20 | 7 | Stuart Taylor | Canada | 1,980,000 | 17 |
| 20 | 8 | Maduka Meragal | Canada | 4,320,000 | 36 |
| | | | | | |
| 21 | 1 | Prom Sheyleap | Canada | 4,210,000 | 35 |
| 21 | 2 | Darlin Nataniel Quezada Lagares | Dominican Republic | 6,330,000 | 53 |
| 21 | 3 | Philippe D'Auteuil | Canada | 8,045,000 | 67 |
| 21 | 4 | Jean-Christophe Ferreira | Canada | 8,700,000 | 73 |
| 21 | 5 | Martin Weiemann | Germany | 7,835,000 | 65 |
| 21 | 6 | Manig Loeser | Germany | 2,540,000 | 21 |
| 21 | 7 | Jonathan Bussieres | CA | 4,600,000 | 38 |
| 21 | 8 | Keith Johnson | United Kingdom | 1,630,000 | 14 |
| | | | | | |
| 22 | 1 | Rainer Kempe | Germany | 16,365,000 | 136 |
| 22 | 2 | Gerald Karlic | Austria | 18,605,000 | 155 |
| 22 | 3 | Nicholas Fellone | United Kingdom | 5,060,000 | 42 |
| 22 | 4 | Mario Fionda | United Kingdom | 2,850,000 | 24 |
| 22 | 5 | Stefan Schillhabel | Germany | 7,600,000 | 63 |
| 22 | 6 | Natalia Breviglieri | United Kingdom | 9,735,000 | 81 |
| 22 | 7 | Pieyre Georges Maggi | Belgium | 7,910,000 | 66 |
| 22 | 8 | Francis Rafael Cruz Pena | Dominican Republic | 6,385,000 | 53 |
| | | | | | |
| 23 | 1 | Iaron Lightbourne | United Kingdom | 2,450,000 | 20 |
| 23 | 2 | Andrey Kotelnikov | Russian Federation | 2,505,000 | 21 |
| 23 | 3 | Vishal Maini | United Kingdom | 4,300,000 | 36 |
| 23 | 4 | Javier Gomez Zapatero | Spain | 10,075,000 | 84 |
| 23 | 5 | Tom Waters | United Kingdom | 8,205,000 | 68 |
| 23 | 6 | Yves Hallague | France | 4,255,000 | 35 |
| 23 | 7 | Christine Bryant | Canada | 845,000 | 7 |
| 23 | 8 | Vitalijs Zavorotnijs | Latvia | 6,285,000 | 52 |
| | | | | | |
| 24 | 1 | Kelly Saxby | United Kingdom | 5,020,000 | 42 |
| 24 | 2 | Rodney Ramalho | Canada | 8,800,000 | 73 |
| 24 | 3 | Janos Kurtosi | Hungary | 1,840,000 | 15 |
| 24 | 4 | Diego Zeiter | Switzerland | 1,390,000 | 12 |
| 24 | 5 | Michael Sklenicka | Czech Republic | 6,505,000 | 54 |
| 24 | 6 | Ronaldo Uliana De Oliveira | Brazil | 8,765,000 | 73 |
| 24 | 7 | Omri Moga | Canada | 9,885,000 | 82 |
| 24 | 8 | Carlos Chadha | Canada | 8,485,000 | 71 |
| | | | | | |
| 25 | 1 | Thomas Scholze | Germany | 7,190,000 | 60 |
| 25 | 2 | Anthony Gardener | United Kingdom | 2,900,000 | 24 |
| 25 | 3 | Stepan Mikhno | Russian Federation | 5,165,000 | 43 |
| 25 | 4 | Jan Erlei | Germany | 10,350,000 | 86 |
| 25 | 5 | Vicente Delgado | Spain | 7,130,000 | 59 |
| 25 | 6 | Claudio Di Giacomo | Italy | 5,800,000 | 48 |
| 25 | 7 | Michael Allmrodt | Germany | 3,750,000 | 31 |
| 25 | 8 | Nikolai Prokhorskii | Russian Federation | 1,745,000 | 15 |
| | | | | | |
| 26 | 1 | Jack Sinclair | United Kingdom | 6,350,000 | 53 |
| 26 | 2 | Manuel Martinez | Spain | 5,115,000 | 43 |
| 26 | 3 | Andrei Gerasimov | Russian Federation | 3,950,000 | 33 |
| 26 | 4 | Mike Leah | Canada | 7,625,000 | 64 |
| 26 | 5 | Terry Green | United Kingdom | 4,875,000 | 41 |
| 26 | 6 | Dmitriy Dobryakov | Kazakhstan | 2,400,000 | 20 |
| 26 | 7 | Piotr Trebacz | Poland | 4,070,000 | 34 |
| 26 | 8 | Luis Alfonso Perez Marrero | Venezuela | 5,050,000 | 42 |
| | | | | | |
| 27 | 1 | Dylan Wilkerson | United States | 2,280,000 | 19 |
| 27 | 2 | Andrei Daniliuk | United Kingdom | 2,090,000 | 17 |
| 27 | 3 | David Agustin Tovar Lasierra | Spain | 9,100,000 | 76 |
| 27 | 4 | Jorge De Oliveira Lopez | Portugal | 4,430,000 | 37 |
| 27 | 5 | William Blais | Canada | 13,430,000 | 112 |
| 27 | 6 | Alexander Beresnev | Russian Federation | 14,575,000 | 121 |
| 27 | 7 | Thai Ha | United States | 4,490,000 | 37 |
| 27 | 8 | Maximilian Monch | Germany | 9,500,000 | 79 |
| | | | | | |
| 28 | 1 | Santiago Soriano Ramos | Spain | 7,760,000 | 65 |
| 28 | 2 | Arturs Kirtovskis | Latvia | 297,000 | 2 |
| 28 | 3 | James Rann | United Kingdom | 5,300,000 | 44 |
| 28 | 4 | Fabio Bolone | Italy | 7,630,000 | 64 |
| 28 | 5 | Jason James | Canada | 7,665,000 | 64 |
| 28 | 6 | Felix Schulze | Germany | 2,900,000 | 24 |
| 28 | 7 | Qi Hu | China | 2,485,000 | 21 |
| 28 | 8 | Jimmy Lee | Canada | 10,725,000 | 89 |
| | | | | | |
| 29 | 1 | Amur Sabirzyanov | Russian Federation | 1,480,000 | 12 |
| 29 | 2 | Dawid Borkowski | Poland | 4,720,000 | 39 |
| 29 | 3 | Paul Hockin | New Zealand | 2,550,000 | 21 |
| 29 | 4 | Andrei-Lucian Boghean | Romania | 9,100,000 | 76 |
| 29 | 5 | Nicola Basile | Canada | 5,100,000 | 43 |
| 29 | 6 | Juan Benito Perez | Spain | 3,400,000 | 28 |
| 29 | 7 | Bernard Sevilla | United Kingdom | 4,000,000 | 33 |
| 29 | 8 | Osvaldo Venegas | Argentina | 6,345,000 | 53 |
| | | | | | |
| 30 | 1 | Joe Brindle | United Kingdom | 3,110,000 | 26 |
| 30 | 2 | Brian Morgan | Canada | 8,695,000 | 72 |
| 30 | 3 | Satish Surapaneni | United States | 3,775,000 | 31 |
| 30 | 4 | Szymon Bujok | Poland | 3,575,000 | 30 |
| 30 | 5 | Tobias Mathaess | United Kingdom | 4,340,000 | 36 |
| 30 | 6 | Kristo Klassen | | 3,570,000 | 30 |
| 30 | 7 | Kristen Bicknell | Canada | 7,075,000 | 59 |
| 30 | 8 | Carl Thomas | United Kingdom | 5,425,000 | 45 |
| | | | | | |
| 31 | 1 | Michael Watson | Canada | 10,530,000 | 88 |
| 31 | 2 | Ioannis Angelou-Konstas | Greece | 4,015,000 | 33 |
| 31 | 3 | Marcos Carneiro Antunes | Brazil | 1,400,000 | 12 |
| 31 | 4 | Alejandro Cruz Escobedo | Spain | 7,510,000 | 63 |
| 31 | 5 | David Ahern | Ireland | 3,040,000 | 25 |
| 31 | 6 | Benjamin Pollak | France | 6,140,000 | 51 |
| 31 | 7 | Roman Voronin | Russian Federation | 5,570,000 | 46 |
| 31 | 8 | Farid Jattin | Colombia | 13,225,000 | 110 |
| | | | | | |
| 32 | 1 | Cheryl Leon | Canada | 9,265,000 | 77 |
| 32 | 2 | Diego Ventura | Peru | 1,395,000 | 12 |
| 32 | 3 | Thomas Marchese | United States | 3,640,000 | 30 |
| 32 | 4 | Francois Billard | Canada | 4,525,000 | 38 |
| 32 | 5 | Pavel Plesuv | Moldova | 5,605,000 | 47 |
| 32 | 6 | Ramon Euclides Suazo Rivas | Italy | 5,995,000 | 50 |
| 32 | 7 | Dennis Wilke | Germany | 4,700,000 | 39 |
| 32 | 8 | Oskar Prehm | Germany | 13,850,000 | 115 |
| | | | | | |
| 33 | 1 | Thomas Alexander Taylor | Canada | 10,075,000 | 84 |
| 33 | 2 | Niclas Adolfsson | Sweden | 8,880,000 | 74 |
| 33 | 3 | Florian-Dimitrie Duta | Romania | 11,010,000 | 92 |
| 33 | 4 | Julian Stuer | Germany | 12,200,000 | 102 |
| 33 | 5 | Pablo Brito Silva | Brazil | 2,350,000 | 20 |
| 33 | 6 | Paul Michaelis | Germany | 5,655,000 | 47 |
| 33 | 7 | Dario Andrea Wyler | Switzerland | 1,800,000 | 15 |
| 33 | 8 | Florian Lohnert | Germany | 2,100,000 | 18 |
| | | | | | |
| 34 | 1 | Artur Voskanyan | Russian Federation | 4,585,000 | 38 |
| 34 | 2 | Wing Seto | Canada | 2,985,000 | 25 |
| 34 | 3 | Kevin MacPhee | United States | 4,795,000 | 40 |
| 34 | 4 | Vojtech Ruzicka | Czech Republic | 2,290,000 | 19 |
| 34 | 5 | Senthuran Vijayaratnam | Canada | 5,570,000 | 46 |
| 34 | 6 | Cristina Romana Ilie | Romania | 4,400,000 | 37 |
| 34 | 7 | Miguel Riera | Spain | 6,000,000 | 50 |
| 34 | 8 | Jiri Horak | Czech Republic | 3,605,000 | 30 |
| | | | | | |
| 35 | 1 | Alexander Sack | Germany | 1,620,000 | 14 |
| 35 | 2 | Walter Treccarichi | Italy | 12,585,000 | 105 |
| 35 | 4 | Roman Tutoyan | Russian Federation | 4,600,000 | 38 |
| 35 | 5 | Marcelo Santurio | Argentina | 7,410,000 | 62 |
| 35 | 6 | Usman Siddique | United Kingdom | 9,270,000 | 77 |
| 35 | 7 | Louise Butler | Ireland | 3,390,000 | 28 |
| 35 | 8 | Claire Renaut | France | 2,720,000 | 23 |