Konstas Leads 26 Remaining Players after Day 3; Kempe and Boatman Still in the Hunt

Level 24 : 300,000/600,000, 600,000 ante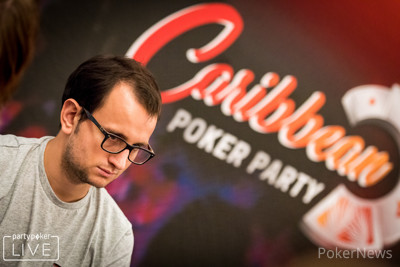 At the beginning of Day 3, 135 players took their seats in the $1,100 MILLIONS Open at the Caribbean Poker Party Festival, but just 26 bagged chips at the conclusion of play. Greek player Ioannis Angelou-Konstas is leading the way with 71,800,000, and nipping at his heels are Germans Paul Michaelis (68,100,000) and Rainer Kempe (66,500,000). Pavel Plesuv (63,200,000) currently sits in fourth position, and Vincent Tremblay (63,000,000) rounds out the top five. Beloved Brit Barny Boatman is also still in the hunt with a stack of 19,000,000. The remaining 26 players are all guaranteed at least $6,000, but all eyes are on the $200,000 top prize.
A total of 95 places were paid and money bubble burst near the end of level 19. Several well-known players who fell before the day's end made the money, including Mike Leah (32nd), partypoker Sponsored Pro Natalia Breviglieri (33rd), Michael Watson (44th), Stefan Schillhabel (55th), Tom Marchese (76th), and partypoker Sponsored Pro Kristen Bicknell (84th). Manig Loeser, Iaron Lightbourne, Dylan Wilkerson, and team partypoker online pro Louise Butler all made their exits on Day 3 before the bubble broke.
The remainder of the field is scheduled to play down to a winner Tuesday on Day 4, which will begin at noon local time. Blinds will be 400,000/800,000 when play resumes. As with previous days in this event, each level will be one hour long and there will be a 20-minute break every two levels. Once heads-up play is reached, the levels will be shortened to 30 minutes.
The Day 4 seat draw can be found below.
Keep it here for continuing coverage of the MILLIONS Open and the rest of the Caribbean Poker Party Festival from the PokerNews Live Reporting team.
| Table | Seat | Player | Country | Chip Count | Big Blinds |
| --- | --- | --- | --- | --- | --- |
| 12 | 1 | Cristina Ilie | Romania | 18,800,000 | 24 |
| 12 | 2 | Andrei-Lucian Boghean | Romania | 33,000,000 | 41 |
| 12 | 3 | Luis Alfonso Perez Marrero | Venezuela | 10,000,000 | 13 |
| 12 | 4 | Florian-Dimitrie Duta | Romania | 30,300,000 | 38 |
| 12 | 6 | Philippe D'Auteuil | Canada | 39,000,000 | 49 |
| 12 | 7 | Paul Michaelis | Austria | 68,100,000 | 85 |
| 12 | 8 | Paul Hockin | New Zealand | 21,700,000 | 27 |
| | | | | | |
| 13 | 1 | Claudio Di Giacomo | Italy | 41,000,000 | 51 |
| 13 | 2 | Kelly Saxby | United States | 15,900,000 | 20 |
| 13 | 3 | Barny Boatman | England | 19,000,000 | 24 |
| 13 | 4 | Jason James | Canada | 16,700,000 | 21 |
| 13 | 5 | Ioannis Angelou-Konstas | Greece | 71,800,000 | 90 |
| 13 | 7 | Sergio Aido | Spain | 16,400,000 | 21 |
| 13 | 8 | Anastasija Sivaka | Latvia | 30,200,000 | 38 |
| | | | | | |
| 14 | 1 | Vincent Tremblay | Canada | 63,000,000 | 79 |
| 14 | 3 | Nicholas Nemis | Canada | 7,100,000 | 9 |
| 14 | 5 | Pavel Plesuv | Moldova | 63,200,000 | 79 |
| 14 | 6 | Michael Sklenicka | Czech Republic | 41,200,000 | 52 |
| 14 | 7 | William Blais | Canada | 31,400,000 | 39 |
| 14 | 8 | Vitalijs Zavorotnijs | Latvia | 12,700,000 | 16 |
| | | | | | |
| 15 | 1 | Manuel Martinez | Spain | 16,400,000 | 21 |
| 15 | 3 | Jimmy Lee | Canada | 14,100,000 | 18 |
| 15 | 4 | Vojtech Ruzicka | Czech Republic | 12,400,000 | 16 |
| 15 | 5 | Volodymyr Kernytskyi | Russia | 37,500,000 | 47 |
| 15 | 6 | Rainer Kempe | Germany | 66,500,000 | 83 |
| 15 | 7 | Sreyleap Prom | Canada | 13,000,000 | 16 |