The Big Stax XXXI 500 has come to its conclusion after 927 runners came to try and take their shot at the title but after five days of action it was Tam Nguyn who walked away on top taking home an ICM chop of $76,500 along with the Big Stax XXXI 500 trophy.
"It's very hard to make a deep run in a tournament," Nguyen stated after his win. "Usually I min-cash so I'm very excited to get the win, it has been a long time coming."
The first place finish marks the first for Nguyen and is also his largest live tournament cash to date. His second-largest came back in 2010 for $41,967 when he finished 307th in the WSOP Main Event and with the win today it brings his career earnings to 131,766.
Final Table Results
| Place | Player | Hometown | Prize (USD) |
| --- | --- | --- | --- |
| 1 | Tam Nguyen | Lancaster, Pennsylvania | $76,500 |
| 2 | Jeffrey Gross | Wall Township, New Jersey | $65,770 |
| 3 | Michael Marder | Sewell, New Jersey | $35,931 |
| 4 | Vineet Pahuja | Jersey City, New Jersey | $26,331 |
| 5 | Mitchell Brown | Bayonne, New Jersey | $19,683 |
| 6 | Russell Rothstein | Ridgewood, New Jersye | $14,795 |
| 7 | Michael Linster | Island Park, New York | $11,360 |
| 8 | Mike Kemeter | New Tripoli, Pennsylvania | $8,718 |
| 9 | Rafal Kordys | New Hyde Park, NewYork | $6,913 |
Final Day
The final day started off with Joe Palma getting pocket kings in back-to-back hands and doubling through Travis Decker right away. Decker would be the first to go as he grinded his short but eventually got it in holding a suited king-eight against Mike Kemeter's ace-jack. Decker was looking good to find a double until the dealer dropped an ace on the river to send him out the door.
After Decker's elimination, a slew of double-ups occurred without a body drooping until the end of level 27 when both Palma and John Alesi hit the rail in back-to-back hands.
The start of a new level was the same as the first, as another slew of double-ups happened with only one elimination up until the end with the eliminations of Josias Dossantos, Travis Hartshorn and Friman Villalona.
After players returned from break, Michael Marder continued the final day trend doubling up within of the very first hands dealt out. A few hands after Marder's double-up saw the elimination of Steven Mccullough set the unofficial final table.
Final Table Action
It didn't take long for the first elimination of the final table to happen as Kevin Lutz called Michael Linster's all in bet holding fewer chips with a worse hand. Linster held pocket kings and flopped a set sending Lutz and his suited ace-queen out the door in 10th place.
Play stopped halfway through level 29 as players went on a 75-minute dinner break. Once action resumed, chips shuffled around the table for most of the level with one exception, the elimination of Rafal Kordys. It happened in the last hand of the level after Jeffrey Gross opened for 275,000 from middle position holding pocket aces and Kordys jammed from the small blind with ace-queen off. Kordys didn't receive any help from the runout and took his exit in ninth place.
Almost another 90-minute level was played through before another body dropped as Kemeter ran his ace-nine into Tam Nguyen's suited ace-queen leaving the final table in eighth place.
Linster was the next to fall. A few hands after losing to a set of fours holding pocket kings, Linster was all in preflop holding ace-jack off against Marder's made hand of tens. Linster couldn't find a connection and took exit in seventh place.
The same level would see another body leave the final table as Russell Rothstein got his remaining 975,000 chips in the middle holding a suited ace-ten and was called by Nguyen holding an inferior ace-nine off. Even though Nguyen was behind it didn't take long for him to get ahead as he paired his nine on the flop and ended Rothstein's in sixth place.
Mitchell Brown would follow suit later on in level 31 just a few hands after losing majority of his stack holding a jack-high flush that was boated up on the river by Gross. Gross would be the one to finish the job as he rivered a staright to wheel Brown out the door in fifth place for $19,683.
Gross would continue his dominance at the final table with the elimination of Vineet Pahuja. Marder opened for 400,000 and Pahuja jammed on the button with ace-ten off and was called by Gross holding a suited king-queen. Gross ended up spiking the flop but Pahuja turned staright and flush outs that just couldn't get there ending his night in fourth place for $26,331.
Once the final three players were set, fireworks blasted off as each player was all-in preflop holding premium hands. Nguyen opened for 500,000 holding pocket aces and Michael Marder three-bet with ace-king suited. Gross woke up with pocket kings win the big blind and all the chips went into the middle after that point. Nguyen was ahead but had a sweat after Marder turned the nut-flush draw but blanked the river to send him home in third place for $35,931.
From there, he heads-up match would only last an orbit or two before Nguyen and Gross came to an ICM chop based off-chip value. Nguyn took first place for $76,500 as he held 26,080,000 chips while Gross took home $65,700 holding 11,000,000 in chips.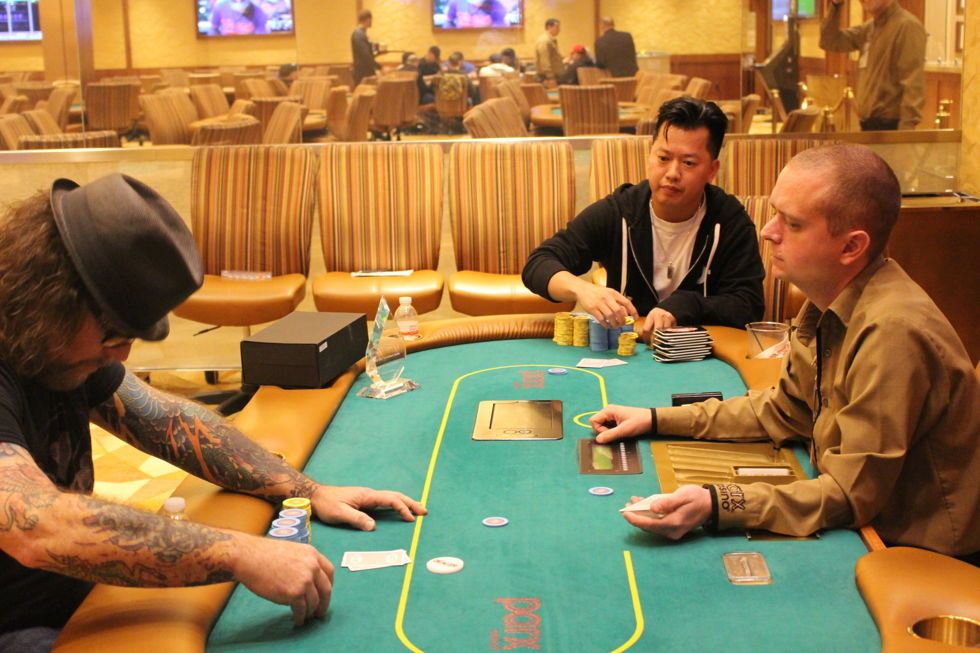 A Look at the Parx Big Stax XXXI Remaining Schedule
| Day | Date | Time | Buy-In & Fee | Event |
| --- | --- | --- | --- | --- |
| Tue | 10/8/19 | 7:00 PM | $150+25+100 | Super Satellite to Big Stax 1100 w/Black Chip Bounty |
| Wed | 10/9/19 | 10:00 AM | $300+40 | NL Hold'em : Seniors (50+) Event |
| Thu | 10/10/19 | 11:00 AM | $130+20 | Super Satellite to Big Stax 1100 |
| Thu | 10/10/19 | 7:00 PM | $200+30+50 | Super Satellite to Big Stax 1100 w/Double Green Chip Bounty |
| Fri | 10/11/19 | 11:00 AM | $1100+100 | Big Stax 1100 : Day 1a (8-handed) |
| Sat | 10/12/19 | 11:00 AM | $1100+100 | Big Stax 1100 : Day 1b (8-handed) |
| Sun | 10/13/19 | 11:00 AM | $1100+100 | Big Stax 1100 : Day 2 (8-handed) |
| Sun | 10/13/19 | 1:00 PM | $200+25 | NL Hold'em : Progressive Bounty |
| Mon | 10/14/19 | 12:00 PM | $1100+100 | Big Stax 1100 : Final Day (8-handed) |
| Mon | 10/14/19 | 5:00 PM | $300+40 | NL Hold'em : Survivor ($3000 winners) |
| Tue | 10/15/19 | 5:00 PM | $300+40 | Pot Limit Omaha/NL Hold'em Mix |
| Thu | 10/17/19 | 7:15 PM | $100+20 | Thursday Night Survivor NL Hold'em ($1000 winners) |
This wraps it up for the PokerNews coverage of the Big Stax XXI 500, but keep it here as the live-reporting team will be on hand bringing you all the updates from the BIg Stax 1,100 series starting Friday, October 11th.