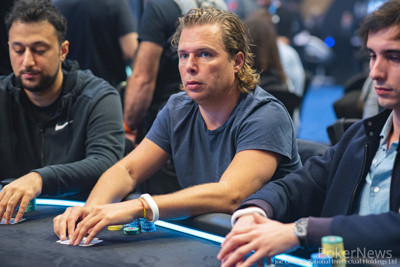 Noah Boeken min-raised to 40,000 from under the gun and was called by both players in the blinds including Johan Guilbert and Elias Gutierrez. On the
flop, it checked to Boeken and he bet 30,000 to pick up two callers.
After the
turn, both blinds checked again and Boeken's bet worth 75,000 won the pot uncontested.
Pedro Neves then raised to 40,000 and Boeken called in the big blind. The flop brought
and Boeken's check-raise from 25,000 to 90,000 did the trick to claim the second pot in a row without any further resistance.
Player
Chips
Progress

Taylor Paur

1,150,000

589,000

Noah Boeken

820,000

485,000

Pedro Neves

750,000

-250,000

Elias Gutierrez

740,000

-295,000

Alexandros Kolonias

660,000

-60,000

Johan Guilbert

580,000

-260,000

Evan Sparling

360,000

35,000