The chips instantly started shifting around as soon as the final six players started playing Day 2 of Event #1: $10,000 No-Limit Hold'em at the PokerGO Studio just outside of the Aria Resort and Casino. By the end of the day, it was David Peters emerging victorious, taking down the field of 69 entries, grabbing the $193,200 first place prize and, of course, 300 points towards the Purple Jacket race to go along with his victory.
The field held a lot of well-known professionals, including Day 2 chipleader Brandon Adams, who would give Peters the chip lead in a cooler hand. Peters would take his chip lead and apply an immense amount of pressure for the remainder of the final table, continuously putting his opponents to the test.
When asked about the momentum gained after that hand and confidence level Peters replied, "It is nice to get off to a good start and yea I feel great"
Brian Green started heads-up play as a massive dog as Peters had around a nine to one chip lead. Green picked his spots, doing something no one else at the final table could do against Peters and that was not getting sucked out on. Green managed to get in ahead, holding every time leading up until the inevitable finish where he moved all in with his snowmen into Peters cowboys and was unable to find a third eight, being eliminated in second place for a respectable $138,000.
Poker Masters Event #1 Final Table Results:
| Position | Player | Country | Prize |
| --- | --- | --- | --- |
| 1st | David Peters | United States | $193,200 |
| 2nd | Brian Green | United States | $138,000 |
| 3rd | Rainer Kempe | Germany | $89,700 |
| 4th | Brandon Adams | United States | $69,000 |
| 5th | Cord Garcia | United States | $55,200 |
| 6th | Isaac Haxton | United States | $41,400 |
The final six started with Isaac Haxton as the short stack and he would be the first to make an exit when the Day 2 chipleader Brandon Adams took him out in an unlucky run-out. Haxton moved all in with ace-jack, Adams called with ace-two and would end up hitting trip deuces to send Haxton home first on Day 2.
Cord Garcia fell down to the new short stack of the tournament and would call the remainder of his stack with pocket eights from a three-bet shove of Peters with ace-two. The board ran out poorly as Peters would pick up a lot of outs on the turn, hitting one of them on the river when his ace spiked the tabled, eliminated Garcia in fifth place.
Adams found himself as one of the shorter stacks after having his two pair fall to Peters turned full house earlier in the final table. Adams then called his remaining chips all in after Peters moved all in from the cutoff. Peters queen-jack was far behind the king-jack of Adams, but when the board ran out with four hearts, it would be Peters taking down the pot with his runner-runner flush, eliminating the Day 2 chipleader in fourth place.
Rainer Kempe made several good moves to steal pots from Peters and many good folds to outlast the short stacks when he needed to do so. Peters was applying a heavy amount of pressure and constantly moving all in on Kempe when it got down to three-handed play. Kempe took a stand from the small blind when he called his remaining chips with snowmen and would be far ahead of Peters ducks. The board ran out with four spades, giving Peters another runner-runner flush for another elimination of an opponent.
Heads up play started off beautifully for Green who was grinding out the day, watching all of his opponent being swept away at the likes of Peters and his continuous string of runner-runner flushes. Green put in a fighting every and even took over the chip lead two times during heads-up play, but it all came to a halt when he ran his pocket eights into Peters cowboys.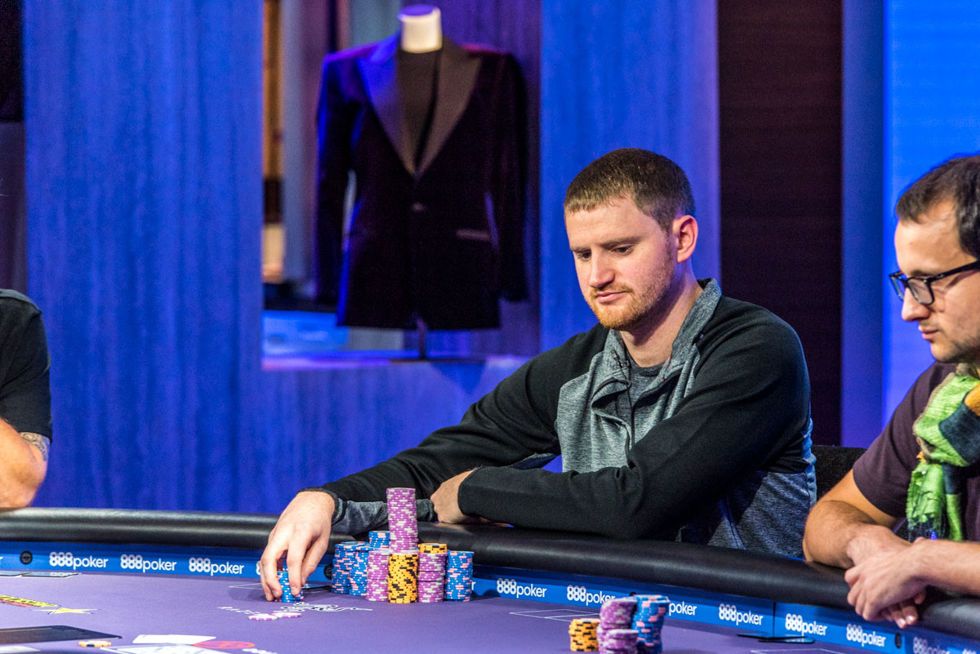 Peters would be crowned the champion, adding another notch to his 2018 belt in which he has been seen cashing almost everything he plays. The high roller regular has been having one of his best years as a pro, cashing in some of the biggest tournaments on the planet, taking down the $ 25,000 + 1,000 No Limit Hold'em High Roller in March, the HK$500,000 No-Limit Hold'em Six Max Event at the 2018 Triton Super High Roller Series in July, and now the first event of the Poker Masters today.
This concludes the PokerNews coverage of Event #1: $10,000 No-Limit Hold'em here at the Poker Masters. Coverage of Event #2: $25,000 No-Limit Hold'em is currently in progress, and make sure to stay tuned to PokerNews.com for all the 2018 Poker Masters updates.
2018 Poker Masters Purple Jacket Rankings:
| Ranking | Player | Country | Points |
| --- | --- | --- | --- |
| 1st | David Peters | United States | 300 |
| 2nd | Brian Green | United States | 210 |
| 3rd | Rainer Kempe | Germany | 150 |
| 4th | Brandon Adams | United States | 120 |
| 5th | Cord Garcia | United States | 90 |
| 6th | Isaac Haxton | United States | 60 |
| 7th | David Eldridge | United States | 60 |
| 8th | Ali Imsirovic | United States | 60 |
| 9th | Cary Katz | United States | 60 |
| 10th | Matthias Eibinger | Austria | 60 |