Macau may be playing host the newly re-branded PokerStars Championship Macau and be widely considered the gambling Mecca of the Orient, but the former Portuguese enclave is not the only place in the region that has a vibrant poker community.
Whilst the neighboring Special Administrative Region of Hong Kong is more widely renowned as a global financial market, it also a fertile breeding ground for those with a head for numbers and a keen understanding of risk assessment.
While these skills are essential for those working in finance and the stock market, they are transferable and can stand you in good stead at the baize as well as the bank.
Two players who have used these skills to their advantage are 35-year-old Park Yu 'Sparrow' Cheung and 29-year old Alan King Lun Lau.
Both players are coming into the PokerStars Championship Macau with red hot form; Cheung fresh from his largest ever career tournament score after taking down February's Macau Poker Cup 26 HK$50,000 (~US$6,434) event for US$126,503, Lau right off the back of winning the MPC's largest Red Dragon Main Event in Macau poker history, defeating the 1,216-strong field to earn himself a US$420,803 pay day.
A former certified public accountant, Cheung has been playing professionally now for seven years after initially starting the game as a hobby with friends. The hobby soon turned into a part-time job and before long Cheung was earning more at the tables than he was working as an accountant and made the decision to play professionally.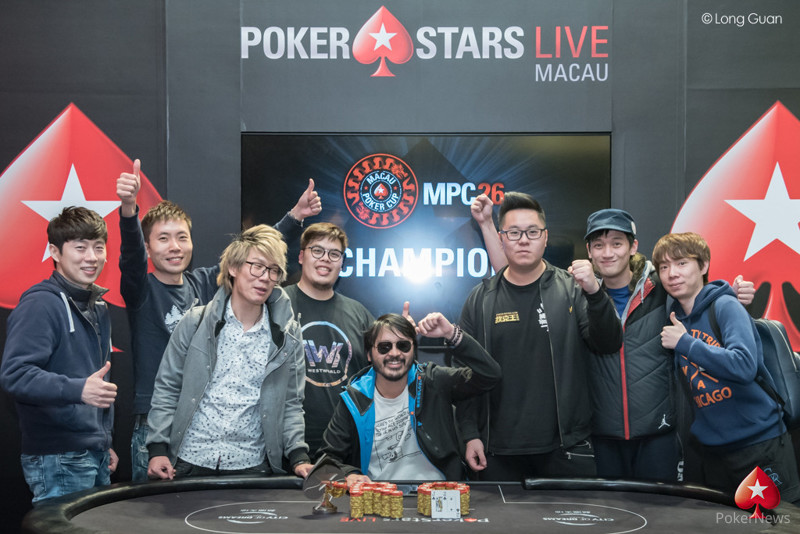 Park Yu 'Sparrow' Cheung winning the HK$50,000 MPC26 Event, image courtesy of Kenneth Lim and PokerStars
It appears to have been the right decision with the Hong Kong native sitting eighth on the Hong Kong All Time Money List, racking up an impressive $894,904 in career tournament earnings so far. This includes 13 World Series of Poker cashes, 9 of which came at the 2016 WSOP where he final tabled the $1,000 WSOP.com Online event, eventually finishing in fourth for $46,201.
Lau too comes from a financial background, working as a commercial banker for HSBC before quitting to study for a Masters degree in risk management.
Ironically whilst studying how to manage risk Lau also began playing poker and by the end of his two-year course, chose to try his newly learned risk management skills at the poker tables rather than become a risk analyst.
It certainly paid off; Lau has earned $672,498 in career tournament earnings and over $400,000 in online earnings over the last three and a half years and is sitting right behind Cheung in ninth on the Hong Kong All Time Money List.
Two cashes for Cheung at the 2017 Aussie Millions, including a final table at the AU$1,025+125 Poker Hall of Fame event and a cash for Lau in the AU$1,300+200 Deep Freeze, plus several cashes between the pair of them at MPC26 in addition to their recent career highs puts them both in the top 20 of the 2017 Global Poker Index (GPI) Player of the Year race.
"We are lucky to be in the top 20," said Lau when asked about his recent run of form. The two are not getting too carried away with their recent success, however, as former 2015 PokerStars Asia Player of the Year Lau can attest to:
"Myself and Sparrow are not playing in the highest stakes tournaments like the HK$400,000 Shot Clock. At some point, I'm sure people will overtake us and it's not really our goal, at least this year, to win the GPI POY," said a modest Lau.
It is still an impressive achievement, though, and the two are currently the only Asian players in the top 100 of the 2017 GPI POY, which is no mean feat. Cheung is currently sitting in 16th with Lau not far behind in 19th.
The two are also keen to share their skills and success with their fellow countrymen and have founded the Hong Kong Poker Players Association (HKPPA) along with fellow poker aficionados Jason Lo, Stephen Lai and Ray Chiu.
The quintet wanted to create an association and poker club where Hong Kong-based players could share strategy and poker knowledge and provide their members with information about the best tournaments to play in addition to building a vibrant poker community.
"The HKPPA started 2-3 years ago because the poker circle is very small in Hong Kong in terms of player numbers and at that time there was no poker club or organization in Hong Kong so we wanted to make one," explained Lau.
The HKPPA currently boasts over 1,000 members and run a Hong Kong-based 'no payments, no gains' poker league where they host weekly events with the best players earning themselves an HKPPA sponsorship in Macau-based poker tournaments to further improve their skills.
As HKPPA Chairman Cheung has a passion for the game and wants to see more Asian players taking their place on the world stage.
"We wish to make poker more popular in Hong Kong and to help and assist poker players from Hong Kong to play poker in Macau and overseas, to put Hong Kong on the world stage when it comes to poker, and not only Hong Kong, but also Asia," said Cheung.
Both are very impressed with the re-branded PokerStars Macau Championship and think it can only be good for the Asian poker scene.
"It's just like moving the EPT to Macau, I'd like to see more events like this here. Because this event is more global, more foreigners are coming, more good players are coming and I can try to play against them and not just play against other Asian players so it's a very good experience," said Cheung.
""I wish to see more Asian players travel overseas to play the big tournaments like the WSOP, and for Asia… I hope to see more tournaments in different areas outside of Macau," stated Cheung.
"I see more events like the PokerStars Championship coming," agreed Lau.
"Everyone is so excited about this tournament series – the poker room has grown twice as large so I want to see more of these kinds of big events coming to Macau," Lau continued.
Of course, with the two of them putting Hong Kong on the map when it comes to the GPI that is certainly an achievable goal, and one that can only be good for poker in Asia.