An online search for a player's results can often be missing so much of the story.
For instance, when you look up Canadian Troy Quenneville who is playing this HK$400,000 Super High Roller, you would see that he only had about $500 in cashes up until last November. After two big cashes within a couple of days for more than $600,000, he's now playing in a tournament that cost him the equivalent of $50,000 to enter.
That seems like quite a leap.
However, for the early part of Day 2, Quenneville was chip leading this event.
When you look a little deeper, you realize that he's been playing online with results dating back to 2008. He's "teckidtq" on PokerStars where he has $2.6 million in winnings, and he goes by "good player" on partypoker.
"Yeah, I guess I'm playing professionally. I've been playing for 10 years since the Moneymaker boom. I started online. Most of my experience is online," Quenneville explained as we sat down with him during the dinner break of the Super High Roller. He talks quietly, pausing to think through his responses before speaking.
"I just finished school about a year and a half ago and I thought about entering the job market but I gave poker one last chance and I've just been running really hot."
That's a bit of an understatement. The recent Mechanical Engineering graduate went from having essentially no live results to coming second in WPT Caribbean and first in partypoker Million within a couple of days last November, earning $620,000.
"I'm still trying to figure out what happened. I just ran insanely hot, as you can imagine," Quenneville explained. "I was happy with the way I played. Everything kind of just worked out, I don't know how to explain those kind of results. I got lucky and things went well."
He's also found some big online wins this year, topping PokerStars' Super Tuesday in February and partypoker's Super High Roller in March.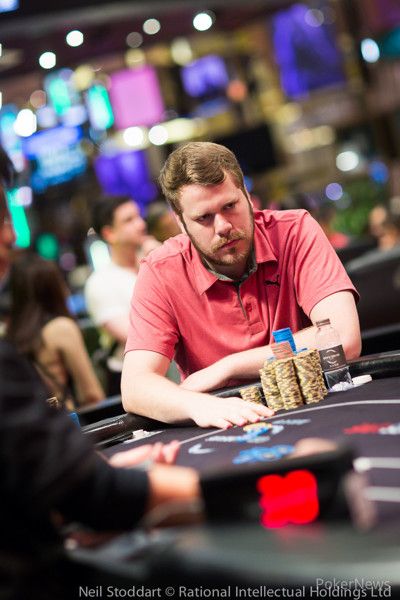 He still has just five results listed on his Hendon Mob profile, all with flags bearing a red-white-and-blue theme of Costa Rica, where he has lived for the past three years, Punta Cana, and Panama. But his breakout into the live world was hard-earned.
He has been playing live for years but just couldn't find the results he gets online.
"There was nothing but bricks. I must've been oh-for-thirty in WSOP events. It was frustrating for a while but I realized it was easy to lose live for years when one year of live tournaments correlates to one session online and it is easy to lose. So I think the variance got to me. Luckily, lately, the variance is on the other side."
Still, with just two big live results under his belt, it seems like a leap of faith to dive into this Super High Roller where he has to face the likes of Dan Smith, Isaac Haxton, Fedor Holz, Steve O'Dwyer, Bertrand Grospellier, Sam Greenwood, Davidi Kitai, and others.
"I've been winning online pretty consistently. I keep a close eye on my software, seeing my win rate, and I thought I was good money in the field. Especially when I saw how many fun players were in the field. So I kind of took a shot."
He's been playing bigger online too, playing four-figure tournaments. He says that has been "more so in the past year. There's not a no-limit tournament online that I won't play, to be honest."
With some great scores in the past six months, he has that invaluable ingredient: confidence. It can often be what it takes to outshine opponents. "I think it's allowing me to play my best game which I believe is good enough [for this event]."
We'll be watching to see if Quenneville's recent success can be replicated here at PokerStars Championship Macau. But keep an eye on his online success where he's proven to be on top of the game.
"I was at PokerStars Panama. That was great. I like this stop. I might hit the next couple PokerStars stops. It allows me to travel. They're good destinations to see around the world. Other than that, I don't know how much more live I'll be playing. I enjoy online."