The HK$400,000 Super High Roller has come to an end with Steve O'Dwyer winning enough money to buy a lifetime's supply of mangoes. He topped the 88-entry field after three days of play to win HK$8,460,803, which is more than US$1 million.
The man with the mango sailed his way through Day 2, finishing with the chip lead, and carried that momentum to a win on Monday's Day 3. He was gifted the stone fruit early in the tournament by Yan Li and it was promptly declared a lucky fruit. Coincidentally (or maybe it actually carries the power of luck?), every time O'Dwyer needed some luck, he turned to the mango and luck was delivered each time.
The day began at 12:30pm with 14 players returning to the tables on the direct money bubble. They had begun hand-for-hand play the night before about half an hour before the end of the day, but still needed to find one more elimination to put the tournament in the money.
Less than 10 minutes more of playing hand for hand, Behzad Ahadpour three-bet all in with
and Steve O'Dwyer made the call with one better:
. No saving card came for Ahadpour and he was declared the last player to be eliminated without a prize.
A couple of hours later, the final table of eight players was set and Qiang Lin had captured the chip lead with 5.5 million chips, followed by Zuo Wang (4.9 million) and Fedor Holz (3.3 million). Steve O'Dwyer had slipped to fourth in chips with 2.1 million.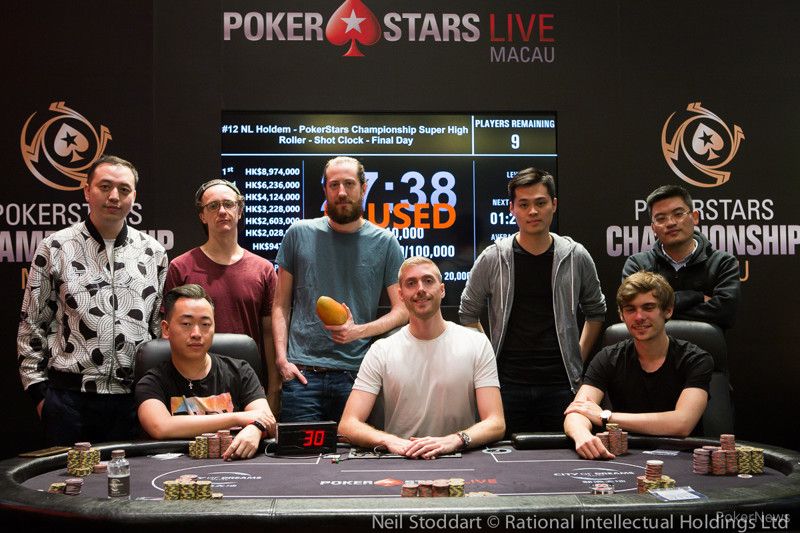 The first to go from the final table was Zhao Hongjun when Manig Loeser jammed all in from the small blind, putting the choice on Hongjun in the big blind. He called and showed
. Loeser turned over
and was well behind but live. The flop of
put Loeser in the lead and the
turn and
river changed nothing, eliminating Hongjun in eighth place for HK$1,215,000. Considering he was in for three buy-ins, he barely did better than break-even on the event.
Steve O'Dwyer took credit for the next elimination when he got it all in with a pair of kings against the ace-queen of James Chen. The board ran out in the mango's — er, we mean O'Dwyer's — favour, and Chen was eliminated in seventh place for HK$1,605,000.
O'Dwyer was responsible for the next elimination as well. Qiang Lin called O'Dwyer's raise and went to a flop of
. Lin check-raised to 675,000, leaving 1.66 million chips behind, and O'Dwyer raised enough to count Lin all in. The two got the chips in and the cards face-up. Lin's
was outkicked by O'Dwyer's
and the rest of the board bricked out, taking out Lin in sixth for HK$2,028,000.
Zuo Wang three-bet all in preflop and was called by Manig Loeser who had made the initial raise. Loeser's
was the dominating hand against Wang's
, and the board missed both of them, giving Loeser the chips and ending Wang's run in fifth place for HK$2,603,000.
Kahle Burns was the fourth-place finisher when he open-shoved from the small blind with
and was snap-called by Fedor Holz with
. Holz held and Burns was finished. He collected HK$3,228,000.
It took an hour and a half to find the next elimination, but only part of that time was spent playing. A good chunk of it was spent discussing a possible chop, but negotiations fell apart and they continued to play until Manig Loeser jammed his small blind with
and O'Dwyer woke up with
in the big blind. Loeser didn't improve and he collected HK$4,124,000 for his run.
That left Steve O'Dwyer and Fedor Holz heads-up for the win — a position both of them have been in more times than seems fair. They paused the clock again to talk about a deal and, after a long negotiation, they both locked up some prize money.
Holding a near four-to-one chip lead, O'Dwyer secured HK$8,160,830 while Holz was guaranteed HK$6,749,170, leaving HK$300,000 to play for.
The two players barely made it through a few hands before the chips went in. O'Dwyer three-bet shipped it in with
and Holz called with
. The race went O'Dwyer's way this time as the board ran
and Holz was eliminated as the runner-up. O'Dwyer hoisted his lucky mango to acknowledge credit for his victory.
HK$400,000 Super High Roller Final-Table Results
| Finish | Player | Prize |
| --- | --- | --- |
| 1 | Steve O'Dwyer | HK$8,974,000 |
| 2 | Fedor Holz | HK$6,236,000 |
| 3 | Manig Loeser | HK$4,124,000 |
| 4 | Kahle Burns | HK$3,228,000 |
| 5 | Zuo Wang | HK$2,603,000 |
| 6 | Qiang Lin | HK$2,028,000 |
| 7 | James Chen | HK$1,605,560 |
| 8 | Zhao Hongjun | HK$1,251,000 |