Event #29-H: $300 NLHE (PKO, Thursday Thrill SE) $40K GTD
| | | | | | |
| --- | --- | --- | --- | --- | --- |
| thpinal | | | | 64,063 | |
| 1WOLF8 | | | | 60,601 | 10,681 |
| casinobuddy75 | | | | 53,470 | |
| amaines55 | | | | 51,797 | |
| danmarino1983 | | | | 43,505 | |
| Jo-z Wellz77 | | | | 41,721 | |
| notv244 | | | | 38,215 | |
| deadtosolve | | | | 36,329 | |
| decayagent | | | | 32,173 | |
| Dionysus1888 | | | | 30,695 | |
| Winner | Date | Tournament | Entries | Prize Pool | Prize |
| --- | --- | --- | --- | --- | --- |
| ActuallLy | Saturday, April 17 | 02-H: $100 NLHE [6-Max, Turbo, Zoom], $20K GTD | 262 | $24,051.60 | $4,636.27 |
| | Saturday, April 24 | 18-H: $50 NLHE [Heads-Up, Turbo, Zoom, Total Knock Out], $15K GTD | 262 | $15,000 | $4,077.07 |
| | | | | | |
| CancelChristmas | Sunday, April 18 | 03-L: $10 NLHE [Sunday Marathon], $5K GTD | 731 | $6,652.10 | $1,133.52 |
| | Saturday, April 24 | 16-M: $50 NLHE [8-Max, PKO, Bigstack], $15K GTD | 456 | $20,748 | $3,667.23 |
| | | | | | |
| KAP1316 | Monday, April 19 | 08-M: $30 NLHE [6-Max, PKO, Battle Royale], $15K GTD | 665 | $18,154.50 | $2,867.62 |
| | Saturday, April 24 | 17-L: $10 5-Card PLO [6-Max], $2K GTD | 274 | $2,493.40 | $474.70 |
| | | | | | |
| ChrundleTheGr8 | Monday, April 19 | 08-L: $10 NLHE [6-Max, PKO, Battle Royale], $5K GTD | 645 | $5,869.50 | $953.55 |
| | Friday, April 23 | 14-M: $15+R NLHE [Rebuy], $10K GTD | 272 | $10,000 | $1,376.65 |
| | | | | | |
| thewhitesmith | Wednesday, April 21 | 12-H: $200 NLHE [8-Max, Turbo, High Roller 2nd Chance], $20K GTD | 118 | $21,948 | $4,826.21 |
| | Saturday, April 24 | 17-H: $100 5-Card PLO [6-Max], $10K GTD | 114 | $10,465.20 | $2,444.06 |
| | | | | | |
| ThisRealLife? | Saturday, April 24 | 18-L: $5 NLHE [Heads-Up, Turbo, Zoom, Total Knock Out], $2.5K GTD | 484 | $2,500 | $551.16 |
| | Sunday, April 25 | 22-L: $10 NLHE [Turbo, Second Chance], $3K GTD | 343 | $3,121.30 | $585.88 |
| | | | | | |
| jbrink22 | Friday, April 23 | 14-H: $50+R NLHE [Rebuy], $20K GTD | 195 | $20,000 | $3,970.31 |
| | Sunday, April 25 | 20-H: $200 NLHE [Sunday Special SE], $100K GTD | 598 | $111,228 | $17,737.55 |
| | | | | | |
| RealizeRealLies | Tuesday, April 20 | 10-H: $200 NLHE [Super Tuesday SE], $25K GTD | 258 | $47,988 | $8,244.50 |
| | Sunday, April 25 | 19-H: $100 NLHE [Bigstack, Sunday Marathon SE], $25K GTD | 388 | $35,618.40 | $4,909.52 |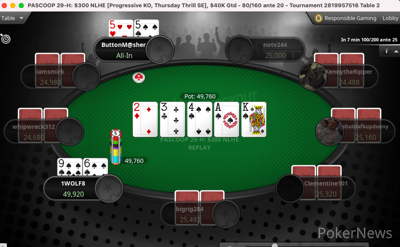 Level 1 (80/160/20)
It took less than five minutes for "1WOLF8" to collect the first $35 progressive bounty. They started the action by limping in, and then "[email protected]" raised to 640 on the button. "1WOLF8" tagged along, and the flop came down
. "1WOLF8" check called a bet of 1,092, and the
hit the turn. After a second check, "[email protected]" fired a pot sized bet of 3,840. "1WOLF8" tagged along again, and the
hit the river.
This time, "1WOLF8" bet, and they bet it all, moving all in for 19,000 and change. "[email protected]" was barely covered, and called with
for a straight. It was no good though, as "1WOLF8" rolled over
for a rivered flush.
| | | | | | |
| --- | --- | --- | --- | --- | --- |
| 1WOLF8 | | | | 49,920 | 49,920 |
| [email protected] | | | | Busted | |
It's time to get another PASCOOP Event going here at Pokernews.com. Today the buy-in is $300, and the total prizepool will be at least $40,000. Registration will be available for the first two hours and forty minutes of play, with re-entry also available in that time.
As always, Pokernews.com will be here from start to finish to bring you all of the updates, so don't go anywhere!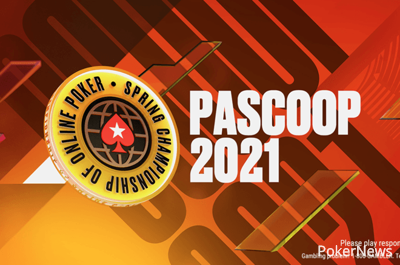 In just three short hours, the next PASCOOP Event, Event #29-H: $300 NLHE (PKO, Thursday Thrill SE) $40K GTD, will be kicking off! This tournament has a buy-in of $300, and it is the ever popular Progressive Knockout format, where half the money goes to the main prizepool, while the other half goes to the Bounty prizepool.
This $40,000 Guaranteed Event will have 12 minute levels, and all players will be starting with 25,000 in chips. The action will be kicking off at 20:00 PM ET, with registration available until about 22:40 PM ET. Check out details for the Main Event coming up this weekend, and be sure to come back later today for all of the updates.
Remaining PokerNews PASCOOP Live Reporting Schedule
| Date | Day | Time (EST) | Event | GTD |
| --- | --- | --- | --- | --- |
| April 29 | Thursday | 8 p.m. | #29-H: $300 NLHE Thursday Thrill | $40,000 |
| May 2 | Sunday | 6 p.m. | #36-H: $300 NLHE Main Event Day 1 | $200,000 |
| May 3 | Monday | 6 p.m. | #36-H: $300 NLHE Main Event Day 2 | $200,000 |
Event #29-H: $300 NLHE (PKO, Thursday Thrill SE) $40K GTD
Day 1 Started