Event Info
| | |
| --- | --- |
| Buy-in | $440 |
| Prize Pool | $158,692 |
| Players | 409 |
Level Info
| | |
| --- | --- |
| Level | 31 |
| Blinds | 75,000 / 150,000 |
| Ante | 150,000 |
Players Info - Day 2
| | |
| --- | --- |
| Players Left | 1 |
| Entries | 409 |
$440 Mini Main Event
Day 2 Completed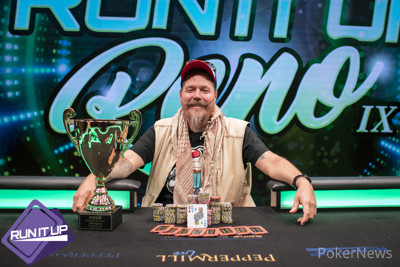 "Eighty-five into thirty-thousand!" That was the exclamation of John Gribben as he hoisted the $440 Mini Main Event trophy at Run It Up Reno IX.
Gribben won his way into the tournament by way of an $85 satellite Friday, bagging Saturday's Day 1 flight and grinding his way to the tournament victory on Day 2 Sunday. Gribben takes home $30,000 for the first place finish, the biggest score of his career.
"How can I put it into words? It's f***ing incredible," said an elated Gribben. "It's a dream come true. I've been trying to get to this spot for awhile."
Gribben, who's currently living in his van and traveling to play poker, scored his second five-figure cash of the past month with the win. He outlasted runner-up Chris Lindner in heads-up play, with Lindner taking home $18,600 for the second-place finish.
"I live in my van now, and I travel around. My goal was to play poker for a living, and live in my van. And reduce my life overhead to so little that I could play poker. And not be great at it, but be good at it. This helps a lot."
Gribben went into the heads-up battle with a 6.3 million to 3.8 million chip lead, with the blinds at 30000/60000. A couple of big pots went Gribben's way, and by Level 30 the Olympia, Washington resident had Lindner down to 1.7 million chips.
The final hand saw Lindner get all in preflop with pocket threes, and Gribben make the call with queen-eight offsuit. An eight came in on the turn, all but clinching the win for Gribben.
The $18,600 runner-up prize is also a career high for Lindner.
| Place | Winner | Country | Prize (USD) |
| --- | --- | --- | --- |
| 1 | John Gribben | United States | $30,000 |
| 2 | Chris Lindner | United States | $18,600 |
| 3 | Alex Conatser | United States | $12,440 |
| 4 | Albert Ng | United States | $9,070 |
| 5 | Lucas Hill | United States | $7,020 |
| 6 | Ricky Guan | United States | $5,700 |
| 7 | Bill Richter | United States | $4,720 |
| 8 | Michael Hanelin | United States | $3,907 |
Final Table Action
The nine-handed final table was the unofficial final table, as the Mini Main Event played as an eight-handed tournament.
Bjorn Peterson and Michael Hanelin came in as the short stacks, both with identical 255,000 stacks, about ten big blinds. Peterson finished in 9th ($3,170), and after than the official final table began. Hanelin exited just about five minutes later, taking home $3,907 for the 8th-place finish.
Bill Richter went out next, after grinding out a path to the final table with a tight, low-risk playing style throughout the tournament. It took a cooler to knock Richter out, as he ran ace-king into Lindner's pocket aces.
Ricky "RatedGTO" Guan, the last of the Run It Up ambassadors left in the field, went out in sixth ($5,700), having made it to the final table after spinning up a very short stack during two-tabled play. Down to seven big blinds at one point, Guan grinded his way into the final six, with Gribben finally knocking him out.
Lucas Hill, the chip leader going into the final table, went out next. Having seen some of his chip lead dwindle over a series of hands in six and five-handed play, Hill saw the rest of his chips evaporate in a cooler against Lindner. Hill ended up getting all of his chips in on the river with two pair, only to find out Lindner had a better two pair. The hand sent 1.6 million chips from Hill to Lindner, and Hill took home $7,020 for the fifth-place showing.
Albert Ng, who was short stacked for much of the final table, was the biggest beneficiary of Hill's bustout, jumping up the payout ladder and finishing in fourth ($9,040), going out just minutes after Hill.
The final three players went into the home stretch relatively even in chips, but Conatser's stack slowly began to dwindle as Lindner and Gribben began to build their stacks. Conaster's final hand saw him three-bet all in from the big blind with pocket fives, getting looked up by Gribben's king-jack. A king on the turn propelled Gribben into the lead on the hand, with no miracle five coming in on the river. Conatser took home $12,440.
Conatser Dominates Early Action
Day 2 began with the 67 surviving players from the Day 1a and Day 1b flights, but that number rapidly dwindled as the action was fast and furious in the opening levels of Sunday's action.
The day's action started midway through Level 15, with the field playing through 40-minute levels. It took just over two hours for more than half of the field to drop out, as the tournament was down to 29 players heading into the first break of the day, at the end of Level 18.
Notable players eliminated in that early stretch included Jon Turner, Loren Klein, Josh Prager and Ian Steinman. Coming back from that first break, Conatser had climbed his way into the chip lead, with Lindner, Anthony Nguyen, and Tyler Burke close on his heels.
Conatser spent the next two hours putting distance between himself and the rest of the field. He became the first player in the field to eclipse the million-chip mark after eliminating Phil Weast. Conatser's stack started to approach the two-million mark just one level later, with Conaster taking a huge pot from Tyler Burke.
Conatser held steady at the top of the chip leader board, but by Level 21 Hill had started to make moves toward his own massive stack. Hill built a big stack on the feature table, and by the time the final table came around it was Hill with the Chip lead at 2.8 million, followed by Conatser and Ng at 1.9 million each.
Run It Up Reno IX Opener Wraps Up
The first tournament of Run It Up Reno IX drew a total of 409 entires, well surpassing the $100,000 guaranteed prize pool. The total prize pool ended up at $158,692, with Gribben coming away the $30,000 first prize.
The heads-up battle between Gribben and Lindner lasted 75 minutes, with Gribben coming away with the win 17 minutes into Level 30.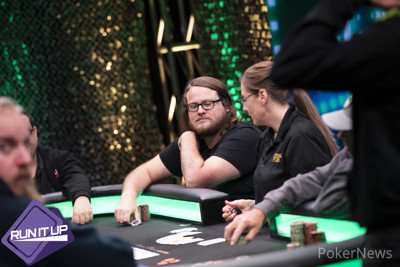 John Gribben jammed on the button, and Chris Lindner called off his last 1.6 million in the big blind.
Chris Lindner:

John Gribben:
The
flop was safe for Lindner, but the
turn paired Gribben up. Lindner needed a three to keep the heads-up battle alive, but the
river earned Gribben the title, the trophy, and $30,000, prompting Gribben to yell, "I won this from a satellite!" while hoisting up the gold trophy.
| | | | | | |
| --- | --- | --- | --- | --- | --- |
| John Gribben | | | | 10,225,000 | 1,725,000 |
| Chris Lindner | | | | Busted | |
Level:

31
Blinds:

75,000/150,000
Ante:

150,000
Level 30 (75,000/125,000/125,000) was skipped by the players, and play went straight to 75,000/150,000/150,000, as confirmed by the commentators Jimmy Cappucci and Patrick Tardif.
Level:

30
Blinds:

75,000/125,000
Ante:

125,000
Chris Lindner limped in from the button with
, then called a raise to 250,000 from John Gribben in the big blind with
.
The
flop gave both players a flush draw, and Gribben bet 250,000. Lindner called.
The
turn added a gutshot for Lindner, and Gribben bet 400,000. Lindner called again.
The
river was checked through, and Gribben won the pot with his ace-high.
| | | | | | |
| --- | --- | --- | --- | --- | --- |
| John Gribben | | | | 8,500,000 | 500,000 |
| Chris Lindner | | | | 1,700,000 | -500,000 |
John Gribben raised to 250,000 on the button with
, and Chris Lindner called with
in the big blind.
Both players checked the
flop, and Lindner bet 200,000 on the
turn when he picked up a gutshot. Lindner called with his ace-high, and won the pot when they both checked the
river.
| | | | | | |
| --- | --- | --- | --- | --- | --- |
| John Gribben | | | | 8,000,000 | 1,000,000 |
| Chris Lindner | | | | 2,200,000 | -1,000,000 |
Chris Lindner limped in on the button with
, and called after John Gribben raised to 250,000 in the big blind with
.
An action
flop saw Gribben bet 200,000 with his open-ended straight draw, and Lindner called with top pair.
The
turn was checked by Gribben, and Lindner bet 450,000 with two pair. Gribben called.
Both players checked the
river, and Lindner won the pot.
| | | | | | |
| --- | --- | --- | --- | --- | --- |
| John Gribben | | | | 7,000,000 | -1,200,000 |
| Chris Lindner | | | | 3,200,000 | 1,000,000 |
Level:

29
Blinds:

50,000/100,000
Ante:

100,000