$1,100 Main Event
Day 2 Completed

Level 30 : 100,000/150,000, 30,000 ante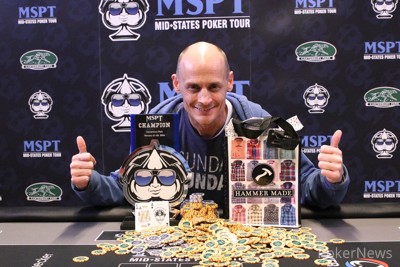 The Mid-States Poker Tour (MSPT)'s first stop of four at Canterbury Park in 2020 saw 485 entries logged over two initial starting flights with 66 players returning Sunday for an 11 a.m. start time with their eyes set on the top prize of $100,824. Nearly 13 hours later, a champion emerged in Minnesota's own Derek McMaster, who scored the second six-figure cash of his career after winning a WSOP bracelet in the summer of 2019.
McMaster defeated fellow Minnesotan and former MSPT Canterbury champ Dan "DQ" Hendrickson heads-up, who received $61,948 for finishing runner-up. Nathan Fair rounded out an all-Minnesota top three and banked $44,644. Umut Ozturk, Dennis Stevermer, and Phil Mader also made the final table.
Three-time MSPT Champion Blake Bohn finished in 11th place and was inducted into the MSPT Hall of Fame at the event. Bohn officially earned his way in on Sunday when he locked up his 25th career cash on the tour, doing so with a flare after he called the short-stacked Kevin Kelly's all-in shove on the bubble. Kelly had ace-jack and Bohn had king-five. Bohn hit a five on a three-spade flop and ended up holding against Kelly's nut flush draw to secure his score and his place in the MSPT Hall of Fame.
Bohn's MSPT history dates back to 2011, and he has now amassed over $500,000 in earnings on tour to accompany his three first-place finishes on the tour.
2020 MSPT Canterbury Park $1,100 Main Event Final Table Results
| Place | Player | Country | Prize |
| --- | --- | --- | --- |
| 1 | Derek McMaster | United States | $100,824 |
| 2 | Dan "DQ" Hendrickson | United States | $61,948 |
| 3 | Nathan Fair | United States | $44,644 |
| 4 | Dedric Henderson | United States | $33,764 |
| 5 | Umut Ozturk | United States | $25,323 |
| 6 | Kevin Boyer | United States | $19,227 |
| 7 | Dennis Stevermer | United States | $15,006 |
| 8 | Phil Mader | United States | $11,724 |
| 9 | Brandon Waalen | United States | $8,917 |
Early Day 2 Action
Play resumed with 29 minutes left on the clock in Level 15 after a hard stop was reached on Day 1a due to 12% of the field remaining. Only 54 of the returning 63 players would get paid, and that number was reached roughly 90 minutes into play for the day. The bubble lasted for around 20 minutes and fueled a frenzy of eliminations shortly thereafter, with players such as Sammy Aweida, Jesse Rockowitz, Joe Ebanks, and Andy Tran all earning first-level payouts within minutes after the bubble burst.
From there, an hour and a half went by before the final three tables were reached. Chan Pelton, Aaron Johnson, and Day 1b chip leader Jeremy Dresch were among those amassing stacks at different points in time, but all three ultimately fell short of the final table with Pelton taking 19th place, Dresch 14th, Johnson 12th and now-Hall of Famer Bohn, as mentioned before, in 11th place.
Ten players remained after Bohn's elimination and Nicholas Welu became the final casualty needed to reach the final table of nine just minutes after Bohn hit the rail.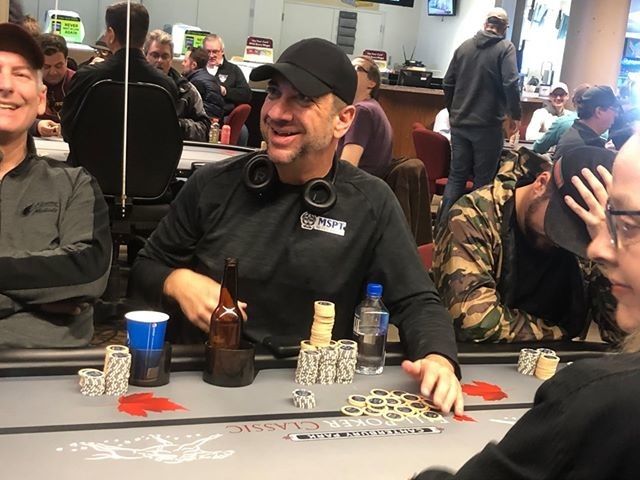 Final Table Action
Dedric Henderson entered the final table with a stack of 2.53 million, well ahead of the rest of the field. Play started slow until Henderson knocked out Day 1a chip leader Brandon Waalen in a hand where Waalen shoved pocket deuces into Henderon's kings. Moments later, Phil Mader hit the rail after his ace-king lost to McMaster's pocket jacks. Mader flopped a king but the ace on the river that gave him two pair filled McMaster up to Broadway, leaving just seven left in contention.
McMaster found himself over 2 million after knocking out Mader and picked up roughly another million 45 minutes later when Dennis Stevermer's king-nine suited ran into his pocket kings to send him home in seventh place. Another full level of play then went by before McMaster struck again, knocking out Kevin Boyer in sixth place after his ace-king held versus Boyer's ace-jack suited.
Five-handed play went on for another 40 minutes and the beginning of Level 30 saw just over 100 total big blinds in play with five still remaining. Despite Umut Ozturk, Nathan Fair, and Daniel Hendrickson all being short, the two big stacks in McMaster and Henderson traded a few blows. Henderson caught McMaster bluffing and regained the chip lead momentarily until the two got stacks in on a queen-high flop with McMaster's holding two nines against Henderson's pocket sevens.
Moments later, Fair shoved with nine-eight into Ozturk's ace-king and got there, leaving Ozturk on fumes. He found the rail a hand later, and Fair looked as if he were going to make a run as Henderson shoved king-queen into Fair's ace-queen to take fourth place shortly thereafter.
However, three-handed play only lasted for a few hands before Fair got it all in with eight-seven on an ace-nine-seven flop in a blind-on-blind battle against McMaster. McMaster looked him up with kings and held to take the match heads up, where Hendrickson shoved king-five into his ace-king just one hand later to seal the deal.
That's it from the first MSPT stop at Canterbury Park in Shakopee, MN. Make sure to check back to PokerNews for the next stop of the popular tour on March 20-22, 2020 in the Meskwaki Casino in Tama, IA

Level 30 : 100,000/150,000, 30,000 ante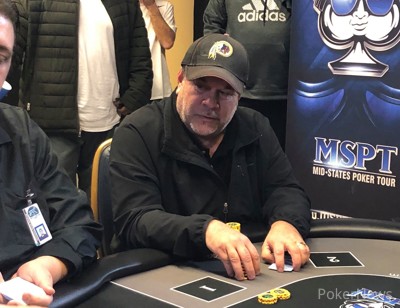 On the first hand of heads-up play, former MSPT Canterbury Park champ Dan "DQ" Hendrickson went all in from the small blind and Derek Mcmaster quickly called.
Dan Hendrickson:

Derek Mcmaster:
"Okay, this is not going to be the hand where Derek doubles me up," said Hendrickson, referring to several earlier all-in situations and other potential situations between the two.
He would be correct as the board ran out
to leave Mcmaster on top and earn him the title.

Level 30 : 100,000/150,000, 30,000 ante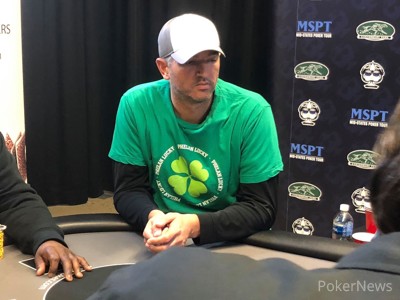 Nathan Fair pumped it up to 350,000 in the small blind and was three-bet to 1.175 million by Derek Mcmaster in the big blind. Fair made the call and the flop came
.
"All in," said Fair, shoving for his last 2 million or so.
"Call," responded Mcmaster immediately.
Nathan Fair:

Derek Mcmaster:
Fair's found his pair of sevens had run into two cowboys and the turn
put a pair on the board to give Mcmaster kings up, leaving Fair with only two sevens left in the deck to stay alive. Instead, his eight paired on the river
to leave his hand second best.
The dealer announced kings and nines were the winning hand to confirm the matter, resulting in a response from Mcmaster: "Oh shit! I thought I had lost!"
Instead, it was Fair to hit the rail in third place, taking home a payday of $44,644.

Level 30 : 100,000/150,000, 30,000 ante
Daniel Hendrickson took a couple pots off of Derek Mcmaster and now finds himself over 3 million, slightly ahead of Nathan Fair to make up slightly over half the chips in play between the two of them while Mcmaster holds the remaining 5.7 million or so.
Player
Chips
Progress

Derek Mcmaster

5,700,000

-1,375,000

Daniel Hendrickson

3,250,000

1,435,000

Nathan Fair

2,700,000

30,000

Level 30 : 100,000/150,000, 30,000 ante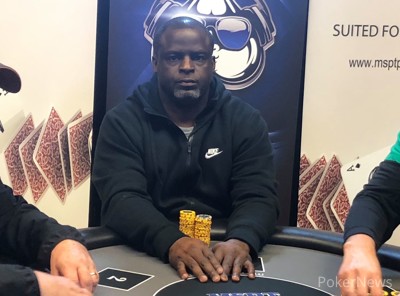 Dedric Henderson went all in from the cutoff and Nathan Fair jammed over him, prompting quick folds from the other two players in the blinds.
Dedric Henderson:

Nathan Fair:
Henderson was unable to spike a king as the board ran out
and he was eliminated from the tournament in fourth place. He reached over to shake Fair's hand before Fair could collect the chips and then made his way from the tournament area in well-received fashion from spectators en route to the payout desk.

Level 30 : 100,000/150,000, 30,000 ante
Cards are back in the air with under 30 minutes left in Level 30.

Level 30 : 100,000/150,000, 30,000 ante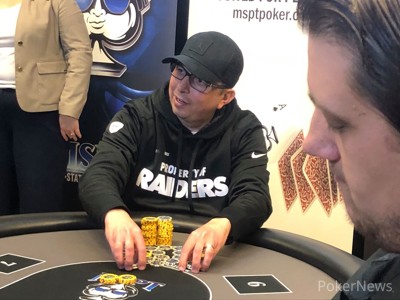 Nathan Fair went all in for 850,000 on the button and Umut Ozturk called in the big blind for slightly more.
Nathan Fair:

Umut Ozturk:
The flop came
to give Fair a pair of nines, but Ozturk had two overcards and flush outs to score the knockout. Unfortunately for him, the turn
took away six of his outs to leave him with just eight spades left in the deck to win the pot and none would come on the river
for Fair to double and leave Ozturk with crumbs.
On the very next hand, Derek Mcmaster saw action folded to him on the button and announced he was all in. Ozturk called off his last few chips in the small blind.
Umut Ozturk:

Derek Mcmaster:
Ozturk was drawing dead by the turn on the runout
and became the fifth-place finisher, earning him a payday of $25,323 for his efforts after staying alive for hours without gaining any true traction.
The four remaining players have agreed to take an impromptu bathroom break and the clock has been stopped to accommodate. Play will resume in a few short minutes.
Player
Chips
Progress

Derek Mcmaster

7,075,000

-385,000

Nathan Fair

2,090,000

430,000

Daniel Hendrickson

1,815,000

-295,000

Dedric Henderson

1,180,000

70,000

Umut Ozturk

Busted

Level 30 : 100,000/150,000, 30,000 ante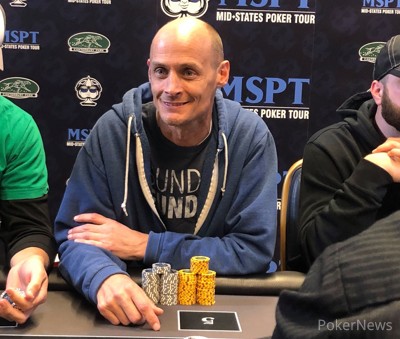 On the last hand of the previous level, Dedric Henderson opened to 305,000 i the hijack and Derek Mcmaster three-bet to 855,000 on the button. Henderson called to take action heads up to the streets.
The dealer fanned a flop of
and Henderson checked. Mcmaster announced he was all in and Henderson immediately called.
Derek Mcmaster:

Dedric Henderson:
Mcmaster's nines were way ahead and stayed there as the turn
and river
completed the runout. His remaining stack was counted to be 2.375 million and Henderson paid it off, leaving him with just 1.1 million behind as one of the shortest stacks left in the tournament. Mcmaster, on the other hand, now has over half the chips in play with five still remaining.
Level: 30
Blinds: 100,000/150,000
Ante: 30,000