Event Info
| | |
| --- | --- |
| Prize Pool | $312,600 |
| Players | 1047 |
Level Info
| | |
| --- | --- |
| Level | 30 |
| Blinds | 100,000 / 150,000 |
| Ante | 30,000 |
Players Info - Day 2
| | |
| --- | --- |
| Players Left | 1 |
| Entries | 1047 |
Level:

27
Blinds:

40,000/80,000
Ante:

10,000
| Table | Seat | Count |
| --- | --- | --- |
| 30 | 1 | Adrian Lopez |
| 30 | 2 | Dong Luo |
| 30 | 3 | Robert Fortuno |
| 30 | 4 | Chris Kinser |
| 30 | 5 | Derek Jensen |
| 30 | 6 | Alexander Wood |
| 30 | 7 | David Channon |
| 30 | 8 | Armando Mesina |
| | | |
| 29 | 1 | Philip Bruning |
| 29 | 2 | Audri Mansour |
| 29 | 3 | Faris Fetouhi |
| 29 | 4 | John Yi |
| 29 | 5 | Michael Rosado |
| 29 | 6 | Matthew Blagg |
| 29 | 7 | Justin Gleave |
| 29 | 8 | Adrianne Hall |
| | | |
| 23 | 1 | David Lebhar |
| 23 | 2 | Andrew Gay |
| 24 | 3 | Young Hilliard |
| 24 | 4 | Mark Alag |
| 24 | 5 | Tiffany Nguyen |
| 24 | 6 | Happy Spaulding |
| 24 | 7 | Kobe Brown |
| 24 | 8 | Alex Countser |
| | | | | | |
| --- | --- | --- | --- | --- | --- |
| Derek Jensen | | | | 2,000,000 | 1,822,000 |
| David Channon | | | | 1,875,000 | 125,000 |
| Chris Kinser | | | | 1,850,000 | 1,100,000 |
| Matthew Blagg | | | | 1,775,000 | -225,000 |
| Andrew Gay | | | | 1,700,000 | 200,000 |
| Tiffany Nguyen | | | | 1,550,000 | 850,000 |
| Armando Mesina | | | | 1,500,000 | 500,000 |
| Michael Rosado | | | | 1,400,000 | 700,000 |
| Faris Fetouhi | | | | 1,300,000 | 1,084,000 |
| Kobe Brown | | | | 1,100,000 | 731,000 |
| Happy Spaulding | | | | 1,100,000 | 314,000 |
| Adrian Lopez | | | | 1,100,000 | 788,000 |
| Alexander Wood | | | | 1,000,000 | 791,000 |
| Mark Alag | | | | 825,000 | -375,000 |
| Dong Luo | | | | 800,000 | 200,000 |
| John Yi | | | | 750,000 | 598,000 |
| David Lebhar | | | | 700,000 | 593,000 |
| Philip Bruning | | | | 550,000 | 371,000 |
| Adrianne Hall | | | | 500,000 | 272,000 |
| Robert Fortuno | | | | 450,000 | -750,000 |
| Justin Gleave | | | | 400,000 | -200,000 |
| Alex Countser | | | | 375,000 | -138,000 |
| Audri Mansour | | | | 350,000 | -510,000 |
| Young Hilliard | | | | 275,000 | -725,000 |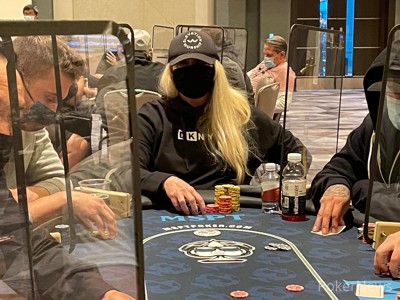 The preflop action escaped us but we do know that Laurette Thurber got her stack of roughly 675,000 all in against David Channon.
Laurette Thurber:

David Channon:
The
flop looked good for Thurber, who improved to a set, but Channon picked up a gutshot Broadway straight draw. Unfortunately for her, it came in when the
spiked on the turn. The
failed to pair the board on the river and Thurber was ousted in 26th place for $1,719.
Marvin Imutan followed her out the door in 25th place, which means the final 24 players will now redraw down to three tables. Additionally, the tournament shifts from a big blind ante to a per-player format.
Level:

26
Blinds:

30,000/60,000
Ante:

10,000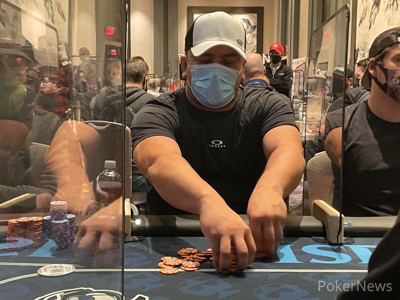 The under-the-gun player raised to 125,000 and action folded around to Marvin Imutan, who moved all in for 260,000 from the big blind. The call was made and the hands turned up.
Marvin Imutan:

Opponent:
The
flop was rather lackluster, but the
turn was perfect for Imutan as it gave him a set and the guaranteed double. The
was run out on the river and Imutan was pushed the pot.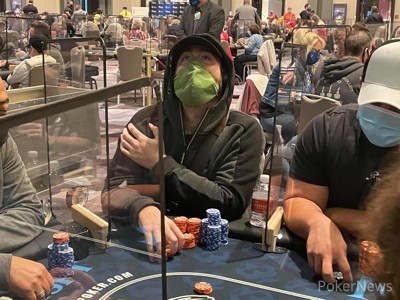 We picked up the action on a flop of
when Robert Fortuno checked from the small blind and Matthew Blagg bet 50,000 from the big. Marvin Imutan, the under-the-gun player, called and then Fortuno woke up with a check-raised to 100,000.
Blagg called and then Imutan popped it to 400,000. Fortuno then called before Blagg jammed all in for just over 700,000. Imutan rejammed for 1.2 million and Fortuno thought long and hard before folding the
face up.
Matthew Blagg:

Marvin Imutan:
"Pair the board," the Imutan called. Indeed, he was looking to fill up in order to overcome the flopped nuts of Blagg.
The
turn put out some chop options, but the
river was a brick to send the monster pot, and the chip lead, over to Blagg.
Level:

25
Blinds:

25,000/50,000
Ante:

50,000