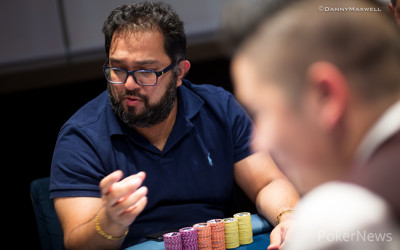 After a record-breaking first day at the 2019 The Star Sydney Championships, the 356-entry strong field in the A$1,100 6-Max Event has been cut down to 30 hopefuls and they all have locked up a portion of the A$356,000 prize pool already. However, when the action resumes at 12.30 p.m. local time at The Star Sydney, all eyes will be set on the trophy and top prize of A$89,003 that comes along with it.
Leading the field into Day 2 is Alex Yazbeck, one of two players with more than half a million in chips at his disposal. Yazbeck will return with 549,500 and Michael Oscuro is just a few big blinds behind with a stack of 534,000. Nauvneel Kashyap sits in third place overall with 408,500.
Other notables and big stacks still in contention include Guangyu Wang (319,500), John Rosario (308,000), Adrian Salter (270,500), Navid King (193,500), Connie Graham (169,500), Michael Seymour (145,500), Sam Capra (124,000), Michel Bouskila (116,000), Dale Marsland (115,000), and Chad Awerbuch (71,000).
The action is set to resume with blinds of 3,000-6,000 and an ante of 1,000, and the levels will continue at a duration of 40 minutes for the remainder of the tournament. The PokerNews team will be on the floor to provide all the action and a live stream with hole cards displayed will also be available.
Day 2 Seat Draw
| Table | Seat | Player | Country | Chip Count | Big Blinds |
| --- | --- | --- | --- | --- | --- |
| 20 | 1 | Navid King | Australia | 193,500 | 32 |
| 20 | 2 | Miray Badaoui | Australia | 162,000 | 27 |
| 20 | 3 | Thomas Amir | Australia | 179,500 | 30 |
| 20 | 4 | John Rosario | Australia | 308,000 | 51 |
| 20 | 5 | Dale Marsland | Australia | 115,000 | 19 |
| 20 | 6 | Alex Yazbeck | Australia | 549,500 | 92 |
| | | | | | |
| 22 | 1 | Vesko Zmukic | Australia | 46,000 | 8 |
| 22 | 2 | Michael Doodson | Australia | 15,500 | 3 |
| 22 | 3 | Guangyu Wang | Australia | 319,500 | 53 |
| 22 | 4 | Zhankang Chen | Australia | 128,500 | 21 |
| 22 | 5 | Adrian Salter | Australia | 270,500 | 45 |
| 22 | 6 | Steve Pappas | Australia | 40,000 | 7 |
| | | | | | |
| 30 | 1 | John Thomson | Australia | 90,000 | 15 |
| 30 | 2 | Tu Tran | Australia | 151,500 | 25 |
| 30 | 3 | Matthew White | Australia | 92,500 | 15 |
| 30 | 4 | Andrew Zhang | Australia | 195,000 | 33 |
| 30 | 5 | Connie Graham | Australia | 169,500 | 28 |
| 30 | 6 | Andrew Miller | Australia | 108,500 | 18 |
| | | | | | |
| 31 | 1 | Michael Oscuro | Australia | 534,000 | 89 |
| 31 | 2 | Chad Awerbuch | Australia | 71,000 | 12 |
| 31 | 3 | Akshay Kapoor | India | 92,000 | 15 |
| 31 | 4 | Lachlan Dykes | Australia | 96,500 | 16 |
| 31 | 5 | Mark Leslie | Australia | 107,500 | 18 |
| 31 | 6 | Alan Casas | Australia | 139,000 | 23 |
| | | | | | |
| 32 | 1 | Nauvneel Kashyap | Australia | 408,500 | 68 |
| 32 | 2 | Michel Bouskila | Australia | 116,000 | 19 |
| 32 | 3 | Sam Capra | Australia | 124,000 | 21 |
| 32 | 4 | Qiang Fu | Australia | 143,000 | 24 |
| 32 | 5 | Michael Seymour | Australia | 145,500 | 24 |
| 32 | 6 | Win Tan | Australia | 228,500 | 38 |
Remaining Payouts
| Place | Prize (AUD) | Prize (USD) |
| --- | --- | --- |
| 1 | A$89,003 | $61,643 |
| 2 | A$54,995 | $38,089 |
| 3 | A$38,167 | $26,434 |
| 4 | A$26,810 | $18,568 |
| 5 | A$19,057 | $13,199 |
| 6 | A$13,702 | $9,490 |
| 7-8 | A$9,964 | $6,901 |
| 9-10 | A$7,330 | $5,077 |
| 11-12 | A$5,450 | $3,775 |
| 13-18 | A$4,094 | $2,835 |
| 19-24 | A$3,115 | $2,157 |
| 25-30 | A$2,385 | $1,652 |