Poker events with million-dollar or higher buy-ins don't come around often, but when they do, they sure are exciting. The Triton Million - A Helping Hand for Charity was no exception as it brought together some of the world's best professionals to play alongside avid poker "recreationals" — all putting up their £1,050,000 buy-in to compete for the title in the richest tournament in poker history.
The fifty-four hopefuls created a £54 million prize pool with a brilliant £2.7 million going to charitable causes. But only one player walk away with the victory, and after three days of intense action, China's Aaron Zang claimed that post.
When heads-up play started, Zang and Bryn Kenney took a moment to spark up a deal. Kenney had over five times the chips at the time and took £16,890,509 to Zang's £13,779,491, meaning although Zang would take down the title, it was Kenney claiming the lion's share of the money, securing a score of approximately $20,537,000.
With a crowd of supporters surrounding Zang, he was presented with the Triton Million trophy by co-founder Paul Phua and was unable to contain his joy. "This feels like a dream come true!" said Zang with echoes of applause filling the arena.
Phua congratulated his friend on his achievement and reminisced about their cash games together in Macau over the past nine years. "Aaron is not a tournament player normally; I hope this shows to all non-pros they can win. Aaron is good but I didn't think he was that good!" joked Phua.
Zang admitted he felt he made mistakes at the final table, but despite falling to just three million chips at one stage, he said he refocused on his game and his dream.
"Bryn (Kenney) played better than me, but I always thought maybe the dream can come true. I am so happy and also very honored to have played against everyone."
Triton Million Final Table Payouts
| Position | Player | Country | Prize (GBP) | Prize (USD) |
| --- | --- | --- | --- | --- |
| 1 | Aaron Zang | China | *£13,779,491 | $16,754,497 |
| 2 | Bryn Kenney | United States | *£16,890,509 | $20,537,187 |
| 3 | Dan Smith | United States | £7,200,000 | $8,719,164 |
| 4 | Stephen Chidwick | United Kingdom | £4,410,000 | $5,340,488 |
| 5 | Vivek Rajkumar | India | £3,000,000 | $3,632,985 |
| 6 | Bill Perkins | United States | £2,200,000 | $2,664,189 |
| 7 | Alfred DeCarolis | United States | £1,720,000 | $2,082,911 |
| 8 | Timothy Adams | Canada | £1,400,000 | $1,695,393 |
Triton Million Final Table
There was no shortage of action at the final table as aggressive bets and monster bluffs started happening on just the second round of the final day. Timothy Adams opened and received a call from only Alfred DeCarolis. Adams fired on the jack-high flop and again when the board paired on the turn.
The river saw two pair come on the board and Adams slowed down, checking to DeCarolis who without hesitation moved all in with ace-high. Adams mucked his pocket nines and DeCarolis instantly turned over his ace-three of diamonds, showing the first, but definitely not the last, major bluff of the day.
Adams built his stack back up to almost that of where he started the final day and found a great spot against the start of the day chipleader Vivek Rajkumar. The Canadian raised it up, DeCarolis called and Rajkumar pushed all of his chips into the middle. Adams made the call in what was the biggest pot of the day so far and DeCarolis thought hard, ultimately letting his hand go.
Adams tabled kings against the ace-ten of Rajkumar and DeCarolis then acknowledged that he folded an ace, leaving Rajkumar with just two aces left in the deck. An ace appeared regardless and Adams was the first on the day to exit in eighth place.
The very next hand saw Rajkumar try to pull a fast one on Stephen Chidwick with the dead man's hand. Chidwick showed no sign of budging as he called Rajkumar without ease until the river when Rajkumar pushed the Brit all-in.
Chidwick threw all of his time extension chips into the pot instantly to buy himself some time holding just second pair on the board. Only a minute later Chidwick found it in him to call and was spot-on as Rajkumar tabled ace-high, sending a massive double-up to one of the most dangerous poker players in the world.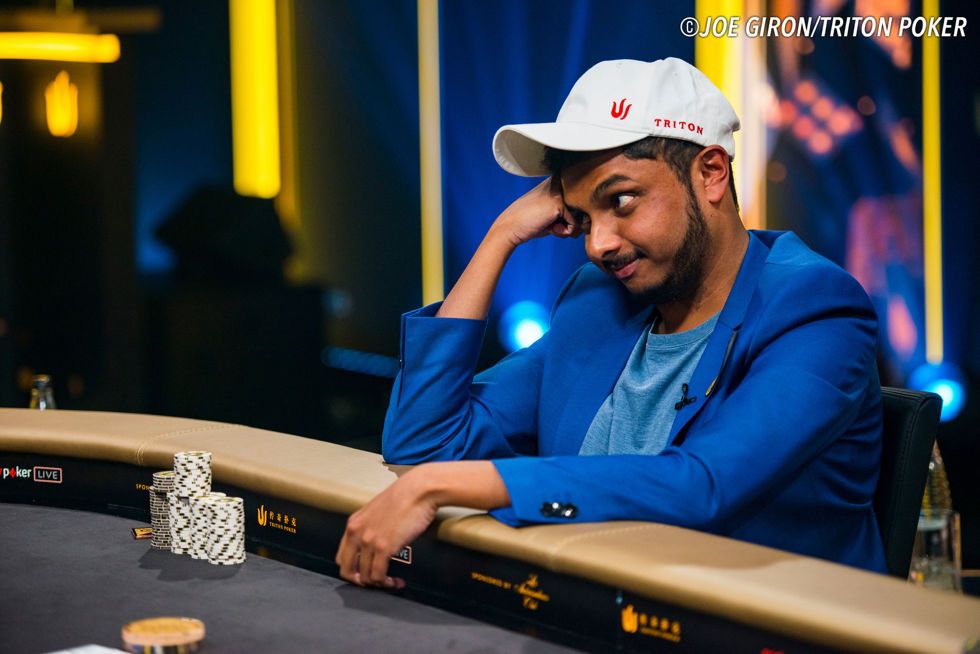 Chidwick continued on the very next hand, putting DeCarolis all in with his pocket aces. DeCarolis called for his remaining stack, holding ace-three. DeCarolis picked up a wheel draw on the turn, but the river was an ace and Chidwick pulled in another pot, sending DeCarolis out in seventh place.
Everyone's favorite poker-playing businessman Bill Perkins came into the final table as the short stack and grinded all the way to sixth before his eventual departure. Perkins grabbed a few doubles on his way, outlasting two of his foes, but could not crack the aces of Kenney with his king-ten and he was sent on his way.
The start-of-day chipleader Rajkumar played the Triton Million like a home game, enjoying every minute and creating action during every hand he played. Rajkumar had a rollercoaster of a final day, dropping early, bouncing back through the Adam's elimination, and right back down with a bluff into the Chidwick.
Rajkumar's biggest low came when he flopped top two against Dan Smith who was holding an overpair. The two put it all in the middle with Rajkumar a favorite to eliminate Smith and take a commanding chip lead in the process.
Instead, it was Smith who took the lead after finding an unlikely jack on the river, leaving Rajkumar short. Rajkumar started a comeback but found himself as the second to run into the aces of Kenney. He was unable to catch up and took an exit in fifth place.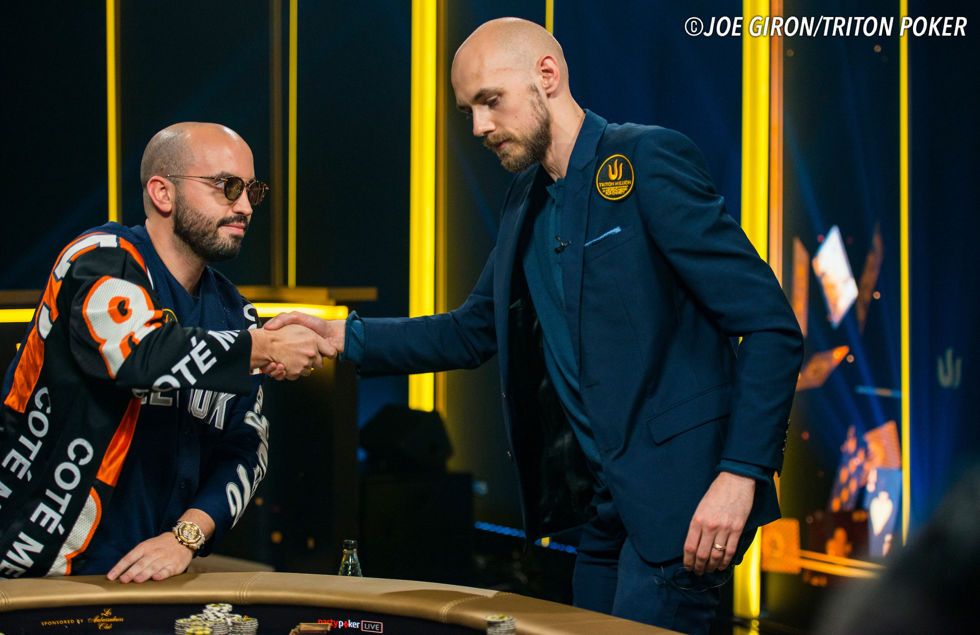 It took just over two hours of four-handed play before another casualty would hit the rail. Kenney and Zang took over for those two hours, leaving Smith and Chidwick on the lower end of things. Shortly after the dinner break, Chidwick opened with a pair of sevens and Kenney instantly moved all in over the top with king-jack.
Chidwick thought for a couple of minutes but in the end, he called and the two took to a classic flip situation. Kenney flopped a king and Chidwick failed to catch up, leaving the tournament in fourth place.
Kenney continued his terror just eight hands later, moving all in from the button with queen-ten of hearts and Smith called for his remaining stack with ace-ten. Smith was in a favorable spot positioned to secure a double. The cards had other plans though as Kenney flopped top pair with a flush draw. Smith had straight possibilities but failed to connect as Kenney took down the pot, sending Smith out in third for a respectable £7,200,000.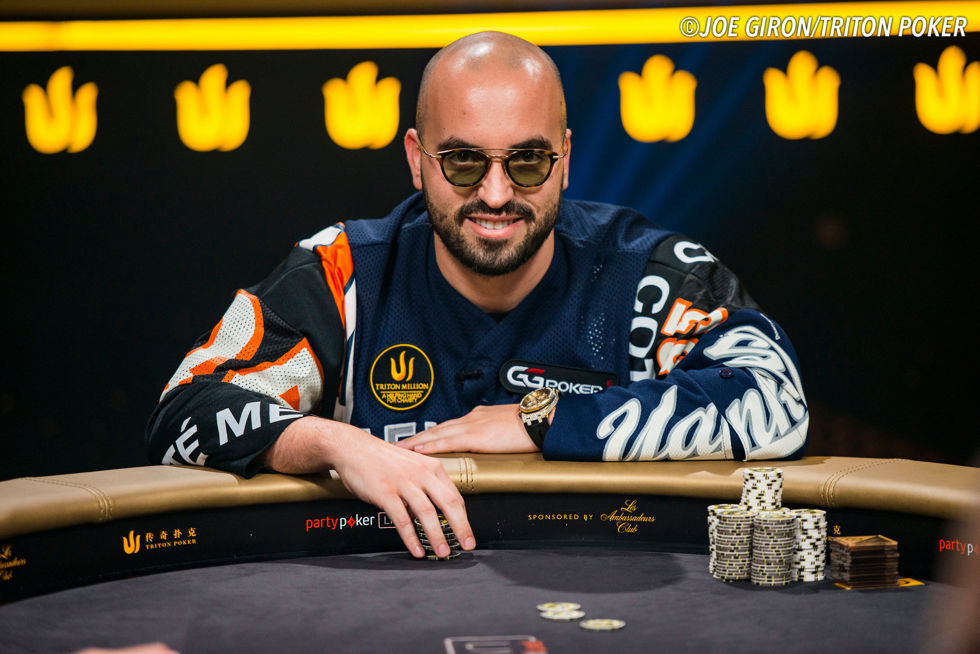 After the elimination of Smith, there was a new leader of the all-time money list as Kenney secured at least a second-place cash and was going to surpass Justin Bonomo no matter the outcome.
"You have to detach yourself from the money and get your mindset right into thinking it's just another day at the office. I don't really care about the money, I just want to win the biggest tournament in poker history."
Speaking on the opportunity to take over as the all-time money list leader Kenney said: "I always told everyone I was going to be number one and the thing is once I do hit number one, no one is ever going to touch it again. If I get a little bit of luck here today, then good luck to anyone taking it back from me."
The heads-up play started with Kenney having over a five-to-one chip lead. Kenney came out swinging but Zang stayed patient and waited for his spot. Zang won the first all in with his pair of sixes against the king-queen of Kenney. Zang called a raise of Kenney with king-seven and flopped three kings just a couple of hands after.
Kenney check-raised the turn, Zang called and fired out on the river with nothing. Zang moved all in and Kenney instantly released. The very next hand Kenney flopped the nut flush draw after calling a raise preflop and check-raised. Zang moved all in and Kenney instantly called. Zang dodged the spades and Kenney had to settle for second place in title, after securing the biggest payday of the tournament.
That's it for the PokerNews live coverage of the Triton Million - A Helping Hand for Charity. Tune in tomorrow for coverage on the £100,000 Triton Main Event.