€1,100 Main Event
Day 4 Completed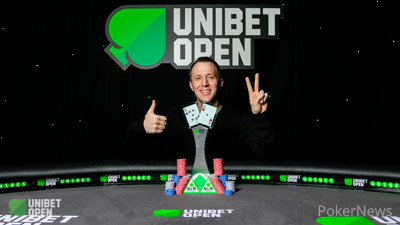 Another Unibet Open champion has been crowned at the New Montana Hotel and it was a familiar face on the winner shots, as Martin Soukup made history to become the third player to win a second Unibet Open Main Event title. Soukup joins Dan Murariu and Mateusz Moolhuizen as the only two-time champions, while 2016 Bucharest winner Traian Bostan fell short of exactly that feat and busted in third place.
Soukup defeated local player Marius Gicovanu in heads-up play after a fierce and very deep-stacked heads-up battle to claim the trophy once more and earn a payday of €71,000. Gicovanu applied relentless pressure throughout and that left him on the ropes three times. Twice he would double, but the third time he could not escape from elimination anymore to see Soukup emerge victoriously.
Quite remarkably, it is only the fourth cash for the Czech according to his Hendon Mob profile, and Soukup has played in 12 Unibet Open Main Events so far. All his cashes are exclusively from the Unibet Open, and the 33-year-old from Prague came close to a second title in the $1,100 European Open Special Edition in Las Vegas in 2017.
2019 Unibet Open Sinaia €1,100 Main Event Final Table Results
| Place | Winner | Country | Prize (in EUR) | Prize (in USD) |
| --- | --- | --- | --- | --- |
| 1 | Martin Soukup | Czech Republic | €71,000 | $79,987 |
| 2 | Marius Gicovanu | Romania | €45,310 | $51,045 |
| 3 | Traian Bostan | Romania | €33,960 | $38,259 |
| 4 | Cristian Grecu | Romania | €27,485 | $30,964 |
| 5 | Toni Judet | Romania | €21,665 | $24,407 |
| 6 | Stefan Drusca | Romania | €16,545 | $18,639 |
| 7 | Espen Uhlen Jorstad | Norway | €12,150 | $13,688 |
| 8 | Catalin Moraru | Romania | €8,930 | $10,060 |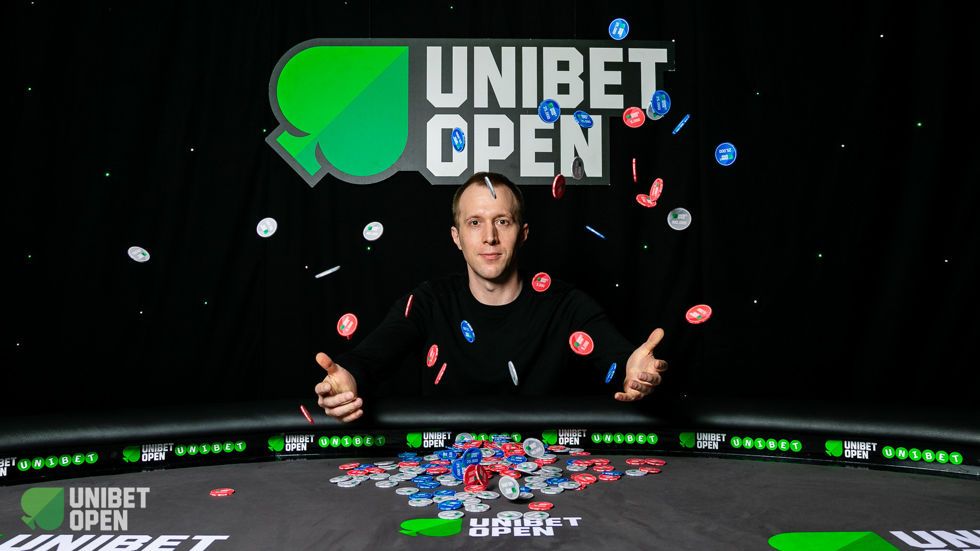 It was the second Unibet Open Main Event for Gicovanu, both times on Romanian soil, and the biggest score to date of the 29-year-old from Valcea was a runner-up finish in the 2017 EPT National for €372,349. Ultimately, Gicovanu ended up in the very same spot again and added another €45,310 to his poker resume.
Featured on the final table were six Romanians including Toni Judet, along with Unibet Poker ambassador Espen Uhlen Jorstad from Norway and eventual champion Soukup. The Unibet ambassadors Daiva Byrne, Dan Murariu and Dara O'Kearney were among those to cash and bust out on Day 3. O'Kearney entered the penultimate day with just 3/8 of a big blind and made two pay jumps, bowing out in 29th place. Esports streamer Alan "hotted89" Widmann also showcased his poker talent at the tables and finished in 28th place.
The special ski-edition was designed to give all qualifiers and poker enthusiasts from near and far a chance to take advantage of the winter activities in the popular Carpathian mountains with an additional tournament day scheduled for the €1,100 Main Event and starting times in the early afternoon. The festival at the New Montana Hotel was held in cooperation from PokerFest Romania. A total of 366 entries created a prize pool of €366,000 and the top 47 spots were paid.
2019 Unibet Open Sinaia Final Day Action
Cristian Grecu and Martin Soukup were the two chip leaders and the latter scored the first knockout of the day after he four-bet enough to put Catalin Moraru at risk. After some consideration, Moraru called it off with ace-king and Soukup held up with pocket eights to establish a solid lead with seven players remaining.
Next to head to the rail was Espen Uhlen Jorstad. The Unibet ambassador from Norway had locked up his second Unibet Open cash and saw the vast majority of his stack vanish when eventual runner-up Marius Gicovanu cracked his pocket jacks with pocket fives. A five on the flop left Jorstad on just five big blinds and he was unable to spin them up, bowing out in 7th place when he came up short with queen-six versus queen-nine suited.
Stefan Drusca took over the lead early on, but lost a big flip with ace-king suited against the pocket jacks of Gicovanu. Drusca would have to settle for 6th place when he got it in with ace-queen against the pocket kings of Traian Bostan. An ace and a queen appeared on the flop while Traian had a flush draw, and instead made the runner-runner nut straight.
The field was reduced from five to three in a big three-way all in. Toni Judet three-bet jammed his short stack with ace-king and Gicovanu isolated with pocket sevens. Initial raiser Grecu snap-called with pocket kings, but a seven appeared right away on the flop to give Gicovanu another crucial set.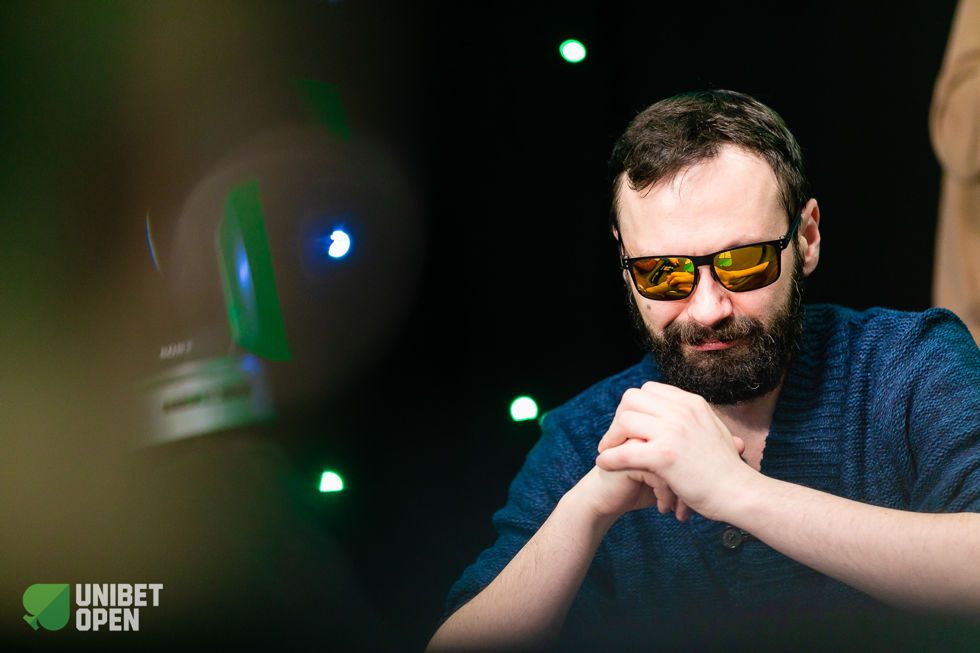 Down to the last three, two former champions were still in the running for the repeat victory. Bostan ended up very short in chips and doubled twice, but lost a flip with pocket eights against the ace-ten of Gicovanu to set up the duel for the title and trophy.
While Gicovanu had done the most work to reach the heads-up stage and entered it with a slight chip lead, it was all about Soukup. Every significant big pot was sent over to the Czech and Gicovanu found himself on the ropes three times. He managed to double up twice, but fell short of the win when his king-ten ended up second-best to Soukup's ace-five.
2019 Unibet Open Sinaia Festival Highlights
| Event | Buy-In | Entries | Prize Pool (in EUR) | Winner | Country | Prize (in EUR) | Prize (in USD) |
| --- | --- | --- | --- | --- | --- | --- | --- |
| esports Battle Royale XII | - | 9 | €10,000 | Kevin "Rotterdam" van der Kooi | Netherlands | €4,900 | $5,534 |
| High Roller | €2,200 | 41 | €79,540 | Andy Hills | United Kingdom | €27,040 | $30,535 |
| Main Event | 1,100 | 366 | €366,000 | Martin Soukup | Czech Republic | €71,000 | $79,987 |
| QUEEN RULES | €90 | 28 | €2,175 | Daiva Byrne | United Kingdom | €800 | $904 |
| DSO Cup | €550 | 172 | €83,420 | Antti Tiainen | Finland | €11,837* | $13,375* |
*deal of the last four players and flip for the trophy
The festival in cooperation with PokerFest kicked off with the Battle of Champions, an invitational event that was won by [Removed:402]. The next day belonged to the esports streamers, as the Tag Team Championship and esports Battle Royale XII determined their champions on the live stream table. John "Swifty" Pyle and Alexandre Reard earned the bragging rights and Pyle came narrowly close to make it back-to-back wins as he finished second to Kevin "Rotterdam" van der Kooi.
While the Main Event took over the spotlight in Sinaia, several Side Events crowned their champions and Reard's wife Aurelie won a €150 Turbo Side Event for €2,600 on their 15 year anniversary. Alexandre went on to dominate the €2,200 High Roller from Day 1 and all the way to just five players remaining on Day 2 before finishing second to Andy Hills.
After her deep run in the Main Event, Daiva Byrne took over her hosting duties in the QUEENRULES Ladies Event and ended up winning the trophy and €800 in a field of 28 entries.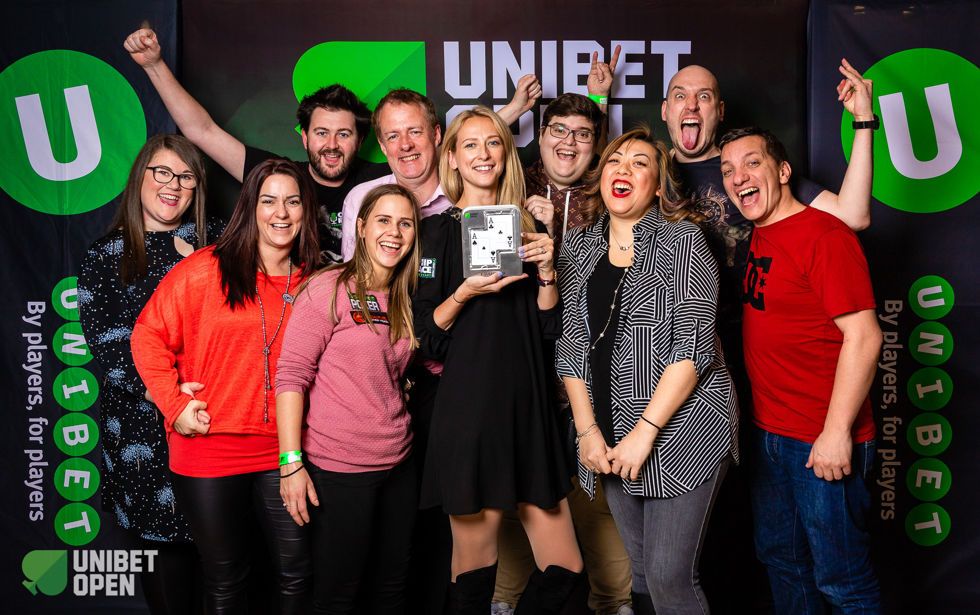 Last but not least, the €550 DSO Cup attracted a field of 172 entries to create a prize pool of €83,420 and the top 23 spots were paid. Dara O'Kearney, who cashed in the €1,100 Main Event as well, finished 7th for €3,050 and the final four players agreed to a deal. The three Romanians Ionut Decher, Andrei Epure and Catali, as well as Finland's Antti Tiainen flipped for the trophy, which Tiainen won with eight-three off suit.
That wraps up the PokerNews updates from the festival in the Carpathian mountains. The next Unibet Open takes place in London in May 2019, and the online satellites are already available on Unibet Poker.
Photos courtesy of Tambet Kask and Elena Kask/Unibet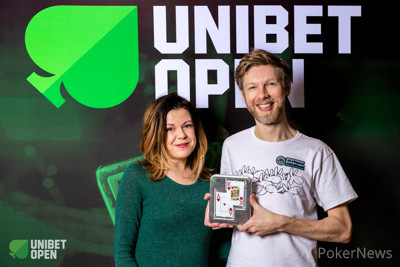 The most-expensive tournament of the festival in the Carpathian mountains was the €2,200 High Roller and a field of 41 entries in total created a prize pool of €79,540 at the New Montana Hotel. UnibetPoker.fr ambassador Alexandre Reard topped the counts at the end of Day 1 and almost went wire-to-wire, but was denied the victory as British poker pro Andy Hills defeated Reard in heads-up to claim the top prize of €27,040.
Hills has hit the road on a mission to travel and enjoy poker in as many different countries as possible, which led the Brit to a joint second place in the 2018 Hendon Mob's flag rankings for the number of countries he cashed in. The new year is off to a great once again, as he has now cashed in four different countries. A trip to San Marino for the Italian Poker Open resulted in two scores and he also reached the final table of an event in Hamburg, Germany. Next up was the Ukraine, where he shipped a Deuces Wild tournament.
The Unibet Open in Romania were next on the list and he earned the first flag in the €330 SuperStack Event, in which he reached the final table. But that wasn't the highlight of the trip just yet, as Hills will take home another trophy thanks to his victory in the €2,200 High Roller.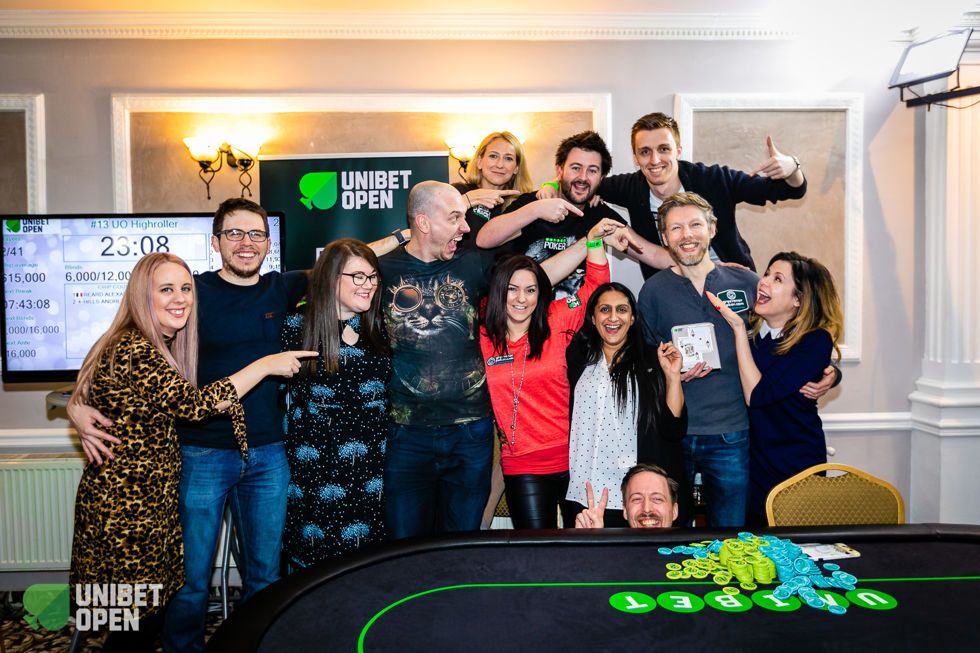 It was all about Reard until the nine-handed final table and the Frenchman held a commanding lead. That changed after a clash with Hugues Mazerolles, who doubled with aces versus ace-king and sent Johan Creutz to the rail in the next hand with kings versus jacks. Local player Igor Pirnau ended up as the bubble boy and Dan Mihoci was the first player to clash, leaving Hills to battle against three Frenchmen and Peter Kaae. Mazerolle was eliminated in 5th place and Jeremy Saderne was felted by Reard when his top pair could not hold against the straight draw of Reard.
In the next hand, Hills doubled with king-queen against the ace-king of Reard to take over the lead and Peter Kaae then bowed out in third place. Hills entered heads-up with a 2-1 lead and got the job done with ace-king against the ace-seven suited of Reard. Two spades on the flop were followed by two blanks and that ended the tournament.
Final Result €2,200 High Roller
| Place | Winner | Country | Prize (in EUR) | Prize (in USD) |
| --- | --- | --- | --- | --- |
| 1 | Andy Hills | United Kingdom | €27,040 | $30,535 |
| 2 | Alexandre Reard | France | €18,690 | $21,106 |
| 3 | Peter Kaae | Denmark | €11,930 | $13,472 |
| 4 | Jeremy Saderne | France | €9,150 | $10,333 |
| 5 | Hugues Mazerolle | France | €7,160 | $8,085 |
| 6 | Dan Mihoci | Romania | €5,570 | $6,290 |
For Reard, it would have been the second trophy of the festival as he emerged victorious in the Tag Team Championship alongside John "Swifty" Pyle. While that event may not have come with a monetary value and just a spa voucher, it is widely considered as the most fun event of the entire schedule. The mix of professional poker players and esports streamers always ensures a lot of banter at the tables and is a very popular addition to the live stream schedule.
It won't be the only trophy the Reard family takes home, however, as Aurelie Reard came out on top of a deal with Henri Vaesaeinen in a €150 Turbo Side Event on the day of her 15th anniversary with Alexandre. A total of 76 entries created a prize pool of €11,060 and Reard, as well as Vaesaeinen, took home €2,600 for their efforts.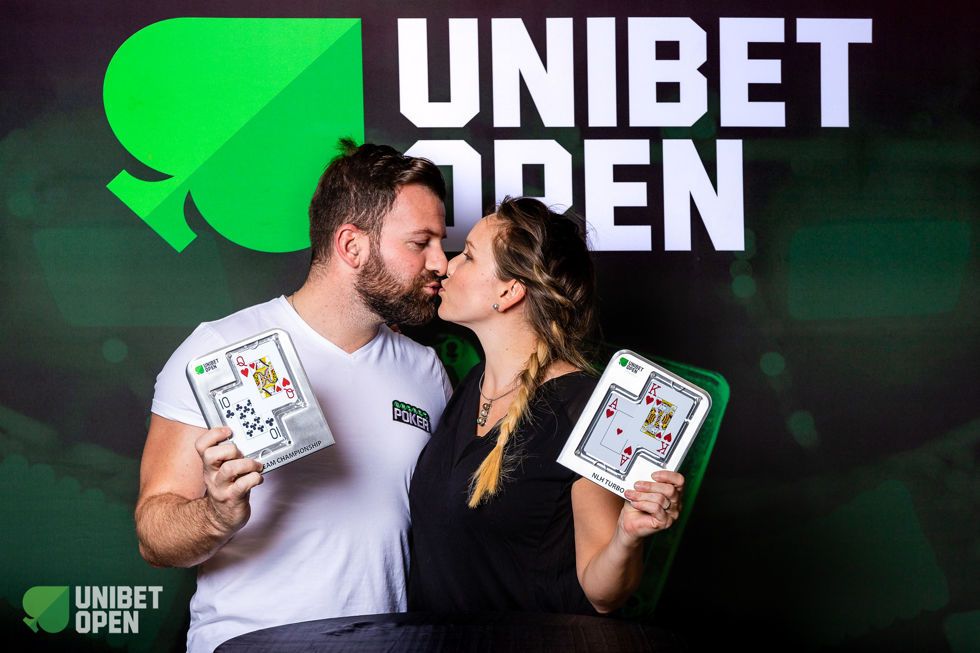 Photos courtesy of Elena Kask/Unibet
Photos courtesy of Tambet Kask/Unibet
Unibet Poker ambassador Daiva Byrne has been very active on social media for quite some time to establish ladies events as part of the Unibet Open schedule and help out with advice and support whenever needed, be it in group chats the internet or directly at the poker tables.
Part of the special ski-edition in the Carpathian mountains was the €80+10 QUEENSRULES Ladies Event hosted by Byrne, who jumped into the action after her deep run in the €1,100 Main Event, in which she finished in 35th place out of 366 entries for €2,340. Cupcakes and Champagne were provided for all the ladies in the field, and a very jovial atmosphere was the logical consequence.
A total of 28 entries generated a prize pool of €2,175 and the top five spots were paid. When the nine-handed final table was set, Byrne was right in the mix alongside fellow Unibet ambassador Monica Vaka, who finished 4th. Byrne eventually took down the event after sending Dehlia de Jong and Charlotte van Brabander to the rail in third and second place respectively.
Byrne was railed by her fellow Unibet ambassadors and esports streamers on her way to victory.
Final Result QUEENSRULES Ladies Event
| Place | Winner | Country | Prize (in EUR) | Prize (in USD) |
| --- | --- | --- | --- | --- |
| 1 | Daiva Byrne | Lithuania | €800 | $904 |
| 2 | Charlotte van Brabander | Belgium | €555 | $627 |
| 3 | Dehlia de Jong | Netherlands | €355 | $401 |
| 4 | Monica Vaka | Norway | €255 | $288 |
| 5 | Heidi Grunden | Norway | €210 | $237 |
Photos courtesy of Elena Kask/Unibet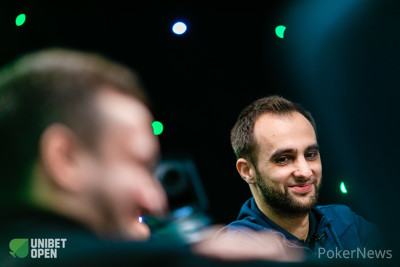 Martin Soukup open-shoved and Marius Gicovanu called for 2,090,000 after having invested the big blind ante also.
Marius Gicovanu:

Marius Soukup:
The
flop left Gicovanu on think ice, but he picked up some outs with the
turn. A blank
followed on the river and Gicovanu was eliminated in 2nd place for €45,310.
As for Soukup, he has accomplished a very rare feat and became the third player to win a second Unibet Open title. He takes home €71,000 for his efforts and another trophy to add to his collection.
A recap of today's action is to follow.
Marius Gicovanu limped in with
and Martin Soukup called with the
. On the
flop, Gicovanu min-bet and Soukup misclick-min-raised to 320,000, which Gicovanu called. On the
turn, Soukup was in the think tank and over
"Nice try, you wanted to raise," Gicovanu immediately said in table chat and was still fuming, dropping to around 2.3 million.
Martin Soukup jammed it in from the button and Marius Gicovanu called in the big blind, having dropped below 10 big blinds as the blinds had gone up.
Marius Gicovanu:

Martin Soukup:
The
flop gave Soukup top pair while Gicovanu had the nut flush draw. He improved to the flush with the
turn, and now Soukup needed a queen or ten. A blank
river let the Romanian rail cheer once more, as Gicovanu kept his hopes of a title on home soil alive.
Level: 31
Blinds: 80,000/160,000
Ante: 160,000
Martin Soukup raised to 250,000 with the
and Marius Gicovanu defended the
. Both checked the
flop and the
turn. Gicovanu bet the
river for 200,000 and Soukup raised to 2,800,000 to force an instant fold from Gicovanu.
In a limped pot, Gicovanu bet the
flop with
for 120,000 and Soukup called with the
. Soukup improved to a full house on the
turn on which both players checked and the
appeared on the river.
Soukup bet and Gicovanu let go once more.