USPO #07 – $25,000 No Limit Hold'em
Day: 2
USPO #07 – $25,000 No Limit Hold'em
Day 2 Completed

Level 26 : 40,000/80,000, 80,000 ante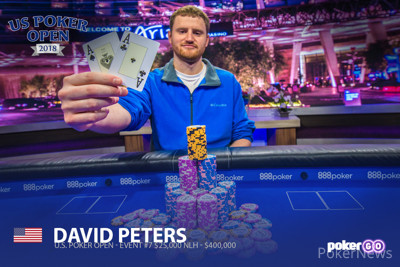 Sometimes, you only need to look down at pocket aces, flop a full house and keep calling all the way until you're crowned the champion. That's exactly what happened to David Peters tonight at the US Poker Open. Peters topped the 50-entry field in Event #7: $25,000 No Limit Hold'em, earning the $400,000 top-prize.
It would be very misleading to say that Peters didn't have much to do on his way to the top. It was the exact opposite. He faced the toughest possible obstacle in the final duel, the phenomenal Stephen Chidwick who had won two previous events at US Poker Open.
Chidwick wasn't puzzling Peters only in the heads-up, he was sitting directly to his left for the entire final table. Add into account Chidwick's chip-leading stack and the short stacks on the other side of the table and it becomes clear; Peters' ride towards the victory was all but easy.
US Poker Open - Event #7: $25,000 NLH results:
| Place | Player | Country | Prize |
| --- | --- | --- | --- |
| 1 | David Peters | United States | $400,000 |
| 2 | Stephen Chidwick | United Kingdom | $262,000 |
| 3 | Sean Winter | United States | $175,000 |
| 4 | Keith Tilston | United States | $125,000 |
| 5 | Ben Tollerene | United States | $100,000 |
| 6 | Daniel Negreanu | Canada | $75,000 |
| 7 | Matt Hyman | United States | $62,500 |
| 8 | Isaac Haxton | United States | $50,000 |
Considering the ICM implications caused by the initial chip-spread and seating order, Peters had his hands tied more than most of the players at the start of the final table. But his approach remained the same just like on any given day; Peters guarded his belongings with his typical stoic appearance.
The pay jumps were looming and the shallow stacks dictated early collisions. Daniel Negreanu was the first player to lose his bid for the title, running with ace-eight into Sean Winter's jacks. Negreanu three-bet shoved from the small blind over a button-raise, and the board didn't help him.
"It's a good spot with ace-eight to pick up some chips," Negreanu said before describing that it would also be fine to fold, considering the dynamics of the big blind ante which allows him to wait for a better spot. "But I'm trying to win the tournament," he said, pointing out that his objective wasn't to ladder up a few steps.
Negreanu's elimination guaranteed some extra chunk of cash for Ben Tollerene, who was the shortest stack for his full stint on the final table. Tollerene did everything in his power to spin his stack up. Some of his all-ins got through uncontested and once he was able to spike a three-outer to stay alive. But, eventually, he couldn't squeeze more than a fifth place from his tough starting position. His run came to a close after he moved all-in with ace-four over Peters' open. Peters called with queen-ten and flopped a full house to halt Tollerene's chances.
Shortly afterwards, Peters took care of Keith Tilston as well. He held top two when Tilston decided to turn his second pair into a bluff, pushing all-in on the river. Peters called and dispatched him to bring the tournament down to three players.
Tilston didn't regret his move: "It's a good situation and I'm just gonna do it. You can't be results oriented. You can't just always have it," he said with a smile on his face.
It was looking great for Peters who commanded the final table with over a half of all tournament chips. However, things quickly changed. A blind-versus-blind battle saw Peters tangle with Chidwick when they both had two pair. Unfortunately for Peters, he was on the bad side with the bottom two while Chidwick held the top two.
Suddenly, Chidwick was again pulling the strings, ready to leverage his position. Winter and Peters were almost tied and Chidwick surely enjoyed that he could put his last two rivals in a war of attrition while piling up chips himself.
That didn't quite work out as Peters bravely fought back, getting some chips back from Chidwick and even erasing the deficit for a short period. Chidwick, however, regained the advantage thanks to a massive bluff with a missed flush draw. He overshoved the river to fend Peters off his top pair.
Meanwhile, Winter was mostly folding and kept getting short. He doubled once but then fell back to 11 big blinds and he couldn't mount a comeback. His farewell came when he pushed with queen-seven only to lose to Peters' queen-jack.
The final match was set up with Chidwick possessing almost 60% of the chips. The card distribution favored Peters who kept getting high pairs but they never earned him more than a little value.
Chidwick worked his way to a two-to-one lead but the chances reversed when Peters raise-called all-in with ace-nine preflop and beat Chidwick's king-ten.
Peters then looked down at aces for the second time during the heads-up match, and while he couldn't extract much from his previous big pairs, this time he got all the money. Chidwick three-bet out of the big blind with queen-deuce and triple-barreled his way to the runner-up finish on a board that gave Peters aces-full.
"Look at this cooler," Chidwick laughed after Peters called him down and busted his bluff.
"I played the hand masterfully," Peters joked, knowing that it was an auto-pilot spot for a player of his qualities. Then he praised Chidwick for his fantastic performances through the US Poker Open: "He had an amazing week and is obviously a great player."
With $1,256,650 in cashes, Chidwick now sits $700,000 clear from a second place in the rankings with only the $50,000 Main Event left to play. Both Peters and Chidwick will be looking to add one more great result to their respective showcases.

Level 26 : 40,000/80,000, 80,000 ante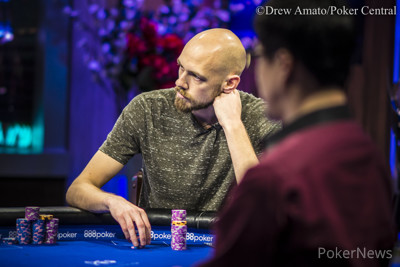 For the second time during this heads-up match, David Peters looked down at
. He raised to 175,000 and what happened next was a dream spot for anyone who's ever peeled the best starting hand. Stephen Chidwick three-bet to 500,000 with
and Peters had no desire to scare him off of his hand, calling.
Chidwick then blasted three barrels on the
board, firing 250,000 on the flop, followed by another 400,000 on the turn and the rest on the river. Peters utilized a simple strategy: call, call, snap-call.
"Look at this cooler!" Chidwick laughed when he saw Peters turn up his full house. While Chidwick has been outstanding all week, nobody is invincible in the game of poker. He fell shy of completing a remarkable treble but the second place for $262,000 puts him even closer to the US Poker Open Trophy. Meanwhile, the winner David Peters banked $400,000 for his efforts.
Level: 26
Blinds: 40,000/80,000
Ante: 80,000

Level 25 : 35,000/70,000, 70,000 ante
In a quick fashion, David Peters raised to 160,000 and called off when Stephen Chidwick shoved on him for around 2 million effective.
Peters:

Chidwick:
The
flop brought Peters closer to the double but it's never been easy against Chidwick at the US Poker Open. The
turn gave Chidwick five outs to hope for but the
river didn't harm Peters who took over the two-to-one chip-advantage.

Level 25 : 35,000/70,000, 70,000 ante
Stephen Chidwick limped in with
and David Peters raised it up to 260,000 with
. The dealer roller over the
and Peters continued repping a strong hand, firing 240,000 with his backdoor draw. Chidwick called with the top pair.
The
turn locked the best hand for Chidwick and Peters slowed down, checking. Chidwick went for it it, betting 300,000 and Peters had no other plan than folding.

Level 25 : 35,000/70,000, 70,000 ante
Stephen Chidwick's
didn't look so spectacular preflop but he made it 130,000 and David Peters called with
. The
flop was an interesting one, giving the bottom pair and a gutshot to Chidwick while Peters had an up-and-down straight draw.
They both checked to see the spicy
land on the turn. Chidwick had a straight in addition to a straight-flush draw and Peters drew for the nut-flush. He check-called 130,000 from Chidwick.
The
bricked all the draws and redraws and Peters checked to Chidwick who fired 650,000, exactly the size of the pot. Peters laid his hand down.

Level 25 : 35,000/70,000, 70,000 ante
David Peters looked down at
in the big blind, facing a 155,000-raise from Chidwick. He made it 465,000 to go but Chidwick folded his
and Peters couldn't extract more from the aces.

Level 25 : 35,000/70,000, 70,000 ante
Level: 25
Blinds: 35,000/70,000
Ante: 70,000