Main Event
Day 3 Completed
Level 31 : 80,000/160,000, 20,000 ante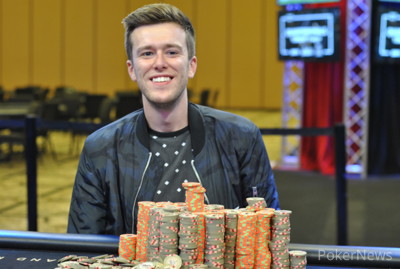 In what he undoubtedly hopes will be a portent of things to come, Gordon Vayo won the $2,500 WinStar River Poker Series Main Event, taking the lion's share of a five-way chop for a $587,120 score. It's Vayo's second-biggest cash live, behind only his undetermined 2016 World Series of Poker Main Event score, which could be worth as much as $8 million if he manages to become the next world champion in November.
Ben Ector ($344,826), Dean Bobel ($225,048), Layne Flack ($225,190), and Grant Hinkle ($207,669) were the other deal-makers, officially finishing second through fifth, respectively.
Coming into the final table with the chip lead, and having essentially run roughshod over the tournament from the time two tables were left, Vayo was the clear favorite for the $1 million first-place prize. He got off to a bit of a rocky start as Jeff Duvall doubled through him when he four-bet shipped
and cracked Vayo's aces on a
runout.
Daniel Fuhs was the first to fall after he was crippled in a three-way all in when his
didn't hold against the
of Grant Hinkle and the
of short stack Dean Bobel. An ace on the turn sent the main pot to Bobel, and a tiny side pot wasn't enough to keep Fuhs afloat for more than another two hands.
Duvall's double against Vayo didn't keep him around for long as he got in about seven big blinds with
and found himself staring at the
of Chino Rheem and needing improvement. A board of
improved Rheem instead, and Duvall headed out in eighth.
Vayo picked up the bullets again a bit later, and Rheem, not backing down from the big stack on his right, three-bet Vayo's open holding
. Vayo put him all in and Rheem called for about 13 big blinds, seeing the bad news. A flop of
gave him some hope with a straight draw, but that was extinguished after a
turn and
river. Rheem would not have to pay out a line of creditors, as he joked earlier in the day would happen if he won.
One player unafraid to tangle with Vayo was Long Duc Nguyen, but he did not come out of those clashes profitably. After dropping a series of pots to the November Niner, Nguyen shoved in his last six big blinds from the small blind over a Vayo open. Vayo called with
and had Nguyen in awful shape:
. A board of
later, it was five-handed.
The final five played for about an hour, with the most impactful pot coming when Ector doubled with
against the nines of Hinkle. Another double by Flack through Hinkle left the latter as the short stack, and the players agreed to pause the clock for a chop discussion a bit after that.
The prize pool was very top-heavy with $1 million up top and a drop of over $700,000 to second place. Vayo had a commanding lead with about half of the chips in play but said he would be amenable to the independent chip model (ICM) numbers if he was given a bit of a boost. Bobel agreed to ship $25,000 from his ICM cut, and the deal was struck.
The players fired up what amounted to a turbo sit-n-go for the bracelet, which was won by Hinkle.

Level 31 : 80,000/160,000, 20,000 ante
The remaining five players came to a deal and agreed upon a chop. The updated payouts will be posted in the results.

Level 31 : 80,000/160,000, 20,000 ante
Player
Chips
Progress

Gordon Vayo

12,170,000

70,000

Ben Ector

5,730,000

-470,000

Dean Bobel

3,340,000

140,000

Layne Flack

2,770,000

280,000

Grant Hinkle

2,385,000

-215,000

Level 31 : 80,000/160,000, 20,000 ante
The players paused the clock in order to look at the ICM values and negotiate a chop. The Winstar World Casino assists players when they all want to make a deal, so players don't have to worry.

Level 31 : 80,000/160,000, 20,000 ante
Action folded to Gordon Vayo in the small blind, where he moved all in and Dean Bobel called, waking up pocket aces. Vayo tabled
and the board ran
.
Level 31 : 80,000/160,000, 20,000 ante
Folded to him in the small blind, Layne Flack shoved in for 1,195,000. Grant Hinkle called.
Flack:

Hinkle:
The board ran out
and Flack doubled.
"He snap-called with king-six," Flack exclaimed.
"You didn't have any chips," Hinkle reasoned. "And I had a king."
Player
Chips
Progress

Grant Hinkle

2,600,000

-950,000

Layne Flack

2,490,000

690,000
Level: 31
Blinds: 80,000/160,000
Ante: 20,000

Level 30 : 60,000/120,000, 20,000 ante
Grant Hinkle opened to 250,000, action folded to Ben Ector in the small blind and he moved all-in for a touch over 3 million. Hinkle rechecked his hole cards, dropped a chip on them and thought for several moments. Hinkle's called although it barely audible and turned up pocket nines.
Ector had
, was at risk and watched the board run his way coming out
.
Level 30 : 60,000/120,000, 20,000 ante
Layne Flack is four beers in at the final table, and he's not shy about letting the table know through both his play and his talk. In one recent pot, Gordon Vayo opened to 250,000 and Flack jammed in about 1.5 million in the big blind. Vayo quickly folded, and Flack showed
, laughing uproariously as he did so.
"Is there a difference between balls of steel and drunk balls?" he asked.