Ten-High for Giuliano
Level 22 : 10,000-20,000, 3,000 ante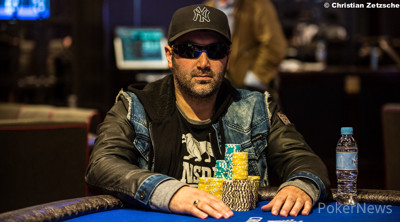 Jack Salter opened to 44,000 from early position and both Henry Wang and Jason Giuliano called from the blinds as the
flop was checked round.
The turn landed the
and following a check from Wang, Giuliano bet out 125,000 with only Salter calling as the river landed the
.
"Sick river card man!" announced Giuliano before he pushed out a bet of 275,000.
As Salter went into the tank, he turned to Giuliano and asked, "Was that the only card you could hit because it was in your hand?"
Salter deliberated for a few more moments before adding, "What was sick about it?"
"Sick has a different meaning in Australia" Giuliano responded.
"What does it mean here?" asked Salter.
Giuliano then went quiet as Salter continued to tank. Another minute or two went by and Salter eventually folded.
Giuliano raked in the pot to take him to 2.2 million, and while doing so, tabled his
for complete air.