Event 13: $300 Deeper-Stack NLHE
Level Info
| | |
| --- | --- |
| Level | 30 |
| Blinds | 60,000 / 120,000 |
| Ante | 20,000 |
Players Info
Event 13: $300 Deeper-Stack NLHE
Day 1 Completed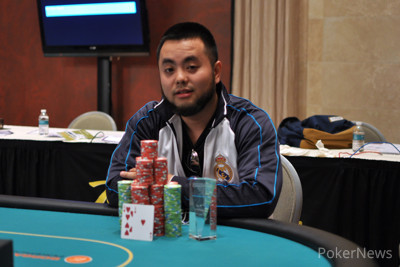 After a total of 242 entries and reentries were recorded in this $300 Deeper-Stack NLHE tournament, generating a prize pool of $61,033, Andrew Zhu took down top honors along with $17,092 in winnings.
Zhu rolled through the final table in dominant fashion after entering with the chip lead, eliminating Miguel Borrero in 7th place to begin a string of knockouts that paved his path to victory.
He absorbed a bad beat or two along the way as well, first having cowboys cracked by James Boyle's big slick, and then losing with a full house to Nick Marino's straight flush.
With the poker world's elite eyeing a spot in tomorrow's $15,400 buy-in, $5 Million Guaranteed WPT World Championship event, and participating in round-the-clock satellites throughout the day trying to win their seat on the cheap, today's field was mostly filled with local grinders. Easter Sunday and another holiday celebrated by some likely culled the field even more, but nonetheless there were plenty of familiar faces in attendance looking to take their shot.
Papa Levy, Attilio Bitondo, Wendy Rubin, Philip Neiman and Emad Alabsi - all of whom final tabled earlier events on the Borgata Spring Poker Open schedule - came to play, along with regulars on the local circuit like Olga Petrovskaya, Brian Rosengarten and Armando Then. Alabsi managed to reach yet another final table after winning Event 8 for $12,629, but he fell in 6th place to add another $3,052 to his haul for the series.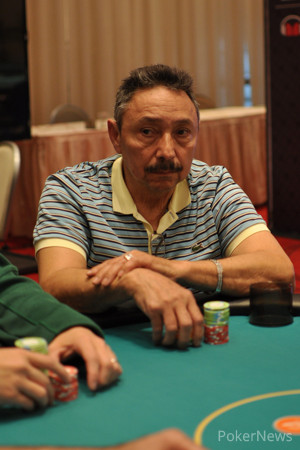 Ivan Polanco stayed out of trouble for much of the final table, remaining content to take down the small pots and let other players go broke in big confrontations.
Finally, after weaving his way to heads-up play against Andrew Zhu, a short-stacked Polanco made his stand with
. Unfortunately for him, Zhu had a dominating hand with
, and the final board came down
to leave him with the second-best hand.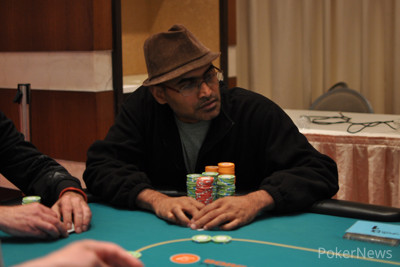 Andrew Zhu woke up with
in the small blind, and he decided to get tricky in hopes of trapping Satish Surapaneni in the big blind - but he very nearly fell into the trap himself.
Zhu limped in with the pocket rockets and Surapaneni checked his option, bringing the
to the table. Zhu then led out for standard bet and got his wish when Surapaneni jammed all in over the top. He snapped the bet off with his bullets, but was dismayed to see Surapaneni turn over
for two pair.
The turn came
to add a gutshot straight draw to Zhu's arsenal of outs, but it was a
on the river that gave him the come-from-behind victory, counterfeiting Surapaneni's two pair and sending him to the rail in 3rd place.
Level:

30
Blinds:

60,000/120,000
Ante:

20,000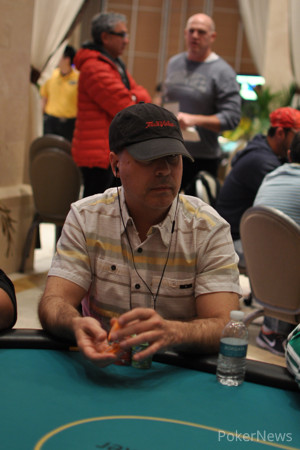 Nick Marino's father-son romp the final table just came to an end, after he ran
into the
wielded by Satish Surapaneni.
All of the chips were in the pot before the flop, and both players held nearly identical stacks, with Marino having his opponent covered by just a big blind or two.
The final board rolled out
and Surapaneni declared "ship it!" when he made the nut flush on the turn. Marino had a few green T5000 chips to play with after that, but he was dispatched on the next hand for a 4th place run in front of his 21-year old son Mario.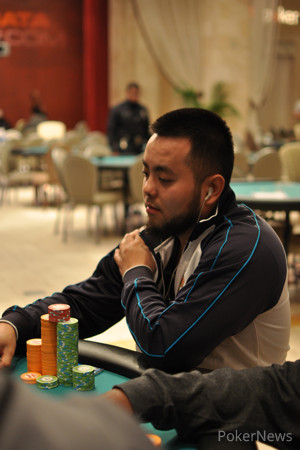 After seeing the flop from the blinds with
, Nick Marino decided to put on a show for his son Mario - who he brought to Atlantic City for the latter to play in his first poker tournament.
The dealer fanned the
across the felt and Andrew Zhu c-bet, with Marino's last 720,000 coming in over the top and on the come. Zhu snapped him off with the
for top pair and his own bevy of draws.
Turn:

River:
"Yes!" shouted Zhu at the sight of his full house. "Come on!"
"Nope..." announced the dealer while Zhu was still celebrating away from the table. "Straight flush."
Another scan of the board showed the bad news, and Zhu's excitement quickly dissipated while Satish Surapaneni commented aloud on the "sickest hand he's seen."
Here's the score with four players left.
| | | | | | |
| --- | --- | --- | --- | --- | --- |
| Ivan Polanco | | | | 3,895,000 | 2,975,000 |
| Andrew Zhu | | | | 2,600,000 | -950,000 |
| Satish Surapaneni | | | | 1,250,000 | -50,000 |
| Nick Marino | | | | 725,000 | -675,000 |
Level:

29
Blinds:

50,000/100,000
Ante:

10,000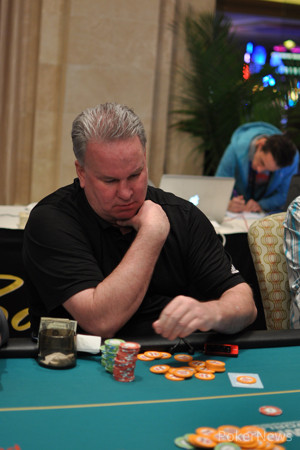 After losing a chunk of his stack to Satish Surapaneni, James Boyle just went broke at the hands of Andrew Zhu.
We caught the action on the turn, as Boyle checked to Zhu and then shoved all in over the top of a 225,000 wager. Boyle's all-in commitment was for 885,000 more and after tanking briefly to think things through, Zhu made the call with
. His flopped top pair had Boyle's
outkicked, and the river changed nothing when it came
.