#6: $365 GIANT No Limit Hold'em
Day: 1
#6: $365 GIANT No Limit Hold'em
Day 1 Completed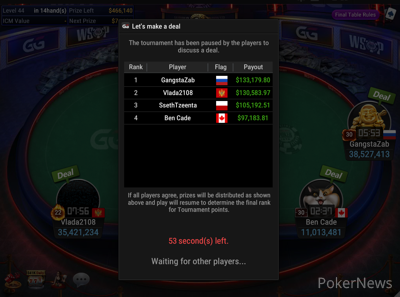 After just under 11 hours of play, "GangstaZab" has won Event #6: $365 GIANT No Limit Hold'em. There were exactly 4,000 entries in this one, which put the prize pool at $1,372,400, significantly above the $1 million guarantee. The final four players made a deal, which left "GangstaZab" with the top payout of $133,180.
Heads up began with "GangstaZab" and Vlada "Vlada2108" Stojanovic essentially even in chips, and it took a few hands before they got into a race for more than 88 million. "GangstaZab" hit one of their overs to survive and take a huge lead, and it was over the next hand.
The Final Table
| Place | Player | Country | Prize |
| --- | --- | --- | --- |
| 1 | GangstaZab | Russia | $133,180 |
| 2 | Vlada "Vlada2108" Stojanovic | Serbia | $130,584 |
| 3 | Mateusz "SsethTzeenta" Szymanski | Poland | $105,193 |
| 4 | Ben Cade | Canada | $97,184 |
| 5 | Th3Secr3t | San Marino | $53,917 |
| 6 | Lee "mathouse" Kyoungjun | Hong Kong | $40,432 |
| 7 | Eder "BlueMoon" Campana | Brazil | $30,320 |
| 8 | Pete Chen | Taiwan | $22,737 |
| 9 | PrinceHamed | Brazil | $17,050 |
The Day's Action
When late registration ended a bit more than three hours into the event, exactly 4,000 entries had been recorded. That put the prize pool at $1,372,400, more than 37% above the guarantee.
There were less than 1,500 players in action when registration closed, with 476 getting paid. They played quickly to the money, with the bubble bursting less than 2 hours after registration closed.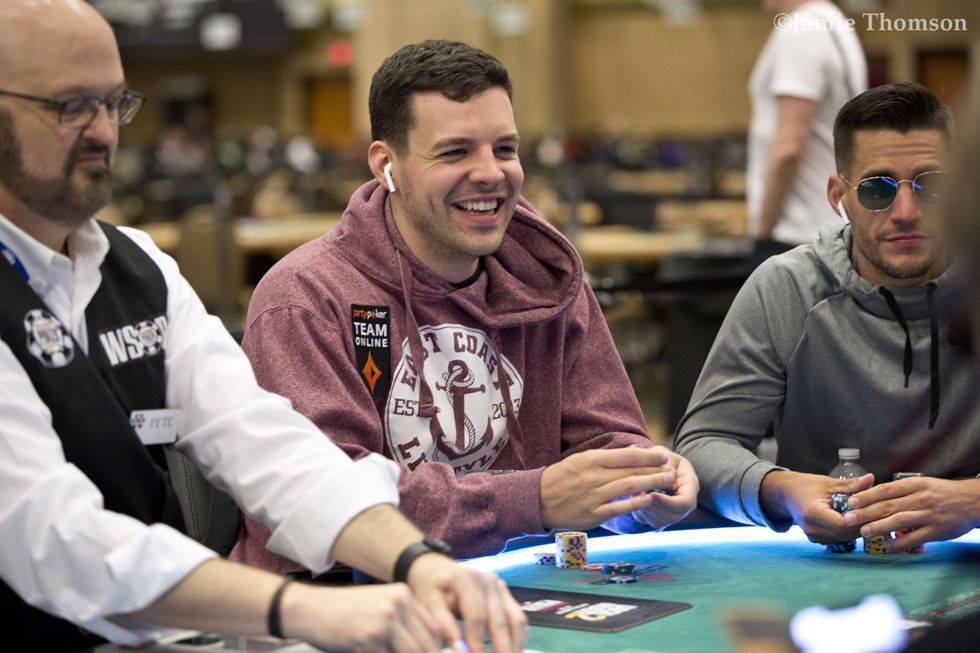 GGSquad member Kevin Martin was one of the players to make a surge into the money. He was playing a big stack for a lot of the early money play, but ultimately had to settle for 59th place and $2,724.
Once they got down under 100 players left, it looked like Jonas "LobyPewis" Mackoff might go back-to-back for two Rings in two days. Mackoff took down Event #5 yesterday for his second career Gold Ring, and he was playing a top ten stack for much of the end-game today as well.
The double win was not to be, however, as Mackoff ran ace-jack into the kings of eventual runner-up Stojanovic on the final table bubble to end his day in 10th place for a bit under $10,000.
It took about 90 minutes to play down the final nine. Natural8 ambassador Pete Chen was among the players to make the final nine, but couldn't get anything going at the FT and ended in 8th for about $22,000.
Stojanovic delivered a brutal beat to bust "Th3Secr3t" in 5th place when his king-jack got there against ace-jack. Once that happened, the final four made a deal, and the rest of the final table went very quickly.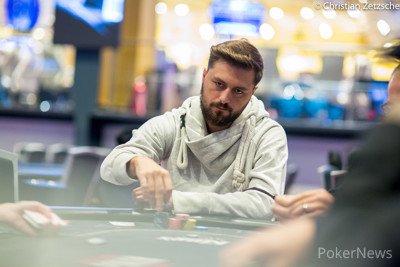 Most of the damage happened in a hand where Stojanovic got it in with a chance to win with pocket fours against the king-queen overs for "GangstaZab". The overs hit for a double, leaving Stojanovic short. He busted the next hand when he got king-five in against ace-deuce and couldn't get there.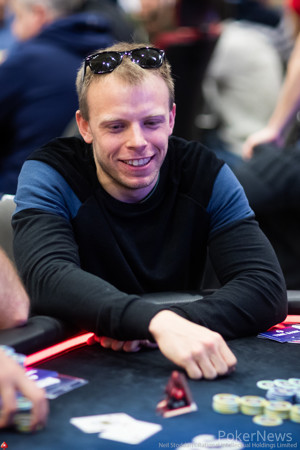 It was limped pre-flop, and they both checked the
flop. Mateusz "SsethTzeenta" Szymanski bet 2.4 million on
turn and got called, and he shoved for more than 8 million on the
and Vlada "Vlada2108" Stojanovic called it off with the most.
Vlada "Vlada2108" Stojanovic:

Mateusz "SsethTzeenta" Szymanski:
Board:
Stojanovic spiked trips on the river to get them heads up.
Level: 45
Blinds: 600,000/1,200,000
Ante: 150,000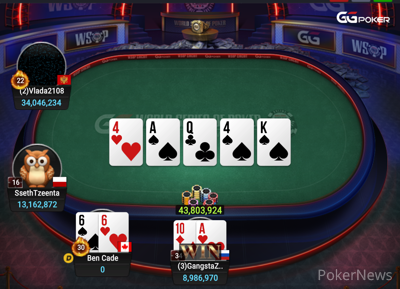 Ben Cade shoved the button over a raise from "GangstaZab" and got the call. It was a race between the sixes of Cade and ace-ten for "GangstaZab" and the ace came on the flop to send Cade home with almost $100,000.
Player
Chips
Progress

GangstaZab

52,790,894

12,438,481

Vlada "Vlada2108" Stojanovic

34,046,234

80,000

Mateusz "SsethTzeenta" Szymanski

13,162,872

-1,500,000

Ben Cade

Busted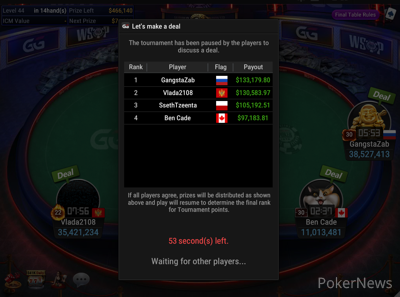 As soon as play got four-handed, they agreed to a deal.
Level: 44
Blinds: 500,000/1,000,000
Ante: 125,000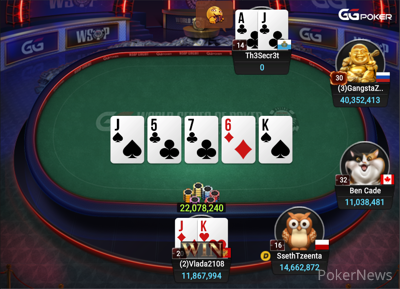 Vlada "Vlada2108" Stojanovic shoved the small blind, and "Th3Secr3t" called for less in the big.
"Th3Secr3t":

Vlada "Vlada2108" Stojanovic:
Board:
Stojanovic got there on the river with the dominated jack to get it four-handed.
Player
Chips
Progress

GangstaZab

40,352,413

6,682,661

Vlada "Vlada2108" Stojanovic

33,966,234

7,809,120

Mateusz "SsethTzeenta" Szymanski

14,662,872

5,860,000

Ben Cade

11,038,481

-7,667,661

Th3Secr3t

Busted
Level: 43
Blinds: 400,000/800,000
Ante: 100,000