Event Info
| | |
| --- | --- |
| Buy-in | $2,000 |
| Prize Pool | $2,786,420 |
| Players | 1,531 |
Level Info
| | |
| --- | --- |
| Level | 21 |
| Blinds | 30,000 / 60,000 |
| Ante | 5,000 |
Event 10 - $2,000 No Limit Holdem
Day 3 Completed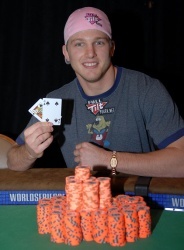 17:43

Todd Terry has A-Q and Will Durkee has J-4.

The board comes 8-9-T but the turn queen gets Todd all-in with top pair and top kicker. However that same queen has given Will the queen-high straight, a meaningless queen falls on the river and it's over.

Todd Terry second place

and

A WSOP bracelet to Will Durkee.
17:39

Increased aggression by Will Durkee is continuing to pay off.

Will Durkee 5,195,000
Todd Terry 955,000

Without a single big hand, Will has built an even larger lead.
Blinds and antes, blinds and antes.
17:32

On an A-2-7-7-2 board, Will Durkee fires a bet on the river but Todd Terry calls. Todd, who has been playing super tight, laughed as he made the call…

Both players were playing the board and they chopped the pot.
Will Durkee is winning hand after hand, either checking to the river or making very small bets at Todd Terry, who is laying down hand after hand. Todd seems to be waiting for that one BIG hand to resurrect his chances at this bracelet.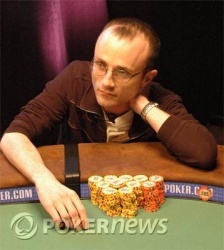 17:26

Todd Terry gets away from middle pair of eights when Will Durkee moves in on him. It was a good lay down as Will had two pair, queens and eights.

Remember we can see most of the hole cards here in the control room.
17:23

Will Durkee 3,990,000
Todd Terry 2,150,000
Level:

21
Blinds:

30,000/60,000
Ante:

5,000
17:24

Players are actually doing a fair amount of folding their small blind or folding the BB to a standard raise. Fairly conservative play for heads up.

The commentators are mentioning how unusual this is but it does appear that Will Durkee may be able to "small ball" his way to a bracelet.