Event Info
| | |
| --- | --- |
| Buy-in | $10,000 |
| Players | 256 |
Level Info
| | |
| --- | --- |
| Level | 63 |
| Blinds | 20,000 / 40,000 |
| Ante | 0 |
Event 25 - $10,000 Heads Up No-Limit Hold'em World Championship
Day 3 Completed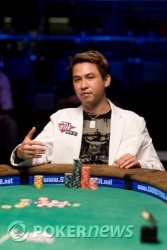 Kenny Tran has outlasted a field of 256 competitors, dispatching eight successive opponents in heads up play to win Event #25 - $10,000 Heads Up No-Limit Hold'em World Championship.

"Now, you have yourself a bracelet. It must feel incredible," said Nick Geber as he interviewed Tran after the match was completed.

"I'll probably retire right here," joked Tran.

"It looked like [Torelli] gave you a different match in Game 2," said Geber.

"No doubt about it," replied Tran. "The first match was kind of easy for me, but the second match, oh my. I figured he picked up something on me, but in this situation I had the nut flush draw and decided to gamble and go with it. I was already one match ahead."

When Media Director Nolan Dalla presented the gold bracelet to Tran, he raised it with both hands over his head in victory. He stated that his next plan is to go have a celebratory drink with some friends, and then go home and kiss each of his three children and thank them for allowing him to play on Father's Day.

Congratulations once again to Tran for his well-earned victory.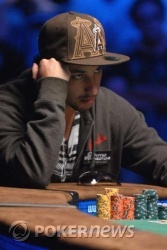 Hand #80 -
Kenny Tran has the button. He opens the pot for 110,000. Alec Torelli makes the call.
The flop comes down
. Torelli checks. Tran breaks down a stack of greens, then bets 150,000. Torelli comes over the top for a total of 430,000, facing Tran with another big raise. He tanks for a minute before making a big reraise of his own, to 1,030,000, another 600,000 to Torelli.
Torelli takes about ten seconds before declaring, "All in." Tran is visibly agitated, shaking his head and standing out of his chair while emcee Robbie Thompson counts down Torelli's stack. The count is an additional 1,150,000. Tran makes the call and shows
; Torelli shows
The
doesn't put Tran in the lead but does give him a few more outs. The dealer burns and turns the river, and it's the
! Tran makes the nut flush and falls to his knees, both arms lifted over his head, his fists clenched in victory.
Torelli falls short of the bracelet, but wins $336,896.
Alec Torelli has the button and makes it 100,000 to go, effectively stealing Kenny Tran's big blind.
Kenny Tran has the button. He raises to 90,000. Alec Torelli reraises to 330,000 from the big blind. Action passed back to Tran, who tanked for about a minute before throwing his cards into the dealer.
Alec Torelli has the button and makes it 105,000 to go. Kenny Tran makes the call and we see a flop of
.
Kenny passes the first action to Alec who bets 135,000 and Kenny surrenders.
Level:

63
Blinds:

20,000/40,000
Ante:

0
Kenny Tran has the button. He raises to 90,000, enough to fold Alec Torelli.
Alec Torelli has the button and kicks it up to 80,000. Kenny Tran makes the call.
A board of
is checked down to the river at which time Kenny makes a bet of 120,000 which earns him the pot.
Kenny Tran has the button. Tran completes his small blind; Alec Torelli checks.
On the flop of
, Torelli check-calls a bet of 40,000 from Tran. Both players check all the way through the rest of the hand on a turn and river of
. Torelli turns over
for a jack-high straight and wins the pot.