Event 33 - $5,000 Seven Card Stud Hi-Low World Championship
Days: 3
Event 33 - $5,000 Seven Card Stud Hi-Low World Championship
Day 3 Completed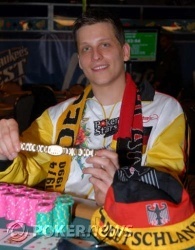 We began this event on Tuesday with a field of 261 runners. It took a whopping 29 levels of play over the course of three very long days to find our champion.

Sebastian Ruthenberg bested the entire field, which was absolutely laced with pros, to take home the title. The real highlight of the tournament was his hard-fought one-on-one battle with Chris Ferguson. When heads-up play began, Jesus had roughly a 2-to-1 chip lead. Ruthenberg came all the way back to take a slight edge, before being crippled all the way back down to 200,000.

He hung in there though, and came storming back against the much more accomplished pro. After more than three hours of head-to-head dueling, Ruthenberg managed to come out on top.

For his good work over the past days, Ruthenberg will take home $328,756, a shiny new gold bracelet, and the title of Stud Hi-Lo World Champion.

Congratulations to Sebastian Ruthenberg, winner of Event #33!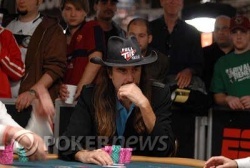 Chris "Jesus" Ferguson was down to just a few bets when he got involved in what would be his last hand of the tournament. Ferguson put his last chips in on fifth street holding a pair of aces.

Ferguson: (
) (
)

Sebastian Ruthenberg: (
) (
)


On sixth street, Ruthenberg picked up a pair of fours and Ferguson a meaningless jack.

Ferguson: (
) (
)

Sebastian Ruthenberg: (
) (
)


When the last card was dealt and the crowd rose to their feet to watch the action, Ruthenberg peeled slowly before revealing another seven, for two pair sevens and fours.

Ferguson would need to best two pair to take the pot and stay alive. He slowly lifted his hand and let Sebastian know he didn't have anything across and that it was a spade. He mentioned that unless it was the ace of spades, Ruthenberg would be a champion. He then revealed a spade... the
.

It took a moment for Ruthenberg to realize it was a blank and then he erupted from his chair, arms held high in victory.

Ferguson shook hands with his competitor and headed across the room. No, not to get paid, but rather to sit down in the Omaha Hi-Lo World Championship. He earned over $200,000 for his finish.
For the third time in just a few minutes, the two men played a gigantic pot. Ferguson brought it in with the
up. Ruthenberg raised, and Ferguson called.

Ferguson: (X) (X)
(X)
Ruthenberg: (X) (X)
(X)

Ruthenberg bet on every street, with Ferguson joining him every step of the way. When the hands were turned over, it was Ruthenberg who held the winner. His down cards were
, making him aces up. Ferguson held
, making tens up, an inferior two pair.

Sebastian Ruthenberg wins a huge pot, and has retaken a nice chip lead. He sits with 1,850,000, while Jesus is knocked all the way down to 760,000.
Sebastian Ruthenberg got himself all in again just now, and this time there was even more drama.

He brought it in with the
, and he and Ferguson headed off to battle. On fourth street, Ferguson bet and got called. On fifth street, it was Ruthenberg who bet and got called. A bet on sixth street from Ruthenberg meant he was all in for about 50,000, and at risk once again. The hands were turned over:

Ruthenberg: (
)
(X)
Ferguson: (
)
(X)

Ferguson had a pair of aces and a draw to the flush and to the low. He was up against two pair from Ruthenberg, but had loads of outs to at least chop. Ruthenberg's seventh street
was no help to him. Now it was Ferguson's turn. One card to potentially win him the bracelet. He squeezed it out a little longer this time, building the suspense for himself and for the spectators...




It's a blank for Jesus, and he once again doubles up Ruthenberg. The German has clawed back to 800,000, but is still at a sizable deficit.
Ferguson - 2,060,000
Ruthenberg - 550,000
Sebastian Ruthenberg isn't done quite yet. After several hands of folding, he finally got it all in on third street, with Ferguson looking him up. The cards were turned over, and the dealer ran out the hands:

Ferguson: (
)

Ruthenbeg: (
)


Ruthenberg makes two pair, and he takes down a much-needed pot. He has doubled up to 550,000, but is still very short in regards to the limits they're playing.
Ferguson just took another big pot, and has crippled his opponent. When the betting was over, the hands were shown down:

Ferguson:

Ruthenberg:


Ferguson's queens up trumps the nines up of Ruthenberg, and ships the majority of the chips to Jesus. After the hand, Ruthenberg has just 400,000 left. Ferguson is up to 2,210,000.
In the first hand after break, we pick up another big pot on fifth street, with several bets already in the pot.

Ferguson: (X) (X)
(X)
Ruthenberg: (X) (X)
(X)

On fifth and sixth streets, Ferguson check-calls a Ruthenberg bet. On seventh street, both men check. There is just about 1,000,000 in the pot.

Ferguson:

Ruthenberg:


Chris Ferguson takes a big bite out of his opponent, and rakes in another large pot with a full house. He has retaken the chip lead by a comfortable margin. Counts coming momentarily.
Level: 29
Blinds: 0/0
Ante: 0