Event 40 - $2,500 2-7 Triple Draw
Day: 3
Event 40 - $2,500 2-7 Triple Draw
Day 3 Completed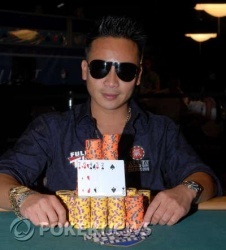 John Phan has won his second WSOP gold bracelet in less than a week. "History has been made," said Phan triumphantly as the Tournament Director clasped the gold bracelet onto his wrist. For his three days of work, Phan earns not only his second bracelet, but also a payday of $151,896. Congraulations once again to John Phan.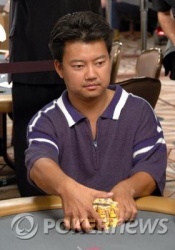 Shun Uchida had just 127,000 left. John Phan raised, Uchida thought for a good while, then reraised to 75,000. "How much you got left," asked Phan. "52," said Uchida. "I call," answered Phan.

Uchida drew two, and Phan three. Uchida bet, Phan raised, and Uchida reraised all in for just 2,000 more. Phan called.

On the second draw, Uchida took one. When Phan indicated he was standing pat, his cheering section erupted.

Before the third draw, Phan boisterously pushed his huge mountain of chips in the middle. Even though the betting was over, he was raucously exclaiming he was all in.

Uchida took one more. Phan again stood pat.

Uchida showed 8-7-6-5-3. But Phan had drawn a "number two" -- 7-6-4-3-2. Phan claimed his second bracelet in less than a week!
Shun Uchida has a little more time. At John Phan's insistence, he got his chips in.

"Get it all in, Shun," said Phan.

"I haven't looked yet."

"You don't need to look. Let's play no-look poker."

Uchida decided to look anyway, then reraised all in after John Phan raised. Phan called. The draws went: two, two, one for Uchida, and three, two, two for Phan. Before Phan made his last draw, Uchida said, "Take two please." Phan complied, saying, "I like it when I'm behind."

Uchida: 9-6-3-2
Phan: 3-4-5

Uchida squeezed first, drawing a seven for a final hand of 9-7-6-3-2. Then it was Phan's turn. Ever so slowly, he squeezed his first card: a seven. That gave him 3-4-5-7. Any deuce, eight or nine would win the tournament. He squeezed his second card so slowly that even Shun Uchida got out of his seat to squeeze it with Phan. No luck for Phan right now, however, as he squeezed a ten to make 10-7-5-4-3.

Uchida doubles up to 140,000 and remains alive. For now.

In the last hand of the the previous level, Shun Uchida raised from the button/small blind, and John Phan called.

Phan drew two cards, and Uchida took one. Phan checked, Uchida bet, and Phan grabbed enough chips to raise, but just called.

Both took one card on the second draw. Phan bet quickly, and Uchida slowly called.

Phan stood pat on the third round, and Uchida took one. Phan bet out, and Uchida flashed his hand to the Tournament Director. "Should I call?" he asked with a smile. "One person to a hand," the TD light-heartedly announced.

Uchida folded. He'd made a six-high straight. He's now down to just 70,000.
Level: 24
Blinds: 13,000/25,000
Ante: 0
John Phan hasn't relented. He keeps winning small pots off of Shun Uchida, who doesn't seem to want to get involved without a premium starting hand. At these blinds and limits, however, Uchida doesn't have much choice. Phan is nickel and diming him to death.

The two players did recently go to a showdown. In a raised pot, both drew two on the first draw and then checked. Both drew two on the second draw and checked again. On the third draw, Phan drew two and Uchida drew one. Phan checked to Uchida, who bet. Phan called. As soon as Phan said call, Uchida threw his hand into the muck.

Uchida is now dangerously close to elimination, with under 200,000 chips remaining.

We made it to a showdown. And things continue to go well for John Phan.

Shun Uchida limped from the button, Phan raised, and Uchida called. Phan took two, and Uchida three cards. Phan bet and Uchida called.

On the second draw, Phan took one card and Uchida two. Again, Phan bet, and Uchida called.

Phat stood pat on the end, and Uchida drew one last card. Both checked. Phan turned over 10-8-6-4-2, and Uchida mucked.

Phan is up to 890,000, and Uchida down to 310,000.

The players are proceeding with caution. They've taken each other's blinds, or ended hands after the first draw. John Phan has had slightly the better of it.

Phan has a 690,000-510,000 edge on Shun Uchida at the moment.

John Phan raised from the button, Shun Uchida three-bet, and Phan called. Uchida drew one, and Phan took two. Uchida bet, and Phan called.

Both took one on the second draw. Uchida checked, Phan bet, and Uchida called.

Uchida took one on the last draw, and Phan stood pat. Uchida checked, Phan bet, and Uchida called.

Uchida turned over 8-7-6-5-2. Phan looked at his cards for several seconds, then mucked.

Phan 650,000, Uchida 550,000.