Event 10 - $2,500 Pot Limit Hold'em/Omaha
Day: 3
Event 10 - $2,500 Pot Limit Hold'em/Omaha
Day 3 Completed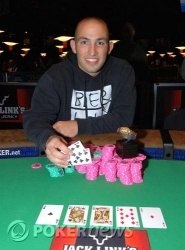 The third day of the $2,500 Pot-Limit Hold'em/Pot-Limit Omaha event was supposed to be for the final table, but when Day 2 concluded there were still two tables' worth of players still remaining. After a long, 13-hour final day, Rami Boukai emerged as the last man standing of the 18, claiming his first World Series of Poker bracelet.

It took less than four hours for the final 18 to be whittled down to nine, at which point Daniel Makowsky and Cornel Cimpan were battling for the chip lead. Within the next hour, the table's short stacks -- Sigi Stockinger and John Kabbaj -- were eliminated, followed shortly afterwards by Pawel Andrzejewski in seventh.

The final half-dozen battled gamely for the next couple of hours, with Cornel Cimpan overtaking the leaders and eventually building a stack of over a million chips before falling back in the pack. When Paul Parker was eliminated in sixth, the remaining five would compete for nearly four more hours before Makowsky finally was ousted after losing a hold'em race with A-J versus Najib Bennani's pocket eights.

Cimpan was eliminated a half-hour later in a PLO hand when his single-suited aces got cracked by Bennani's rivered straight. Ben Grundy was the short stack for most of three-handed play, finally falling to Bennani in another PLO hand in which aces couldn't hold up.

When heads-up play began, Boukai held only a slight chip advantage over Bennani. It had been a remarkable comeback for Bennani, who at one point when five-handed had been down to just 50,000. Soon after heads up started, Boukai immediately began increasing his lead via aggressive play. The end finally came in the 29th level of play in a hold'em hand when Bennani, down to less than 800,000 chips versus Boukai's 2.6 million, decided to race with jack-queen versus Boukai's pocket nines. A queen flopped, but a nine came on the turn, and Boukai's set gave him the bracelet.

The PLO/PLH event is a supreme test of players' abilities not just to excel in two different poker games, but to demonstrate their postflop skills as well. Those lasting to our final table were not necessarily the most familiar names listed among those who entered this "name pro"-heavy event. But all ably demonstrated their significant poker skills in Event No. 10. Congratulations to all who went deep, and especially to Rami Boukai, winner of the gold bracelet.

Thanks for following our coverage on PokerNews. Come back to find out who else will be claiming the still 40-plus more bracelets to be awarded.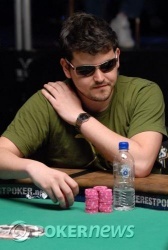 Hold'em

Najib Bennani opened from the button with a pot-sized raise. In the big blind, Rami Boukai reraised the pot, enough to cover his opponent. Bennani quickly called, his tournament life now squarely in the hands of the poker gods.

Showdown
Bennani:

Boukai:


The first three cards were brilliant news for the at-risk player, as he paired up on the
flop. Unfortunately for him though, the
struck the turn like a thunderbolt. Bennani was left drawing only to a ten for the straight, and the
that filled out the board was indeed not a ten.

With his two pair finishing as the second-best hand, Najib Bennani becomes our 2nd-place finisher, taking home more than $150,000 but falling just short of the top prize.
Level: 29
Blinds: 0/0
Ante: 0
After a series of small pots, Rami Boukai is really starting to squeeze his opponent. Najib Bennani is down to about 800,000, with Boukai just approaching the 2.5-million-chip mark.
Omaha

Najib Bennani limped in from the button, and Rami Boukai raised to 100,000 from the big blind. Bennani wanted to see a flop, and he made the call.

The dealer spread out
in the middle of the table. Boukai checked, and Bennani took the opportunity to fire a bet of 110,000. After just a moment, Rami Boukai put in a check-raise to 450,000, drawing a long, "Hmmmmm," from his opponent. Bennani eventually elected to let his hand go, and Rami Boukai takes the first significant pot of heads-up action.

Boukai - 2,215,000
Bennani - 1,175,000
With Bennani taking out Grundy, the two remaining players will begin heads-up virtually even in chips. It looks like Bennani has just a sliver of an edge with 1,750,000 to Rami Boukai's 1,650,000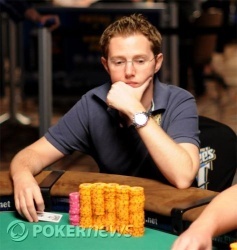 Omaha

Najib Bennani opened from the button with a raise to 125,000. In the small blind, Ben Grundy reraised the pot, making it 425,000 to play and leaving himself with just 40,000 funny money behind. Rami Boukai quickly folded his big blind, but Bennani would take his time to think things through. After about a minute-long stare-down, Bennani told Grundy he was putting him all in, and Grundy stuck the rest of his stack into the middle.

Showdown
Bennani:

Grundy:


The flop was pretty safe and sound for the at-risk Grundy, coming
. Bennani picked up a lot of outs when the turn card brought the
though, and Grundy stood to sweat what would end up being his final card of the night. The
spiked the river, drawing a huge cheer from the relatively small Bennani cheerleading squad.

Grundy's dry aces got run down by Bennani's two pair, and the Brit has been eliminated in 3rd place. For his efforts over the past three days, he'll walk away with just less than $100,000. Not too shabby, but judging by the look on his face, not the result he was hoping for tonight.
It's getting comical now. On the first orbit of this PLO round, Grundy got another walk in the big blind. He flashed
plus another paint card -- it looked like a queen -- as he added one more small blind to his stack.
Omaha

Najib Bennani folded his button, and Ben Grundy raised to 180,000 from the small blind. After a moment, Rami Boukai reraised it up to 540,000 from the big, sending Grundy into the tank. After some careful consideration, and a few sideways glances across the table, Grundy let his hand go, choosing to save his 525,000 chips for a better spot.