Event 11 - $2,000 No Limit Hold'em
Day: 3
Event 11 - $2,000 No Limit Hold'em
Day 3 Completed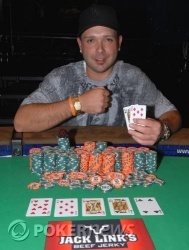 Thus we have a sudden end to a drawn out day, and we have one very, very happy winner. Over the past three days Anthony Harb has battled through a field of 1,646 players smattered with big names such as Phil Hellmuth, Tom McEvoy, Neil Channing and T.J. Cloutier and beaten them all to take the lovely first place prize money and, more importantly, the bracelet. In his own words, "It hasn't even sunk in that I've won over half a million dollars, man, it's all about the bracelet."

It was a tough three days for everyone who made the final table with long hours and little sleep, and that was reflected in the general pace of the final table. The three-way action, in particular, tested the stamina of all the players, and all three players did well just to stay awake, let alone keep playing good poker throughout.

Many congratulations to all the finalists, and especially to new bracelet winner Anthony Harb. Once he's done with the celebrations, we suspect he'll sleep very well indeed.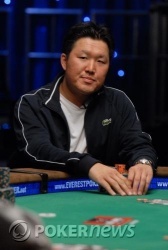 Wow, and just like that, it's all over!

They'd made it to the turn of a
board when Rho decided he liked his hand enough to move all in -- and a snap-call from Harb later, they were on their backs.

Rho:
for two pair
Harb:
for the straight

River: a harmless


Peter Rho is Peter Busto.

"WOO!" shouted Harb as he jumped up to hug his friends at the rail, all trace of sleepiness gone. "What a grind, guys, three straight days..." And then, as the TD attempted to fasten the bracelet to his arm, "Look how fat my wrist is."
Perhaps the heads-upsers took the TD's comments about how last year he saw people move all in in the dark for a bracelet to heart, but either way, we have a decent-sized pot.

Harb limped on the button, and Rho raised 175,000 more. A sigh from Harb, and a call -- the first time a preflop raise has been called during this heads up.

Rho check-called 250,000 from Harb on the
and then another 400,000 on the
turn. He checked the
river too, and this time Harb bet 825,000. Rho stood up and gurned for a while, considering his options -- and then called.

Harb showed him
for trips, and Rho mucked. Some change in the stacks!
Caginess and small pots rule right now -- the blinds and antes have been going back and forth, with little change so far. Even with the blinds at 50,000/100,000, they are still very deep and barring a massive cooler of some sort, this could take some time yet.
You may be interested to know that way, way back on Day 1, Peter Rho and Anthony Harb started the tournament at the same table. And now, here they are heads up for the bracelet. How often does that happen? Not often at all, is how often.
Not much in it at all:

Peter Rho: 4,755,000
Anthony Harb: 5,100,000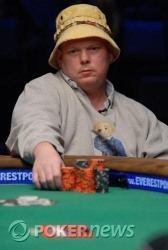 Wow, someone definitely got the coffee in. First hand back Jim Geary shoved for 1,370,000 from the small blind and got an insta-call from big blind Anthony Harb. Action at last!

Geary:

Harb:


Board:


Thus after a bit of a rollercoaster for him, we lose our crossword champ in third, and at long last we are heads up.
Level: 29
Blinds: 50,000/100,000
Ante: 10,000
Another jerky platter has appeared (TD: "Jack's jerk, anyone?"), but let's hope the players get the Red Bulls in during the break, otherwise we're going to be here all night. Back in 15.